Nima Behnoud, Graphic Design Alum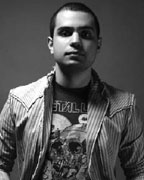 Nima Behnoud was a student at FIT when he fell in love with silk screening and discovered his calling. Proud of his Persian heritage and culture, the Iranian immigrant created a T-shirt adorned with Farsi calligraphy as a class project. "I wanted it to say that the images that are found in my country are good enough to be part of your everyday fashion," Behnoud says. "This is my mission."
He is the son of the prominent Iranian journalist and political dissident Masoud Behnoud, and some of his designs include such phrases as all political prisoners must be freed. But while Behnoud says he isn't interested in politics, the calligraphy provides a striking design element. He wore his first T-shirt to Fashion Week and to parties while still a student, he says, and even though no one knew what the Farsi words meant, everyone wanted to order it. In 2004 he launched his company, Nimany, to produce and market the shirts. From the start, his creations attracted notice wherever he went—and he goes out a lot. Hobnobbing with such celebs as Heidi Klum, Alexandra Richards (daughter of Keith), stylist Philip Bloch, and Nicky Hilton—all of whom Behnoud met through friends in the fashion world—didn't hurt. He still has a day job as an art director at upscale watchmaker Tourneau. But he longs to be running his own business full time, he says. "I've been in the fashion industry since I moved here."
To create the rough-edged collages featured on the shirts, Behnoud starts with calligraphy, such as bits of ancient Persian marriage and birth records, words such as devotion, freedom, compassion, or peace in Farsi, or verses from poems by the 13th-century mystic Rumi. Behnoud scans these fragments from documents he gets from rare book dealers in Turkey and Iran. Then he adds images, including Tehran's landmark Azadi (Freedom) Tower, where dissidents used to demonstrate, and trendy designs such as wings, aristocratic seals, and royal crests. Behnoud consults fashion forecasting journals for up-to-the-minute color palettes. The exclusive T-shirts, which are sold only at Fred Segal boutiques and on Behnoud's Nimany website, are made by hand in New York City. Behnoud makes a limited number of 15 styles for men and 15 for women, offering two collections a year.