Derse Creative Directors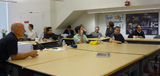 Derse's top Creative Directors from across the country came to FIT to hold their annual retreat and educational seminar. Students participated in this unique experience, sitting alongside some of the trade show industry's top experience designers.
Argyle Design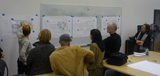 Presidents Michael Joyce and Cheryl Bartholow shared the great diversity of design projects created by their firm. Michael and Cheryl gave particular emphasis on interactive design for children's museums and science centers, as well as the museum design process and team work.
Rob Cohen
President, Display Supply and Lighting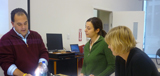 Rob presented current trends in exhibits lighting and shared specialty products. Rob also discussed business trends and management techniques from the supplier's point of view.
Libba Bray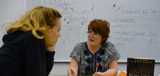 New York Times bestseller and award winning author, Libba Bray, visited to share insights on writing and storytelling. Libba shared her personal journey as a writer and led a creative workshop in narrative and finding your creative voice.
Norm Friedrich | Octanorm
President, Octanorm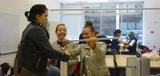 Norm directed the students through a workshop in exhibit systems and the potential that can be found when designing directly with their specialty products.
Tim Ventigmilia | Ralph Applebaum & Associates
Senior Associate, Ralph Applebaum & Associates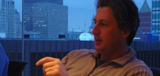 Students visited Ralph Appelbaum and Associates to learn about the firm and their international design work. Tim brought the students through the design process unique to RAANY and shared current trends in the profession. FIT Exhibition Design graduate Danae Colomer also shared her work with the firm.
David Harvey | American Museum of Natural History
Senior Vice President, American Museum of Natural History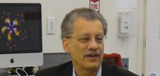 David gave a special presentation about his work at the museum, as well as his own personal background and the unique path he took that led him into exhibitions.
Larry Kulchawik | 3D Exhibits
Senior Vice President & Director of International Programs, 3D Exhibits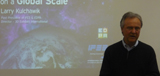 Larry gave a presentation on current trends in exhibition business and creative design on an international scale. Emphasis was placed on cross-cultural communications, the state-of-the-art in experience design and marketing.
Leslie Bedford | Bankstreet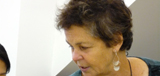 Director of the Museum Leadership program at the Bank Street College of Education and Principal of the Museum Group, Leslie is an expert exhibition developer and storyteller. Leslie spent an afternoon with the students teaching them about the power of storytelling and narrative experience within exhibitions.
Paul Orselli | orselli.net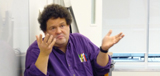 Chief Instigator of POW! Paul Orselli Workshop, Paul led a master class in exhibit prototyping. Students created quick, down and dirty prototypes with as few materials as possible, and tested their ability to engage visitors in fun, informative and interactive exhibit experiences.
Russ Fowler | Derse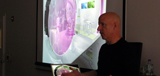 Vice President, Creative, Russ led a master class in the design of large scale corporate expo exhibits. Directing students through the creation of original designs for Moen, Inc., students used authentic trade show specifications, audience studies, brand parameters and mission and visitor statements on this rigorous project.
Sagoe Hoyle | Star Exhibits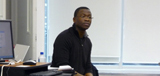 Director of Design for Star Exhibits and Environments, Sagoe shared his expertise in green design with students, providing an extensive resource library for utilization within their thesis projects.
Sam Lugiano | Fabricimages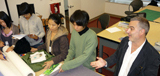 Catalyst for Fabric Images, Inc., Sam came in as a representative of both his firm and Procedes Chenel, the Paris-based firm for which the students are completing a showroom design competition. Sam spent a day introducing his firm, as well as Procedes Chenel, whose specialty exhibit papers the students are using to create their original designs.
Stephanie Downing | Randikorn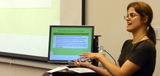 Managing Director of Randi Korn and Associates, Stephanie presented exhibition evaluation including Front End, Formative and Summative methodologies. Emphasis was placed on the integration of evaluation within the exhibition design process as both a design tool and metric for measuring outcomes.