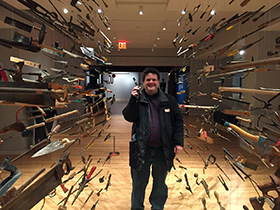 For over 35 years, Paul Orselli has worked to create inventive
and playful museums and exhibits. He is now the President and
Chief Instigator at POW! (Paul Orselli Workshop, Inc.) an exhibit design
and development corporation thathe founded.

Paul has consulted on museum projects throughout North America, Europe,
Africa, Asia, and the Middle East. His clients include such notable organizations
as the New York Hall of Science, the Exploratorium, the National Science
Foundation, and Science Projects in London. He has taught and lectured at
universities on museum topics and has presented at professional conferences in North America and Europe.

Paul has also been the editor and originator of the four best-selling Exhibit Cheapbooks, published by ASTC,
and has served on the board of NAME (National Association for Museum Exhibition). He lives on Long Island with his
wife and "in-house exhibit testing crew" of four children.