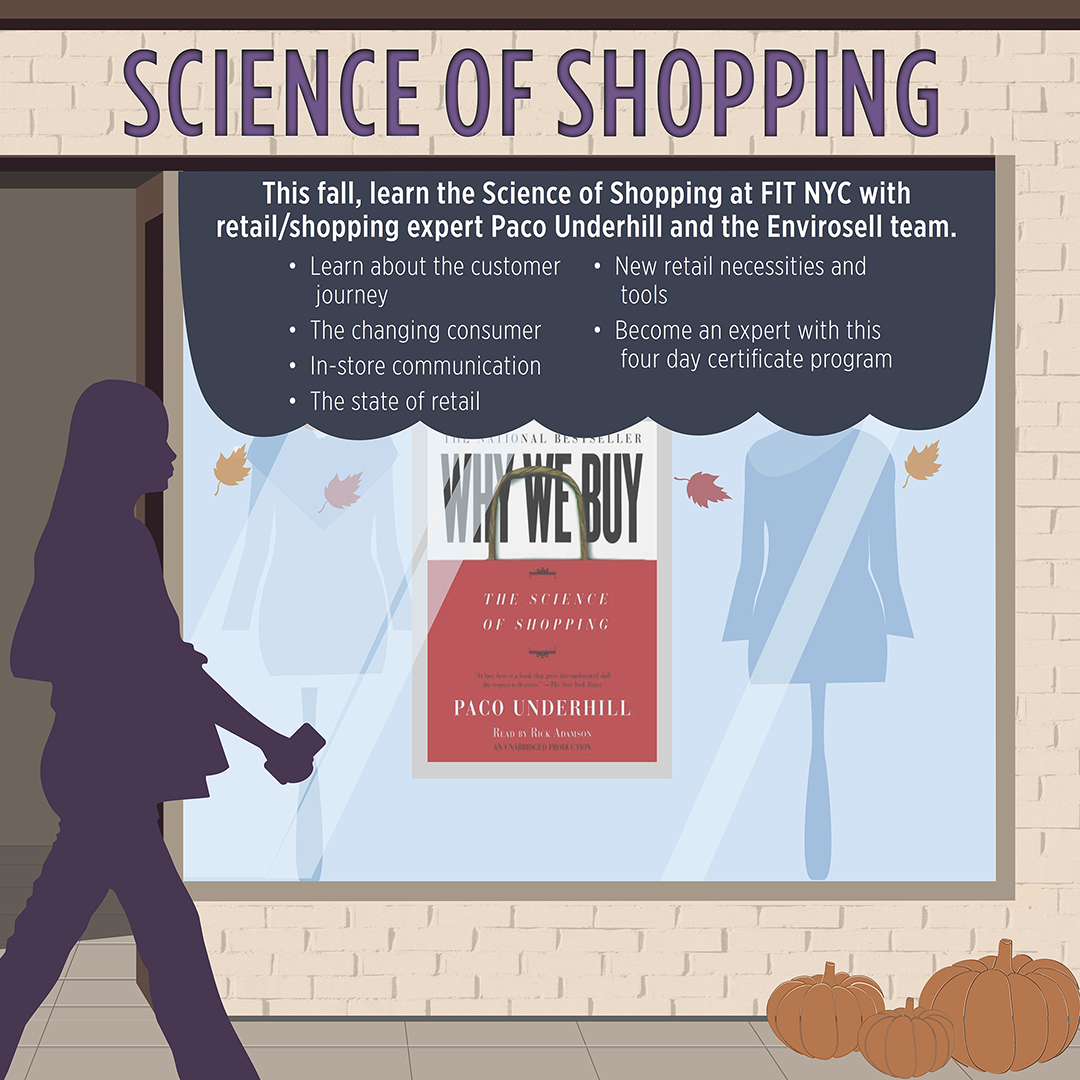 2017 DATES TBA
Spend four days immersed in the world of consumer insights and behavior featuring the expertise of international consumer shopping authority Paco Underhill and Envirosell consumer behavior specialists.

Learn the fundamental principles of successful selling environments, including in-store, online, across the entire path to purchase.
Gain insight into the effects of commercial space on human behavior as well as the use of Shopper Insights information for improved decision-making.
Learn fail proof consumer information tracking and consumer observation methods.
Discover strategies for changing how consumers view your organization be it "bricks or clicks" or both.
Develop a final Qualitative Store Assessment & Competitive Review project that will be an asset to your professional portfolio.
Earn an FIT/SUNY Professional Development Certificate.
Lessons include lecture, round table discussion and guided observations in the field including hot NYC shopping districts and key retail stores.
View Previous Program Schedule ⇒
Who should attend: Career builders with a strong interest and/or exposure to branding, retailing, store design, and consumer psychology.
Proficiency in use of PowerPoint and Excel is required.
Program Instructors
Paco Underhill, Founder and Managing Director, Envirosell
Tom Moseman, Senior Vice President, Envirosell
Diana Dawson, Vice President of Consulting, Envirosell
Liam O'Connell, Project Director, Envirosell
Deborah Geiger, Director of Content, Envirosell
Craig Childress, Chief Operating Officer, Envirosell
Brett Barndt, Director of Client Service & Business Development, Envirosell

Williamsburg Field Visit: Trina Morris, publicist, Style Root PR, Cool New York Trend Talk and Tours specialist, Professional Studies, FIT
Program Facilitator: Andrea Moore, Instructor, Professional Studies, FIT
Attendee Tips
FIT is located at 7th Avenue and W 27th Street.
HOTEL ACCOMODATIONS - For a chic Chelsea experience and quick access to FIT we recommend Cambria hotels and suites, mention that you are attending The Science of Shopping program at FIT. Additional hotels also offer FIT Preferred rates. We also recommend that you book rooms as soon as possible.
Attendees meet on the first morning in the Conference Center lobby (West 28th St. just off 7th Ave).
Layered business casual attire is appropriate with sensible walking shoes.
Program includes 1st day continental breakfast, coffee service all morning, bottled water, 2 lunches, 1 closing ceremony, and escorted tours.
Attendees should invest in a weekly metro card, good for subway and buses.