The Business of Curves: How Curvy Women are Out and Proud
By Grace Kranz


Walking into the Business of Curves forum on Nov. 15 was like walking into a high-profile event. The lighting was moody, and upbeat music played softly in the background. Behind the chairs, photographers and videographers toyed with their equipment. Meanwhile, on the side of the stage, models and attendees posed for pictures against a backdrop representing the Business of Curves.
President Joyce F. Brown was greeted by the audience's applause as she walked onto the stage. She stood at the podium and spoke a few words about the plus-size fashion industry. "They feel like second class citizens," remarked Brown in reference to curvy women. She stated that it's time for us to accept them in the fashion industry. "They are out and they are proud!" Brown exclaimed.
With a thunderous clap, President Brown walked off the stage and a film introducing the guest panelists started. An interesting fact that stood out from the film was that 67% of women in the U.S. are size 14 or larger. That is over half the population, and yet plus size women are still frowned upon in society. Susan Moses, a celebrity stylist, stated, "The word plus is a positive, and it means a little bit more. A little bit more to love, a little bit more to hold onto," and as soon as the film ended, the fashion show began.
It started with beautiful, curvy women walking down the makeshift runway in lingerie. After lingerie came ready-to-wear and ended with sophisticated dresses. I stared in awe at the these women and could feel their confidence radiating throughout the room. They looked amazing in the garments, and they knew it! Their smiles were genuine and contagious. The runway show was more than just another fashion show. It was created to make a statement: Curvy women aren't going to hide anymore — it's their time to shine.
Up next came the panelist discussion moderated by Fern Mallis, the curator of New York Fashion Week. The panelists included Catherine Schuller, Susan Moses and Emme. Schuller is a fashion event impresario, as well as an educator for plus size fashion at the Fashion Institute of Technology. Moses is an illustrious celebrity stylist, blogger, spokesperson, and designer. Emme is a globally recognized women's advocate for positive body image and self-esteem.
The panelists discussed a range of topics regarding plus size women and their place in the fashion industry. In regard to the "normal" size going from a size 14 to a size 0, Emme stated, "It's not that [the plus size woman] walks into life as a plus size person. She's a woman first with a whole plethora of personality to reflect, so the industry getting on board is really a good thing." No woman's personality can be defined by their size. A woman that is a size 0 can still have the same dreams and aspirations that a size 18 woman.
Another difficult topic the speakers tackled was misconceptions within the fashion industry that have affected plus size women. "[The plus-size fashion industry] is a $21.4 billion business. 58% of women don't find anything they really like. Can you imagine if we satisfied those other 58 percent? That number would double. That would help the economy,"Catherine Schuller explained.
In response to the lack of well-fitting clothing for curvy women, she passionately exclaimed:
"Help curvy women use their bodies and their voices to encourage more designers to be inclusive in their collections…use your voice, use your Instagram, show yourself in the clothes because everyone's paying attention. (…) And that's where we have to start. Using your voice is the most powerfully positive thing you can do."
Each comment made by the panelists created a fresh perspective. If there is one thing the Business of Curves Forum proved, it is that curvy women are not only desirable, but they deserve to make their mark in the fashion industry. Not only did I leave with a couple fresh perspectives, but I also left with a newfound sense of self-love. In an industry as competitive and shallow as the fashion industry, it's good to know that there are people who embrace who they are instead of conforming to society's standards or, even more, try to change society's standards.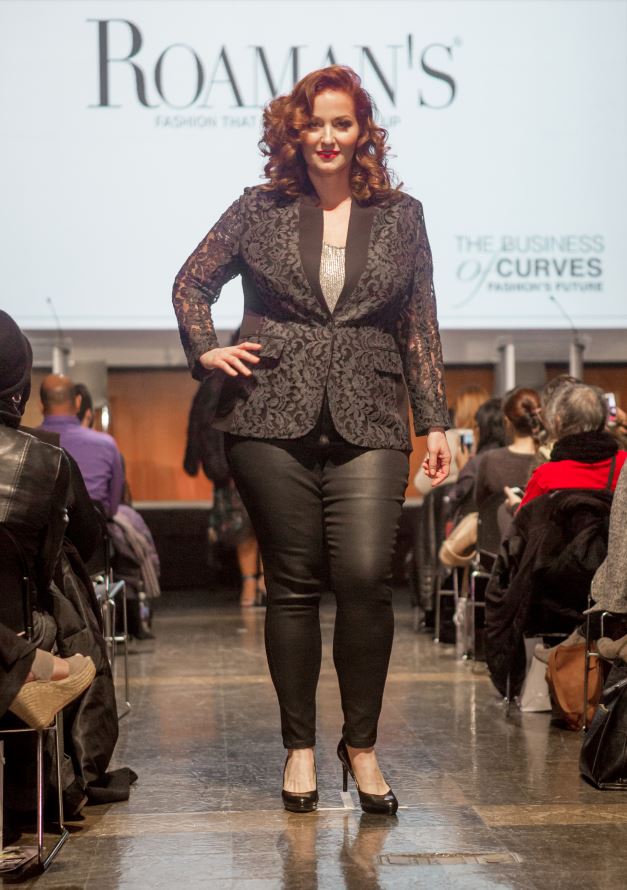 Photos taken by Lorenzo Ciniglio. Event was funded by the Student Faculty Corporation.