What it Means to be Sustainable-Baker Scholar Dean's Forum

March 12, 2019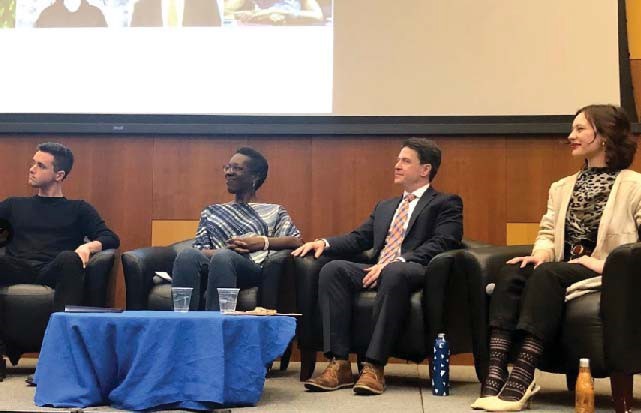 by Juliana Moreland and Kathleen Marinaro
In the spring semester, two members from the Baker Scholar Program, Dayna Lawrence and Caitlin Kennedy, put on an amazing Dean's Forum called What it Means to Be Sustainable. At the event, there were four panelists that were involved in apparel sustainability but each in a unique way. Willa Tsokanis, an FIT alum, is the chief executive officer and one of the founding members of Esa N.Y. The non-profit organization strives to make the fashion industry more sustainable by offering educational events, workshops, and lectures, all while being volunteer-based. Devin Gilmartin is the cofounder and President Querencia Studio, a multidisciplinary fashion brand that creates collections from 100% recycled materials. The Canvas by Querencia studios is a division of the brand that focuses on creating sustainable fashion and art locations throughout New York. Ngozi Okaro discussed founding Custom Collaborative, which offers women from low-income and immigrant communities the opportunity to launch string careers in the fashion industry. Custom Collaborative also propels the importance of fair compensation within the apparel industry as well as creating well-made sustainable fashion.
The panelists discussed the many issues surrounding the fashion industry's impact on the environment. The stigma of "not being sustainable enough" was heavily addressed, with each panelist stressing that every little action helps cause a greater reaction. Surprisingly, most panelists didn't com- pletely shun fast fashion, instead expressing that garments from those stores should not be worn only once. Panelists also discussed new technology that will help both companies and consumers track a garment throughout its entire production to see if it meets environmentally-friendly standards.
Students not only listened to the panelists about their careers and discussions on sustainability but asked questions . Some Fashion Design students asked how they can stay inspired when only created limited fashion lines. The panelists encouraged designing capsule collections and releasing them slower as well as having less pieces to a collection. Other students inquired about how to inform friends who might not understand why they are so passionate about sustainability. The panelists reassured these students by describing their own way of addressing the issue with friends and some helpful talking points for them to mention.
The event lead by Lawrence and Kennedy had a great turn out. The event ran smoothly, had amazing panelists, and was a major success.
---
The Business of Gender Neutral Dean's Forum

March 28, 2019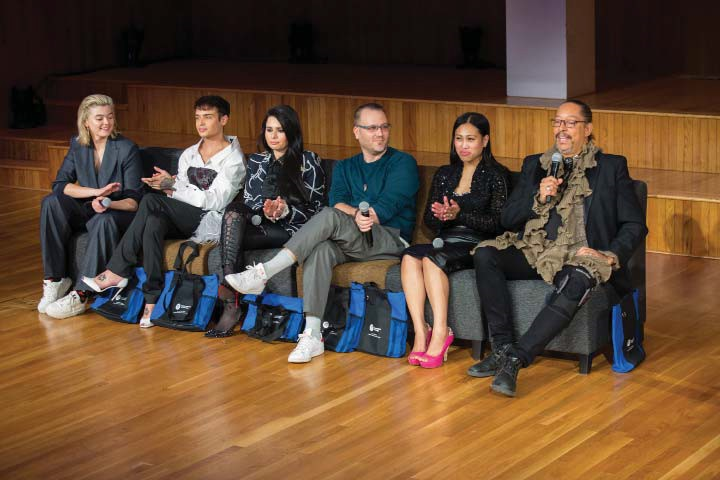 by Roche'r McFarlane
The Business of Gender Neutral Dean's Forum that took place on Thursday, March 28, 2019 was a great insight into the gender fluid fashion market. It included an amazing performance and fashion show to start.
The evening began with a song performance of Bad Influence by queer Latin artist, Baby Yors, coupled with a stunning fashion show. Following the show, was a beautiful introduction of each model featuring their preferred, or shall I say mandatory, pronouns and passion projects. The night continued with an eye-opening panel that lead into a great discussion about being true to one's self and breaking boundaries and barriers in the fashion world.
Photos taken by Lorenzo Ciniglio, Event funded by the Student Faculty Corporation