Toni Ko, Founder of NYX Cosmetics Talks Business at FIT by Ryann Casey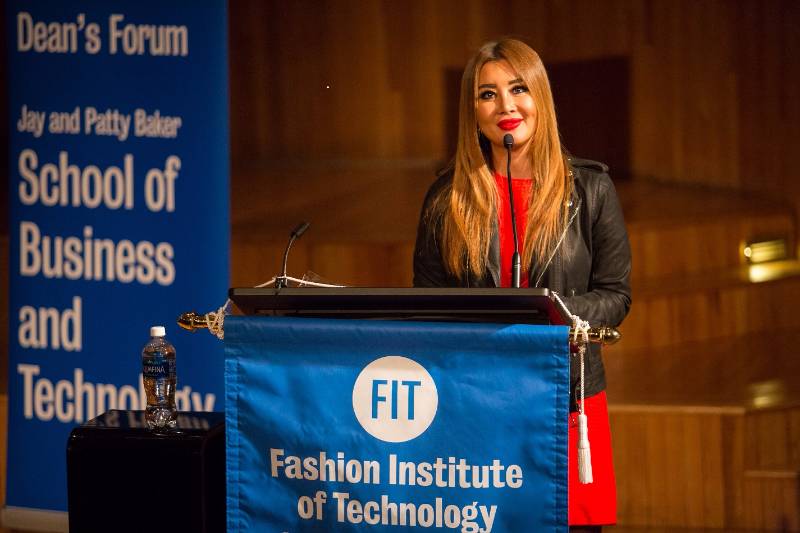 Toni was first introduced into the beauty business at the young age of 13.
She moved to the U.S from Korea with her family who bought a
small beauty supply business.
"No one teaches you how to eat; you instinctively know how to eat. Business is very similar to me," says Toni. She naturally grew up in the business helping her family out and working after school, on weekends and during school vacations, which aided to her keen business sense and entrepreneurial spirit. After working in the family business for 11 years, Toni left her parents business to create NYX.
Toni recognized a gap in the cosmetic market that she wanted to fill: "I saw a huge gap in the market between the quality of prestige brands and drugstore brands," she explains.
After leaving the family business, she started her own brand of color cosmetics. NYX married the two markets by delivering great quality with simple and chic packaging at a good price.
"I miss being in cosmetics every day. It's a really fulfilling business to be in," says Toni.
"Beauty business people are heavily loyal to your brand. She feels that makeup is artistry and can really change a person's attitude. She believes that positive impact can come out of just one lipstick. Toni describes the power of cosmetics, as "a tube of red lipstick is a domino effect on society. When a woman feels she is beautiful she is more confident and happy and it is a domino effect. It makes everybody happy."
So if Toni loved cosmetics so much, why did she sell the business? "I wanted to sell NYX because I was getting burnt out," says Toni. "I was married to the company and I was doing everything. My life had flashed by me and I felt like I had no life outside of work."
While Toni loved both the cosmetics industry and NYX, she sold the company to find a harmonious work life balance. She felt that NYX had gotten so large that it was beyond her control. Out of love for her business, Toni sold the company to L'Oréal in 2014, expressing that "L'Oréal has done a tremendous job and NYX has become a true global brand."

After selling NYX, Toni moved into the sunglass business with Perversion Sunglasses. She looked at many different categories, searching for something she personally cared for and knew a lot about. Toni landed on sunglasses, stating, "I love sunglasses, I personally have about a 100 pair collection of sunglasses." In similar technique to founding NYX, Toni recognized a missing gap in the sunglasses market of an aspirational price point brand. "It had everything I was looking for. I made a business plan that proved in theory so I bought a plane ticket to China and started looking for a supplier." Perverse Sunglasses launched in April 2016 at Coachella with a very similar business model to NYX Cosmetics.
Toni wrapped up her work experience with a few words of advice for young aspiring entrepreneurs:
1. "Only focus on your goal. Everything else is a noise. This puts you two steps back where you can look three steps forward. Focus on the big picture of what YOU want. Do not stress over the small stuff."
2. "Reinvest. Reinvest. Reinvest. When you see money rolling in, it is NOT your money. You cannot live like a rock star unless you are a rock star. It is important that a company have a strong financial platform. Why take a fruit off the tree when that fruit could evolve and grow another tree. It is your company's money not your money and your company needs that money reinvested to grow the business."
3. "When you do not know ask! When you ask questions, you will find people go out of their way to help you. People are good. They go out of their way to explain things to you."
Toni Koi has successfully created, grown and sold NYX Cosmetics and is now the CEO of Perverse Sunglasses.
Photo taken by Lorenzo Ciniglio
Event funded by the Student Faculty Corporation