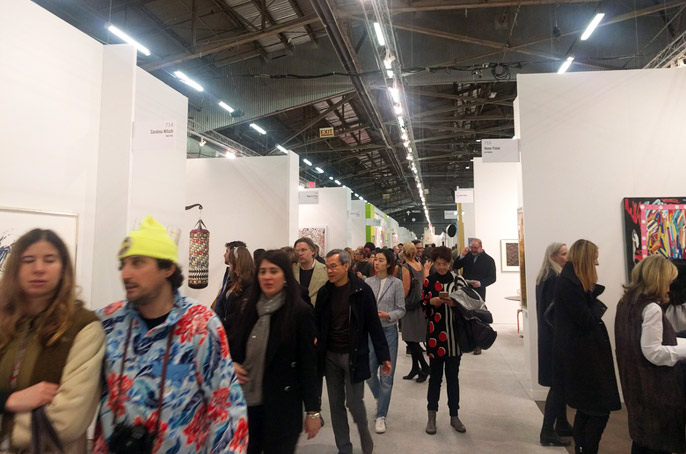 What is the application deadline?
The application deadline is March 15, 2018.
What must be submitted with the application?
All applicants must submit a completed application form (either downloaded from the website or obtained from the Graduate Studies office); a personal statement; a resume; two letters of recommendation (ideally, one academic and one professional); transcripts from ALL previously attended institutions of higher education; TOEFL scores for international students; and a non-refundable $50.00 application fee to:
School of Graduate Studies Office
Room E-315
27th Street at Seventh Avenue
New York, NY 10001
A minimum of two college-level courses in art history are required. Graduate Record Examination (GRE) scores are recommended. Forward scores to the School of Graduate Studies (code 2257-5199).
What requirements apply to international students?
The TOEFL test is required to demonstrate proficiency in English. Only official test scores sent directly from the testing service to FIT are acceptable. Issues pertaining to visa status are handled in advance with the office of International Student Advisors (212-217-8040).
What specific undergraduate degrees are acceptable for admission?
Most students who have been admitted to the program have undergraduate degrees in art history, or other subjects that are relevant to the art business, such as fine arts, business, history, or English. However, all students must demonstrate a knowledge of art, as well as strong writing and research skills.
What should my personal statement include?
The personal statement is an important opportunity for you to present yourself and describe your background, reasons for program choice, and future career goals. It will also be evaluated as a sample of your writing skills.
Can I complete the program as a part-time student?
The curriculum is designed for full-time study, but in special circumstances, a student may take fewer than the full-time load per term, and is permitted to take up to three years to complete the program. Accommodations for part-time study will be determined on an case-by-case basis.
What is the nature of the thesis?
Students who are interested in writing a thesis are encouraged to think about possible topics from the onset of the program. The will declare their intention to embark on a thesis and submit a brief project proposal by the end of the second semester of study. Students who choose the thesis track will enroll in AM 655 Thesis Seminar and AM 701 Thesis Preparation in the third semester. The Thesis Seminar will guide students through the research and writing process, while also providing background on research methodologies and academic standards. Totaling 12,000 to 15,000 words, the resulting project will represent an original contribution to the field.
Can I customize my degree in any way?
The choice of internship sites, the selection of coursework in the third semester, and the specific topic of the thesis offer students the opportunity to pursue individual interests.
Is student housing available?
Yes, undergraduate campus housing is available, but graduate students tend to use this as an initial stopgap measure while they make their own housing arrangements. For information contact the Office of Residential Life.
How does the Art Market Studies department determine acceptance?
Completed applications are reviewed as they are submitted (i.e. on a rolling basis). Selection is based on all of the components of the application. A candidate's transcripts, letters of recommendation, resume, work experience, and test scores (if applicable) are considered together. Absent the possibility of a personal interview, students will be interviewed via Skype. Students are notified of decisions by April. Please note, not all applicants will be granted an interview.
How many students are accepted each year?
Between 15 and 20 students are admitted each year.
What positions do graduates of the Art Market Studies program obtain?
Graduates in the program qualify for employment in all sectors of the art world, from non-profit organizations, such as museums and foundations, to for-profit ventures, such as galleries and auction houses. However, most graduates find employment in the commercial art world.