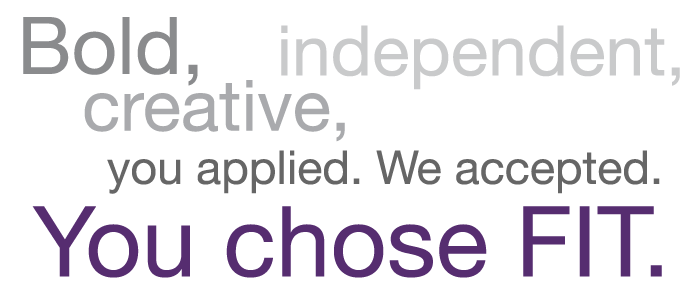 When you chose FIT, you chose to be part of a dynamic, vibrant community. Your choice has provided you with an incredibly rich education, new friends, industry connections, all of which helped make your dreams a reality. We want celebrate each and every unique reason why alumni chose FIT!
Tell us your reason by completing the I Chose FIT form. The form also enables you to attach your photo holding your sign, so don't forget to download the sign (.pdf) and snap a photo! Want to take your pride of FIT further? Share your photo on your social media networks by tagging us @FITalumni and using #IChoseFIT. You can read some of the reasons here and flip through our photo albums on Flickr.
As you recall your personal reason for choosing FIT, you may also recall all the wonderful memories that followed: the friends that inspired and encouraged you, the long nights in the studio, the supplies, the professor that challenged you to think outside the box, the internship that led to a job after graduating. It paid off. You made the right choice!
Choose FIT again by making a gift today. Your gift will ensure that current students and future generations are equipped with the same quality education you received and help fulfill their reasons for coming to FIT. Your gift, no matter the size, keeps FIT on the cutting-edge as it nurtures the next generation of creative leaders and business pacesetters.
Choose FIT again and donate today!