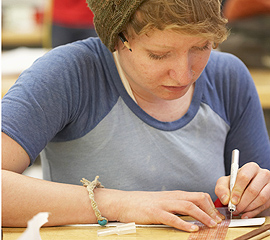 FIT offers a Bachelor of Fine Arts (BFA) degree in Toy Design. See eligibility requirements before you apply.
Concentrating on toy design for the infant through 'tween markets, the curriculum includes design and engineering of soft and hard toys, game and doll design, product safety, child psychology, motor learning development, packaging, Computer-Aided Industrial Design, marketing, promotion, and the business of toys.
Creativity at play
In an on-the-job environment, you'll develop prototypes and games. You'll study child psychology and product safety. You'll have access to the latest industry technology including the capability to "touch" and manipulate virtual objects on the computer – just as if they were in front of you. And you'll learn about the business of toy design including budgets, production, and marketing.
From internship to full-time employment
Your internship with a major toy company will give you valuable experience. For many students, it's an opportunity that turns into a full-time job after graduation.