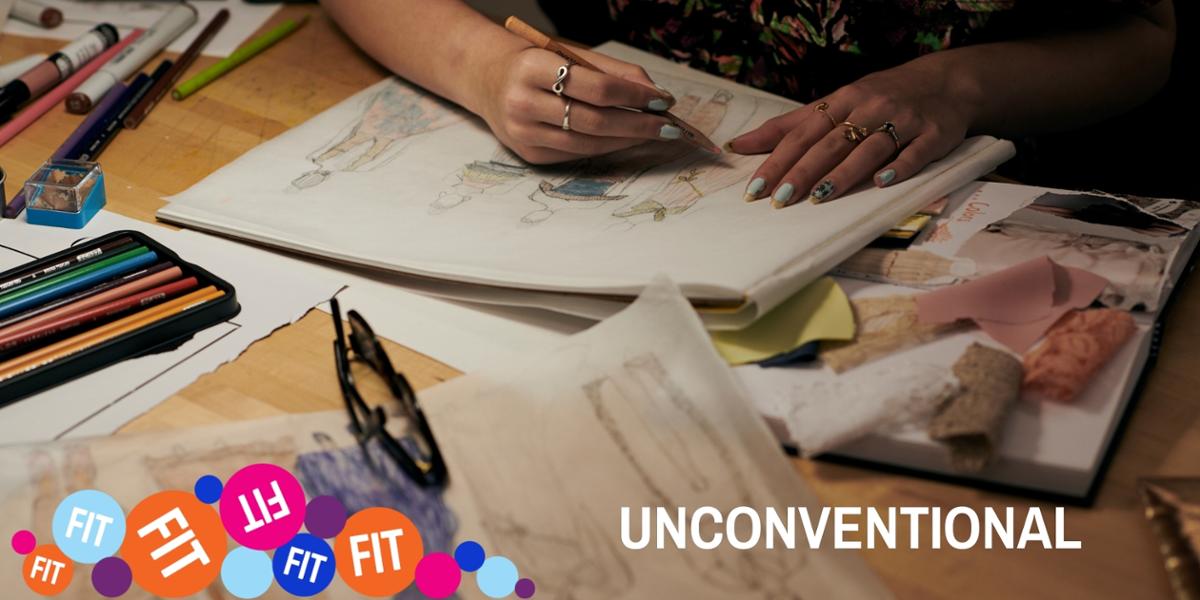 Precollege Live courses are taught by FIT professionals who love what they do and love to share their experiences and talents even more! Discover the industries FIT serves while you learn with us! Create competitive portfolio pieces, explore our majors, and develop lasting friendships with classmates who share your passions.
---
REGISTRATION DETAILS
ELIGIBLE GRADES: Students in grades 9 thru 12 as of Fall 2020.
ONLINE REGISTRATION: ENDED (September 9th thru 30th, 2020, available on desktop computers and laptops with Adobe Flash ONLY.)
LATE REGISTRATION: Due to the extensive technical process needed for remote class set up, we will be unable to offer late registration after September 30th. We thank you for understanding and hope you can join us this fall.
PRICE: 1 Course: $460.00 2 Courses: $905.00 More about prices, refund policy etc.
DATES and TIMES - all classes will be offered REMOTELY:
THURSDAYS: Ten remote

sessions,

October 8, 15, 22, 29, November 5, 12, 19, December 3, 10, 17, 2020
TIME: Afternoon (PM): 4:00 pm-7:00 pm EDT (Eastern Daylight Time)
SATURDAYS:

Ten remote

sessions,

October 10, 17, 24, 31 November 7, 14, 21, December 5, 12, 19, 2020
TIME: Morning (AM): 9:30 am-12:30 pm and/or Afternoon (PM): 1:30 pm-4:30 pm EDT (Eastern Daylight Time)
Students attend the same class remotely for the entire 10-session program
ADDITIONAL INFORMATION:

All new students must watch the Precollege Orientation Video and submit a signed Acknowledgment of Risk and Release and Waiver Of Liability Form (coming soon)

Classes may be canceled due to low enrollment. You will be notified by email if cancellations occur.

Instructor Contact List *Please note: instructor assignments are subject to change
For assistance, email: [email protected]
---
COURSE LISTINGS AND TIMES: BUSINESS-RELATED MAJORS
Advertising and Marketing Communications Department Offerings:
HAC 063 55A SAT AM (Remote) Introduction to Advertising and Marketing Communications Instructor: Neil Brownlee

Fashion Business Management Department Offerings:
HFM 064 55A SAT PM (Remote) The Ins and Outs of Fashion Merchandising Instructor: Gary Wolf
HFM 064 55B THURS PM (Remote) The Ins and Outs of Fashion Merchandising Instructor: Jill Topol

---
COURSE LISTINGS AND TIMES: FASHION-RELATED MAJORS
Accessories Design Department Offerings:
HLD 031 55A SAT AM (Remote) Sneaker and Performance Footwear Design Instructor: Gregg Woodcock
Fashion Design Department- Art Offerings:
HAR 016 55A SAT AM (Remote) Introduction to Fashion Design Art Instructor: Susanna Moyer
HAR 016 55B SAT PM (Remote) Introduction to Fashion Design Art Instructor: Steven Cutting
HAR 016 55C THURS PM (Remote) Introduction to Fashion Design Art Instructor: Christopher Uvenio
HAR 089 55A* SAT PM (Remote) Fashion Design Portfolio III Instructor: Mary Capozzi
Fashion Design Department - Menswear Offerings:
HMW 151 55A SAT AM (Remote) Introduction to Menswear Design Instructor: Nilcem Stitt
---
COURSE LISTINGS AND TIMES: VISUAL ART AND DESIGN-RELATED MAJORS
Fine Arts Department Offerings:
HFA 022 55A SAT PM (Remote) Drawing for Artists Instructor: Anthony Capparelli

Interior Design Department Offerings:
HID 031 55A SAT AM (Remote) Portfolio Skills for Interior Designers Instructor: Shannon Leddy