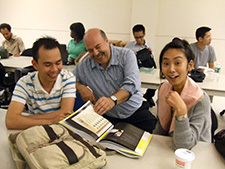 Robin has a MS in Art Education from Pratt institute. He is on the advisory board for Graduate Interior Design at Moore College of Art in Philadelphia and currently an advisor for The Hunterdon Art Museum in Clinton New Jersey. Robin is a partner in Drake & Boucher Inc. in New York developed brand identities for Harry Cipriani, Aquascutum Inc, and Stow Davis Furniture. The firm also designed trade show exhibits for Esprit, the Steelcase Design Partnership, and the Container Store at the South Street Seaport Museum.
Drake & Boucher were participants in a show at the Cooper-Hewitt Museum entitled: Materialis , which presented new materials used by design offices in the U.S. Showroom designs were completed for Nienkamper furniture, Stylex Furniture and Heller, all in the Merchandise Mart, Chicago. Under Robin Drake Design I designed the New York travelling exhibits with works from The Wolfsonian Museum in Miami, Florida (The French Pochoir), The John Soane Museum, London, (Robert Adams drawings) The Center for Jewish History, (Opening exhibition for the Louis Beck Institute,) The Philadelphia Museum of Art (Florence Knoll exhibit) New York.
Robin also worked as exhibit design consultants for the Italian Cultural Institute In New York, and the Gallery of the New York School of Interior Design. The firm also designed the 4,000 square foot Heller Gallery in New York's meatpacking district. Numerous published works in New York Times, design section, two cover stories with Interiors Magazine, a feature section in the Loftstyle book by Suzanne Slesin. Robin was the subject of a television news interview by Roz Abrams about my design for an Edible Architecture competition.