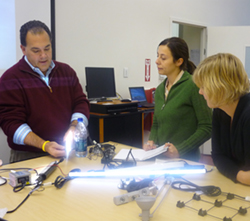 Rob Cohen is a principal and serves as Vice President of Sales and Manufacturing,
and as General Counsel, of Display Supply & Lighting, Inc. and its related companies.
He is responsible for managing all aspects of sales, marketing, product development
and manufacturing as well as the legal affairs of the companies. Rob received his
undergraduate degree from the University of Hartford - Barney School of Business ('83)
and his Juris Doctorate degree from Suffolk University School of Law ('87). For over a
decade, he engaged in the full time practice of law focusing on general business matters,
mergers, acquisitions and technology licensing transactions for closely held to publicly
traded companies. In 1996, Rob purchased a lighting distribution company with other
investors and in 1999 merged that entity with 2 other companies to create Display
Supply & Lighting, Inc. Several off shoot companies have resulted from this venture. Rob has helped to start and has sold off a variety
of start up companies. He has also volunteered his time as a board member of a variety of not for profit ventures and is a Past President
of the Exhibit Designers and Producers Association.