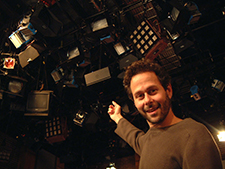 Michael Stiller, LEED AP, IESNA, Practicing Affiliate IALD, is a lighting practitioner and teacher whose career over the last 25 years has spanned the worlds of architectural lighting, experiential environments, theatrical presentations, television, and motion pictures. He is the Owner and Founder of UpLIGHT. His architectural designs are represented in the corporate, retail, exhibit, residential, and municipal markets. His theatrical designs have been produced in dozens of international venues ranging from raw industrial spaces to classical opera houses, state theaters, and arenas. And his work for camera has appeared in major motion pictures and network television.
In 1998, Michael founded Michael Stiller Design, where he directs a flexible workforce of designers, project managers, and programmers. Michael has led lighting workshops abroad, been a guest lecturer at the Pratt Institute, and is currently a faculty member at FIT in both the interior design department and the school for graduate studies' master's degree program in exhibit design. He is a member of the board directors of the USGBC New York Upstate Chapter, and he conducts regular seminars, presentations, and webinars for the USGBC Chapter and the AEE. He is also a guest lecturer for SUNY Ulsters Professional Education Program.
Michael also wrote the book titled, Quality Lighting for High Performance Buildings, soon to be published by the Fairmont Press in conjunction with the Association of Energy Engineers.
Michael is the winner of the IES Illumination Award for his work at 85 Broad Street for Beacon Capital Partners.