David Drogin, PhD
Professor | Art History and Museum Professions; History of Art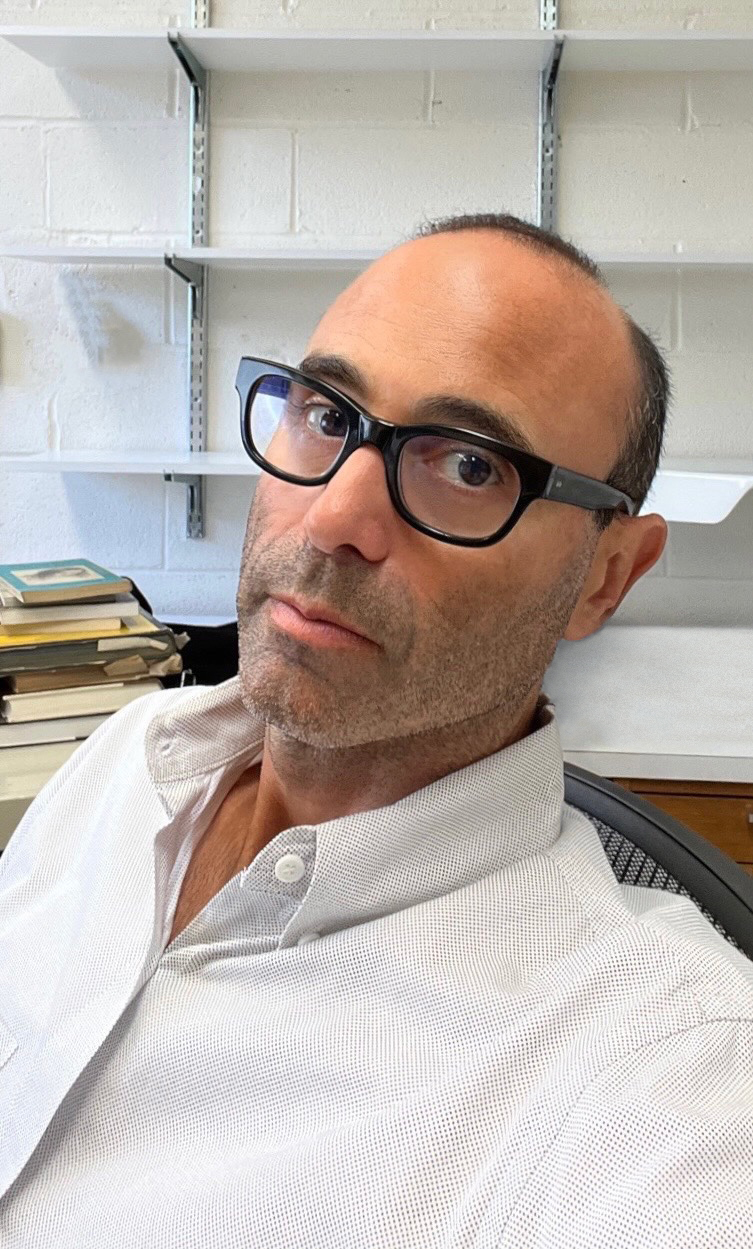 (212) 217-4649
Business and Liberal Arts Center, Room B639
Education
BA, Wesleyan University
MA, PhD, Harvard University
2008-2009 State University of New York Chancellor's Award for Excellence in Teaching
Biography
Dr. Drogin is a specialist in Italian Renaissance art and has been a member of the department since 2004. He is currently the department Chairperson. Dr. Drogin has lectured frequently in the United States and abroad, in venues such as the Metropolitan Museum of Art, the quadrennial Italian Renaissance Sculpture Conference, and annual conferences of the Renaissance Society of America and the Sixteenth Century Society. His current research and publications focus on fifteenth-century sculpture, Renaissance Bologna, and linear perspective in the work of Donatello. Dr. Drogin has also written and lectured about contemporary art. In 2009 he was recipient of the SUNY Chancellor's Award for Excellence in Teaching.
Selected Publications
"The Body, Space, and Narrative in the Work of Early Fifteenth-Century Tuscan Sculptors," in The Art of Sculpture in Fifteenth-Century Italy, ed. Amy Bloch and Daniel Zolli (Cambridge: Cambridge University Press, 2020).
"Art and Patronage in Bologna's Long Quattrocento," in A Companion to Medieval and Renaissance Bologna, ed. Sarah Blanshei (Leiden: Brill, 2018).
"Dialogue of the Doges: Monumental Ducal Tombs in Renaissance Venice," in Tombe dogali: la commemorazione dei principi della repubblica veneziana, ed. Benjamin Paul (Rome: Viella, 2015).
"The Bentivoglio: Art, Patronage, and Emulation in Fifteenth-Century Bologna," in Bologna: Cultural Crossroads from the Medieval to the Baroque, ed. Angela De Benedictis and Nicholas Terpstra (Bologna, 2013).
Co-editor and contributor ("Introduction" and "Professors to Princes: the Sculptural Patronage of the Bentivoglio Family in Bologna"), Sculpture and Italian Renaissance Patronage, ed. David Drogin and Kathleen Christian, pp. 1–21, 43–59. (Aldershot, 2010).
"Art, Patronage, and Civic Identities in Renaissance Bologna," in The Court Cities of Northern Italy, ed. Charles Rosenberg, pp. 244–324 (Cambridge, 2010).
"Glenn Ligon," Museo XIV (Spring 2010), www.museomagazine.com.
"Arcimboldo, by Sylvia Ferino-Pagden," Renaissance Quarterly LXII (Spring 2009): 261–63.
"Adam Pendleton," in Frequency, ed. Thelma Golden (New York: Studio Museum in Harlem, 2005).
"Bologna's Bentivoglio Family and Their Artists: Overview of a Quattrocento Court in the Making," in Artists at Court: Image-Making and Identity, 1300–1550, ed. Stephen Campbell, pp. 72–90 (Chicago, 2004).
"Urbino Legend: Raphael at the National Gallery, London," Artforum XLII (September 2004): 92.
"Lo Spirito di Donato: Young Michelangelo and the Sculpture of Donatello," in Coming About…A Festschrift for John Shearman, ed. Lars Jones and Louisa Matthews, pp. 149–56 (Cambridge, MA, 2001).
Selected Lectures
"Bertoldo's Battle Relief: Fusing Civic and Family Imagery in Medici Sculpture"
Ninth Quadrennial Italian Renaissance Sculpture Conference
University of Vermont, October 17, 2021
"The Mirror and Illicit Image: A 16th-Century Exemplar"
"The Mirror in Theory and Practice: New Perspectives on Old Questions" Conference
Vienna, June 17, 2021 [virtual]
"Medieval and Renaissance Bolognese Professors' Tombs: Images of Authority"
The Medici Archive Project, April 27, 2021 [virtual]
"Rivalry and Identity in Early Renaissance Equestrian Monuments"
Sixteenth Century Society Conference
St. Lous, October 20, 2019
"Rivalry and Identity in Early Italian Renaissance Equestrian Monuments,"
Sixteenth Century Society Conference
St. Louis, October 20, 2019
"Shaping the Bentivoglio Dynasty: Giovanni II's Decoration of the Bentivoglio Chapel, San Giacomo Maggiore, Bologna"
Sixteenth Century Society Conference
Albuquerque, November 2, 2018
"Jacopo della Quercia in Bologna: Strategies of Style,"
Renaissance Society of America Conference
New Orleans, March 22, 2018
"The Body and Space in Jacopo della Quercia's Relief Sculpture"
Eighth Quadrennial Italian Renaissance Sculpture Conference
National Gallery of Art, Washington, D.C., October 28, 2017
Session Chair, "Portraiture in Italy"
Renaissance Society of America Conference
Chicago, April 1, 2017
"Michelangelo and Bologna: The Heritage of the Artist's Visits in His Later Work,"
Sixteenth Century Society Conference
Vancouver, October 24, 2015
Session Chair, "Iconography of the Virgin Mary,"
Sixteenth Century Society Conference
Vancouver, October 23, 2015
Session Chair, "Alternative Venice(s): Alternative Notions of Venetian Art II: Venetian Art between Medium and Geography,"
Renaissance Society of America Conference
Berlin, March 26, 2015
"Perspective in the Relief Sculpture of Donatello,"
In coordination with the exhibition, "Sculpture in the Age of Donatello: Renaissance Masterpieces from Florence Cathedral"
Museum of Biblical Art, New York, April 23, 2015
"The Body, Space, and Narrative in Early Fifteenth-Century Tuscan Sculpture,"
Invited participant, "Material/Immaterial: A Symposium on Fifteenth-Century Sculpture,"
In coordination with the exhibition, "Sculpture in the Age of Donatello: Renaissance Masterpieces from Florence Cathedral,"
Museum of Biblical Art, New York, February 21, 2015
"Michelangelo's New Sacristy: Emulation and Identity,"
Sixteenth Century Society Conference
New Orleans, October 17, 2014
"Perspective and Narrative Modes in Donatello's Relief Sculpture,"
Renaissance Society of America Conference
San Diego, April 4, 2013
"Sculptural Installation in the Bentivoglio Chapel, Bologna,"
Renaissance Society of America Conference
Washington, D.C., March 24, 2012
"The Fifteenth-Century Bentivoglio: Art Patronage, Rulership, and Emulation,"
Invited participant, "Bologna – Cultural Crossroads from the Medieval to the Baroque: Recent Anglo-American Scholarship" Conference, Centro Studi sul Rinascimento
Bologna, June 20, 2011
"Michelangelo and Donatello: a Constructed Rivalry,"
Renaissance Society of America Conference
Montreal, March 25, 2011
"Dialogue of the Doges: Monumental Ducal Tombs in Renaissance Venice,"
Invited participant, "Tombe dogali: la commemorazione dei principi della repubblica veneziana" Conference, Fondazione Giorgio Cini/Centro Tedesco di Studi Veneziani
Venice, September 30, 2010
"Reflecting on Eroticism: the Mirror and Illicit Image,"
Renaissance Society of America Conference
Venice, April 9, 2010
Panel discussant, Restoration
New York Theater Workshop, May 25, 2010
"Sculpture, Patronage, Emulation and the Bentivoglio of Bologna,"
Invited participant, Symposium on Renaissance Art in Honor of John Paoletti
Wesleyan University, Middletown, CT, May 1, 2009
"Medieval and Renaissance Bolognese Professors' Tombs,"
Guest lecture, Art History Department, Rutgers University
New Brunswick, NJ, November 14, 2008
"The Bentivoglio of Bologna and Early Renaissance Iconographies of Power,"
Renaissance Society of America Conference
Chicago, April 4, 2008
"New Works by Adam Pendleton,"
Guest Curator, Museum of Modern Art, Junior Associates Studio Visit Program
New York City, May 7, 2006
"Transitive Exemplarity in Niccolò dell'Arca's Terra Cotta Lamentation,"
Renaissance Society of America Conference
San Francisco, March 23, 2006
"Petrarch, Allegory and Rulership: Lorenzo Costa's Triumph Paintings in the Bentivoglio Chapel, Bologna,"
"Petrarch and the Arts" Symposium
Johns Hopkins University, October 23, 2004
"The Sistine Chapel's Fictive Tapestries: A Reevaluation of Papal Iconography and Context,"
Renaissance Society of America Conference
New York, April 3, 2004
"Iconographies of Knowledge and Power: The Professor's Tomb in Late Medieval Bologna,"
Conference on Early Italian Art,
University of Georgia–Georgia Museum of Art, November 16, 2002
"Painters and Sculptors in the Bentivoglio Court of Bologna,"
"The Renaissance Court Artist: Design in Theory and Production" Symposium,
Isabella Stewart Gardner Museum, Boston, March 2, 2002
"Inhabiting Representation: Ottoman Employment of European Images of the Turk,"
"Orientalism before 1600" Conference
Cambridge University, July 15, 2001
Courses
HA 112 History of Western Art and Civilization: Renaissance to the Modern Era
HA 214 Art in New York
HA 317 Italian Renaissance Art & Civilization
HA 396 Art and Patronage in the Italian Renaissance