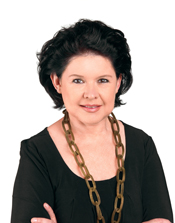 Dr. Brooke Carlson (Dr. B) has 20 + years of executive marketing and general management experience in the beauty industry. This covers general business management including marketing, product development, finance, sales, creative, advertising, public relations, education, licensing, manufacturing/contract management, logistics, forecasting, research and development, and magazine editing and publishing. Her entrepreneurial background includes leadership, strategic marketing, brand development, brand image/positioning, budgeting, P&Ls, exploitation of channels of distribution, market penetration and white space, new product development and category expansion, as well as research and analysis.
Prior to joining FIT as a full-time faculty member, Dr. B was Vice President, Conair Professional Division where she oversaw salon brands, marketing communications, licensing agreements, Style Source magazine, and business development. As Sr. Vice President, Matrix (division of L'Oreal USA), she oversaw strategic marketing and communications for the U.S market. While at L'Oréal, she also held position of Vice President and General Manager of L'Oreal Technique, and was Vice President and General Manager of Artec, a fast growing cult salon brand acquired by L'Oreal in 2002. Previous experience also included Director of Marketing at Zotos, a division of Shiseido; and Assistant Vice President at Parfums de Coeur, a privately held mass-market fragrance company.
Brooke holds a Doctor of Science Degree in Management Systems from the University of New Haven, as well as an MBA in Marketing from Sacred Heart University. She is on the Business Advisory Board of the University of New Haven, was a past member of the Advisory Board of FIT's CFMM undergraduate program, member of National Cosmetology Association, and PBA (Professional Beauty Association). She has also been a Guest Lecturer and Adjunct Professor at UNH, SHU, FIT, L'Oreal MDC, and for several industry associations.