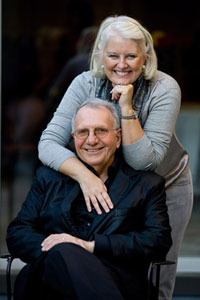 In 2001, an unparalleled gift of $10 million from Jay and Patty Baker began an enduring relationship between the couple and FIT. The funds enabled the college to break ground on the first major campus building project in 25 years (the Conference Center at FIT and a state-of-the-art dining facility opened in September 2005). The donation also endowed 40 scholarships in perpetuity. The School of Business and Technology, which offers 13 majors and has more than 4,000 students, was named in the Bakers honor in 2006.
The Bakers donation set the high water mark for individual philanthropy at FIT. At the time, it was the largest gift to a SUNY community college and the second most generous personal contribution to any of the university's 62 campuses. Jay Baker had a powerhouse career in retail, culminating in the presidency of Kohls Department Stores; he has found a way to keep an industry he loves vibrant by supporting both a great educational contributor to that industry and some of its best students. Patty Baker studied theater arts and art history at Hunter College; with FIT she has a fulfilling connection to a renowned cultural institution and the creative talent it nurtures.
The scholarships, endowed with a total of $2 million, were established for deserving students in the Jay and Patty Baker School of Business and Technology. Awards are based on financial need, academic achievement, community service, and commitment to a non-smoking lifestyle. Recipients, known as Baker Scholars, have the valuable opportunity to join a tight-knit group of 40 supportive peers, helping to make the most of their FIT experience. Beyond this, the scholars receive a priceless benefit. Throughout the year they enjoy an unusually close relationship with the Bakers, coming together at receptions and dinners to share the highlights of their FIT journey. For many Baker Scholars, the relationship is enriched by having Jay and Patty Baker in their lives well after graduation. And the Bakers maintain a fulfilling connection with the life of the school that bears their name.