Past Exhibitions 2022-2023

Dior and Balenciaga: The Kings of Couture and Their Legacies, Fashion and Textile History Gallery, June 1 - November 6, 2022
Exhibitions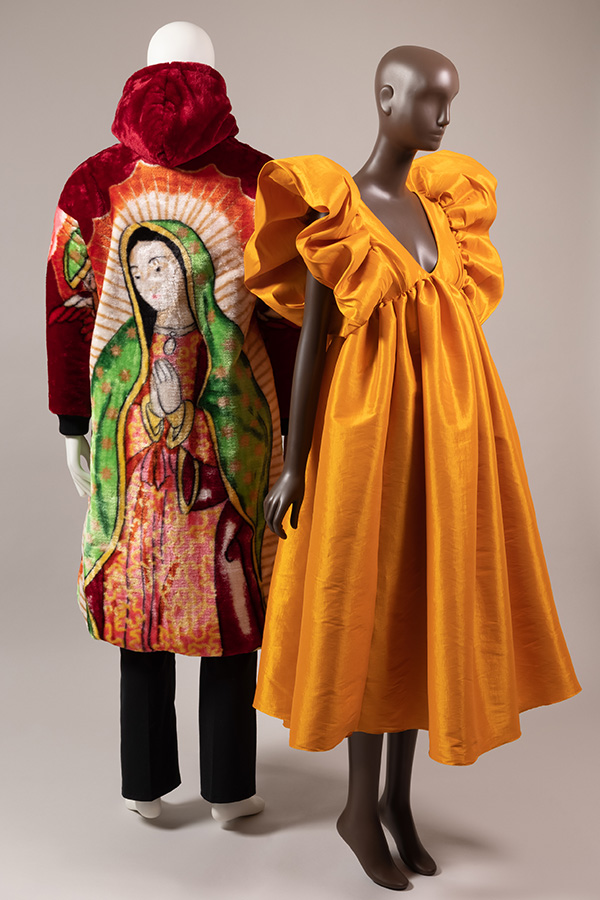 ¡Moda Hoy! Latin American and Latinx Fashion Design Today
Fashion & Textile History Gallery
May 31 – August 27, 2023
Exhibition Page (English) | Página de la exposición (español)
For decades, fashion designers of Latin American descent such as Carolina Herrera, Oscar de la Renta, and Haider Ackermann have been central figures of the fashion industry. Their successes have paved the way for new generations of talented designers including Gabriela Hearst, Carla Fernández, and Willy Chavarria. These represent only a few of the emerging designers who are making their mark on the fashion scene by creating for famous fashion houses, winning prestigious awards, and dressing celebrity clients.
¡Moda Hoy! Latin American and Latinx Fashion Design Today included creators from Latin American countries, as well as designers of Latin American heritage living and working in the United States and Europe who are often referred to as Hispanic, Latino/Latina, or the gender-neutral term Latinx. Featuring more than 60 objects from the museum's permanent collection, including many new acquisitions, the exhibition rejected the notion of a singular Latin American style, to focus instead on the diversity of talent present today in Latin America and its diaspora.
Image: (L) Equihua, Devotion coat, New Classics collection, 2018, USA, museum purchase, 2022.24.1 (R) Kika Vargas, dress, 2022, Colombia, gift of Kika Vargas, 2022.83.1

/////////////////////////////////////
Durante décadas, diseñadores de ascendencia latinoamericana como Carolina Herrera, Oscar de la Renta y Haider Ackermann han sido figuras centrales de la industria de la moda. Sus éxitos han facilitado el camino para nuevas generaciones de diseñadores talentosos, como Gabriela Hearst, Carla Fernández y Willy Chavarria. Estos son sólo algunos de los diseñadores emergentes que están dejando huella en la escena de la moda al diseñar para famosas casas de moda, ganar prestigiosos premios y vestir a clientes famosos.
¡Moda Hoy! Latin American and Latinx Fashion Design Today incluye creadores de países latinoamericanos, así como diseñadores de ascendencia latinoamericana que viven y trabajan en Estados Unidos y Europa, a menudo referidos como hispanos, latinos / latinas o el término inclusivo Latinx. La exhibición incluye más de 60 objetos de la colección permanente del museo, muchos de ellos siendo adquisiciones nuevas. La exposición rechaza la noción de un estilo latinoamericano singular para enfocarse, en cambio, en la diversidad de talento presente hoy en América Latina y su diáspora.
(Izq.) Equihua, abrigo Devotion, colección New Classics, 2018, EUA, 2022.24.1 (Der.) Kika Vargas, vestido, 2022, Colombia. Donación de Kika Vargas, 2022.83.1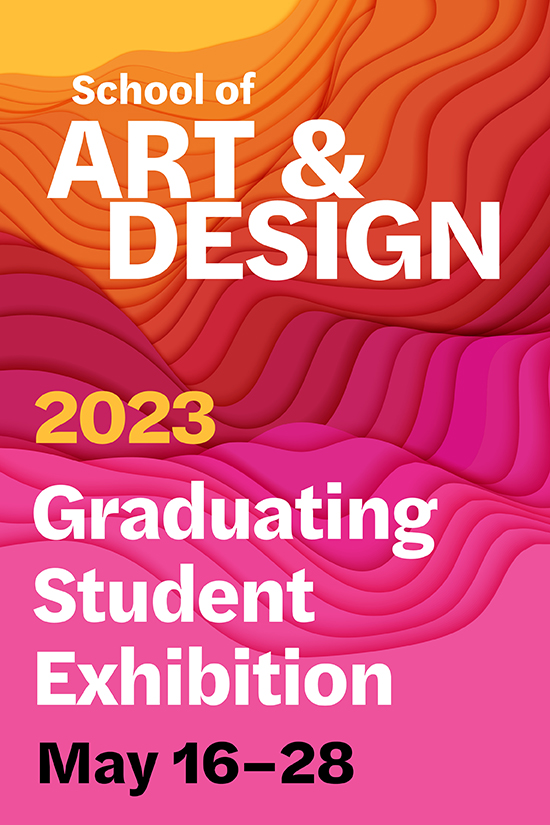 FIT School of Art and Design Graduating Student Exhibtion 2023
Multiple Locations
May 16 - 28, 2023
This annual exhibition presented the work of more than 600 student graduates in 16 areas of study from the School of Art and Design. The work was the culmination of each student's unique experience in FIT's diverse, challenging, and demanding undergraduate art and design programs. Featuring juried, award–winning, and thesis projects, this presentation was the manifestation of several years of research, experimentation, critical thinking, and artistic proficiency. The Graduating Student Exhibition advances the college's philosophy that integrates practice in industry with theory and teaching inside the studio.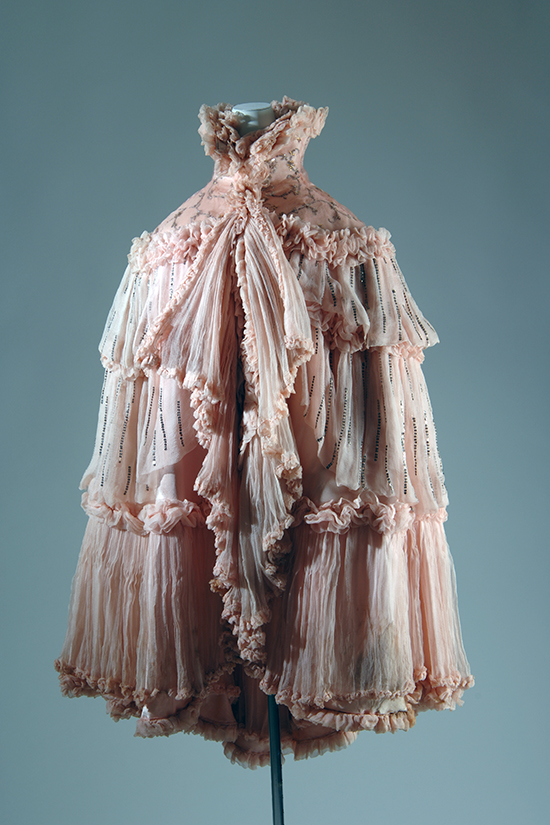 Designing Women: Fashion Creators and Their Interiors
Fashion & Textile History Gallery
November 30, 2022 - May 14, 2023
Modern female fashion designers ardently incorporated interior decoration into their professional and personal lives. This phenomenon became increasingly evident beginning in the late nineteenth century, as more women founded important couture houses in Paris, London and New York. At the same time, the field of interior decoration became a viable profession, thanks in large part to innovative ladies on both sides of the Atlantic.
Designing Women: Fashion Creators and Their Interiors was the first exhibition to explore the connection between these disciplines. Approximately 70 garments from The Museum at FIT's permanent collection were on view alongside photographic images of the most compelling interiors created for leading female fashion designers from the 1890s to the 1970s. Featured creators included Jeanne Paquin, Lucile, Jeanne Lanvin, Madeleine Vionnet, Pauline Potter (later Baroness Pauline de Rothschild), and many others.
Presented chronologically, the selection of objects and images included a diverse range of spaces, from luxe couture salons and modest ateliers to private homes. Together the fashions and photographs addressed how and why interior decoration became such an integral part of fashion's leading designing women.
Curator: Patricia Mears
Learn more about the exhibition.
Image: Paquin, evening cape, pink silk chiffon and metal sequins, 1897, France, museum purchase, P83.19.7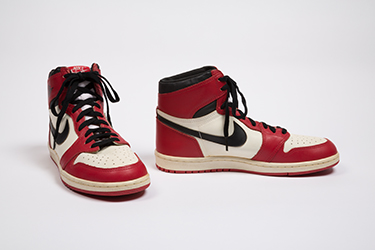 Fresh, Fly, and Fabulous: Fifty Years of Hip Hop Style
Special Exhibitions Gallery
February 8 - April 23, 2023
Fresh, Fly, and Fabulous: Fifty Years of Hip Hop Style celebrated the 50th anniversary of the birth of hip hop by examining the roots and history of hip hop fashion from its inception to the present time. This exhibition explored themes such as the transition of hip hop from the 'hood to the runway, luxury and designer influence, the impact of hip hop celebrities on the fashion industry, and the growth of hip hop style as an international phenomenon.
This exhibition was curated by Elena Romero, Assistant Professor of Advertising and Marketing Communications at FIT and author of Free Stylin': How Hip Hop Changed the Fashion Industry together with Elizabeth Way, Associate Curator at The Museum at FIT.
Learn more about the exhibition.
Image: Nike, "Air Jordan" sneakers, 1985, USA, gift of Nike, 85.196.1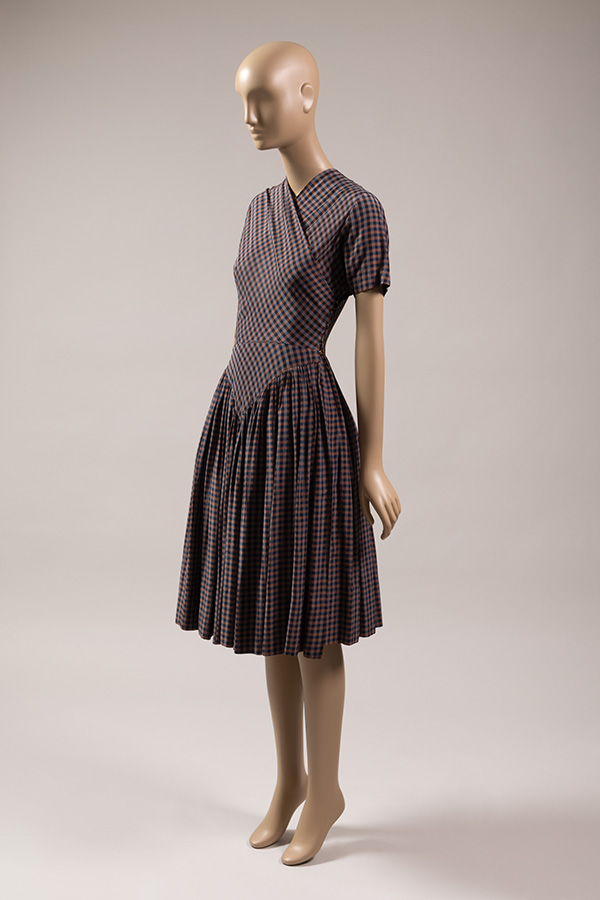 Claire McCardell: Practicality, Liberation, Innovation
Gallery FIT
April 5 - 16, 2023
Claire McCardell: Practicality, Liberation, Innovation explored the work of Claire McCardell (1905-1958), one of the founders of American sportswear. It was organized by Nico Frederick, Christina Pene, and Emma Sosebee, seniors in the Art History and Museum Professions undergraduate program (AHMP) at FIT. This exhibition introduced key themes that are characteristic of McCardell's designs, by featuring nine garments from the Study Collection at The Museum at FIT, reproductions of mid-20th century advertising materials from Special Collections & College Archives, and the designer's now-classic book What Shall I Wear? The What, Where, When, and How Much of Fashion, originally published in 1956 and reprinted in 2022.
Image: Claire McCardell, popover dress for Lord & Taylor, rayon, brass hooks & eyes, c. 1947, USA, gift from Hood College of Frederick, Maryland, 96.61.6. The Study Collection at The Museum at FIT.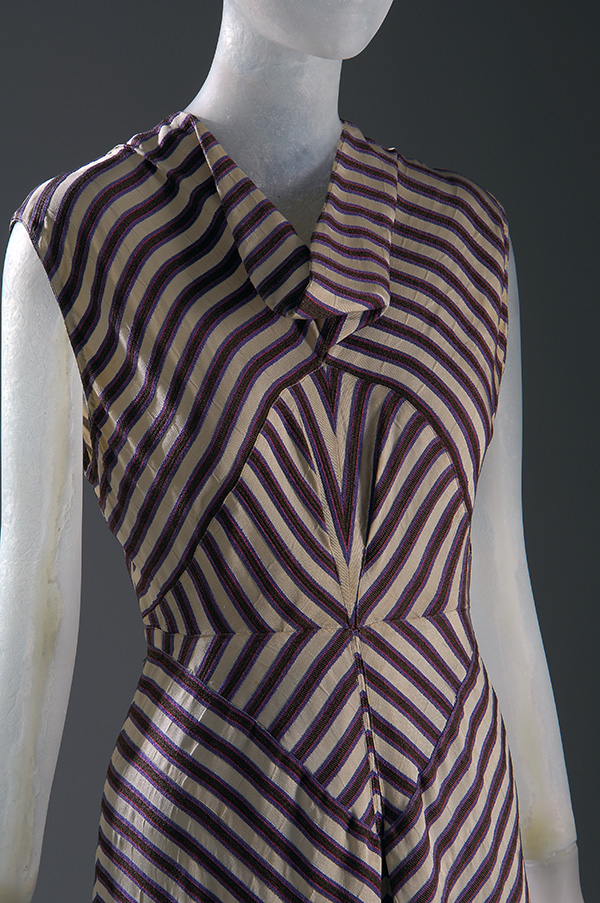 Elizabeth Hawes: Along Her Own Lines
Gallery FIT
March 1 - 26, 2023
Elizabeth Hawes: Along Her Own Lines was the first contemporary exhibition devoted to the gifted American clothing designer, author, and labor activist Elizabeth Hawes (1903–1971). Organized by FIT graduate students, the show opened at a time when Hawes is especially relevant, because her activism and innovative philosophies correspond to the concerns of today. Hawes criticized the exploitative, classist nature of the fashion industry and sought to revolutionize it in her own creations, and through her writing and unionization efforts. She attempted to dismantle the confines of gender-binary clothing and encouraged women to embrace their unique bodies with an open-minded positivity that was ahead of its time. Hawes also used her writing to challenge the fashion industry from the inside, calling for people to think consciously about what they wear. Elizabeth Hawes: Along Her Own Lines celebrated these many facets of her maverick individuality and rebel spirit via four themed sections. Each section had a title taken from chapter headings in her books. The exhibition aimed to explore Hawes' full range of radical politics, design philosophy, and visionary expression through her clothing and designs, as well as her published and unpublished manuscripts, and media coverage.
Learn more about the exhibition.
Image: Elizabeth Hawes, evening dress, silk brocade, c. 1936, USA, gift of Mrs. Dudley Schoales, 69.156.6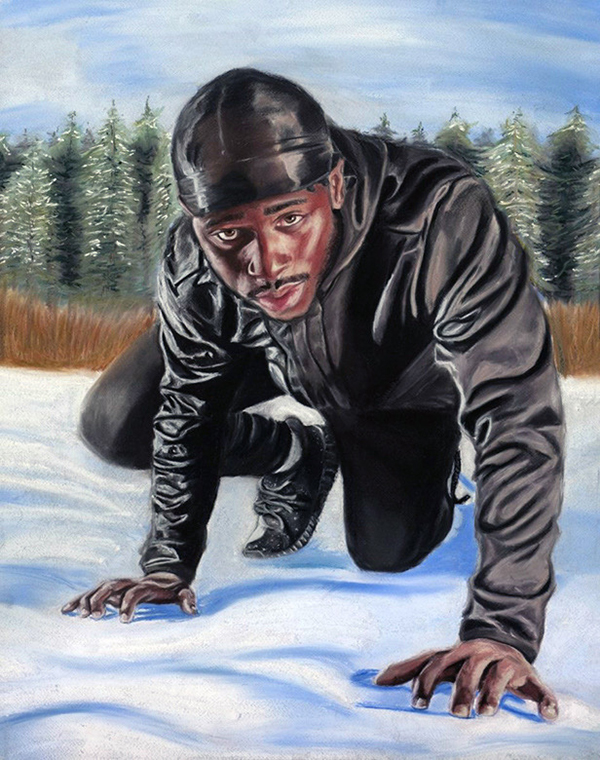 Out of Body or Out of Place?
Gallery FIT
February 1 – 12, 2023
This Black History Month, students at FIT were given the opportunity to express their upbringing as Black students in the Black Student Union Club's exhibition Out of Body or Out of Place? Visual depictions of racial dysmorphia, imposter syndrome, ostracism, and more are featured in this exhibition. This show is an opportunity for those who do not fall under a Black identity to understand the extent and importance of marginalized groups unionizing not just as Black students, but as an overall diverse and inclusive community.
Read an interview with the curators.
Image: American Stalker, Kailee Finn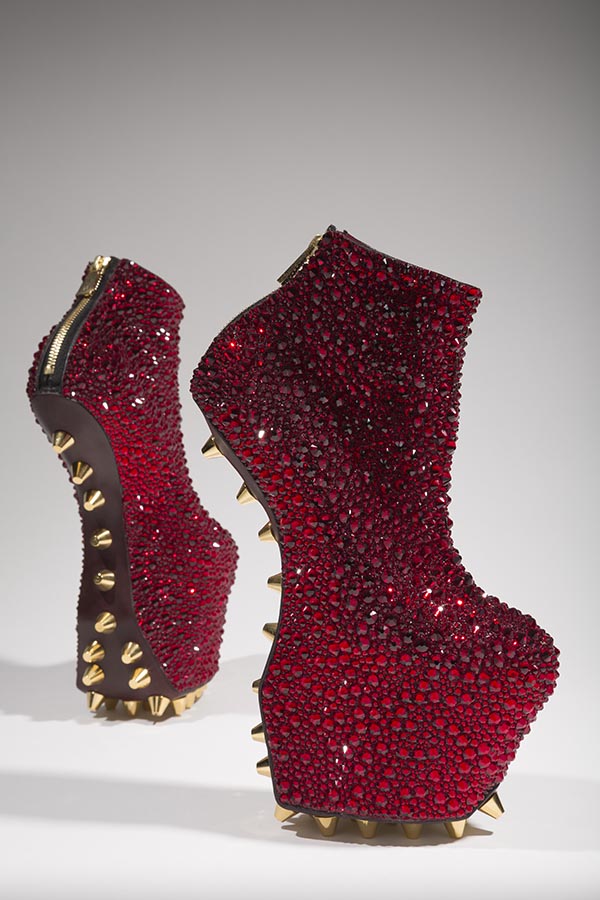 Shoes: Anatomy, Identity, Magic
Special Exhibitions Gallery
September 1 – December 31, 2022
Shoes: Anatomy, Identity, Magic highlighted more than 300 pairs of shoes from the museum's permanent collection of 5,000 shoes. Following the success of the MFIT exhibitions Shoes: A Lexicon of Style (1999) and Shoe Obsession (2013), this exhibition provided its own rich narrative on the enduring cultural significance of shoes, while showcasing the museum's world-class collection of footwear. The museum's earliest shoes date from the 17th century (a pair of high-heeled men's shoes). The most recent are spectacular 21st-century footwear. Featured labels included Alaïa, Manolo Blahnik, Chanel, Ferragamo, Christian Louboutin, Alexander McQueen, Prada, Noritaka Tatehana, Iris van Herpen, and Roger Vivier, among others.
Learn more about the exhibition.
Image: Noritaka Tatehana, red "Crystal Rose" platforms, 2014, Japan, gift of Noritaka Tatehana, 2014.52.1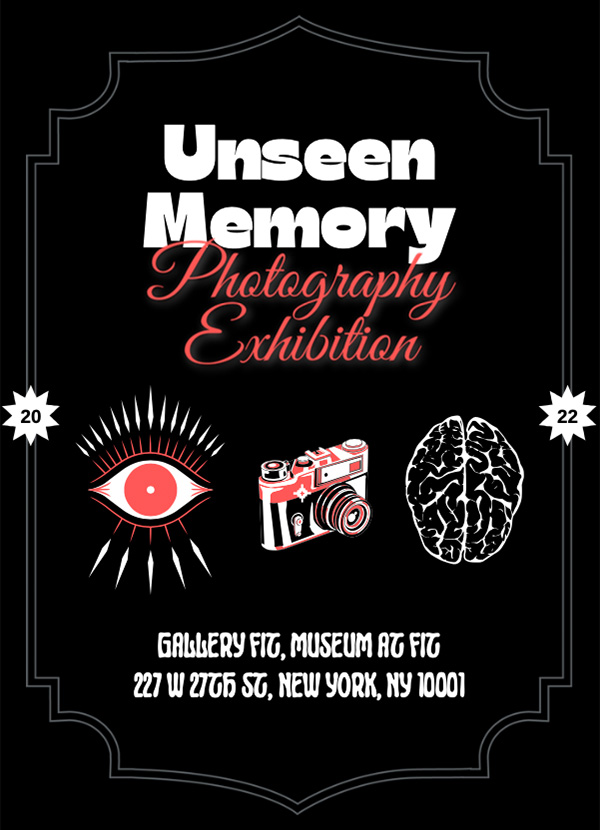 Unseen Memory Photography Exhibition
Gallery FIT
October 29 – November 13, 2022
November 19 – December 11, 2022
Memories, both real and imagined, were the catalyst of this group exhibition of photographic-based imagery by FIT students in the Photographic Concepts and Exhibition (PH352) classes. The exhibition Unseen Memory was a creative exploration of personal narrative, identity, and truth experienced by Fine Arts students in the Photography Department. Collaborating with students from all three PH352 classes along with Professors Jessica Wynne, Tiffany Smith, and Michel Leroy, the exhibition was presented in two consecutive shows in Gallery FIT at The Museum at FIT.
Image: Lindsey Del Rio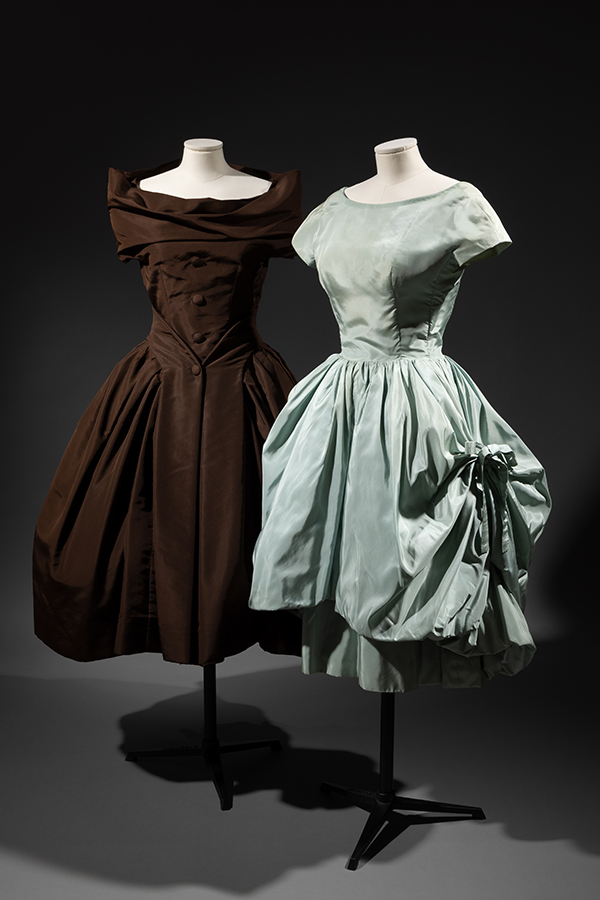 Dior + Balenciaga: The Kings of Couture and Their Legacies
Fashion and Textile History Gallery
June 1 – November 6, 2022
This exhibition highlighted fashions by Christian Dior (1905-1957) and Cristobal Balenciaga (1895-1972), the two most important couturiers of the mid-twentieth century. Featuring objects drawn solely from The Museum at FIT's permanent collection, this exhibition was the first to juxtapose the work of these legendary designers, side-by-side.
This curatorial exploration and re-evaluation of these kings of couture—Dior and Balenciaga—also included designs by subsequent creative directors of the houses they founded, including Yves Saint Laurent, Marc Bohan, Demna Gvesalia, and Maria Grazia Chiuri.
Learn more about the exhibition.
LEFT: Christian Dior, brown silk taffeta cocktail dress, autumn 1955, gift of Leslie Cortesi, 69.153.3
RIGHT: Cristóbal Balenciaga, blue silk taffeta cocktail dress, 1954, gift of Mrs. Rodman A. Heeren, 70.57.54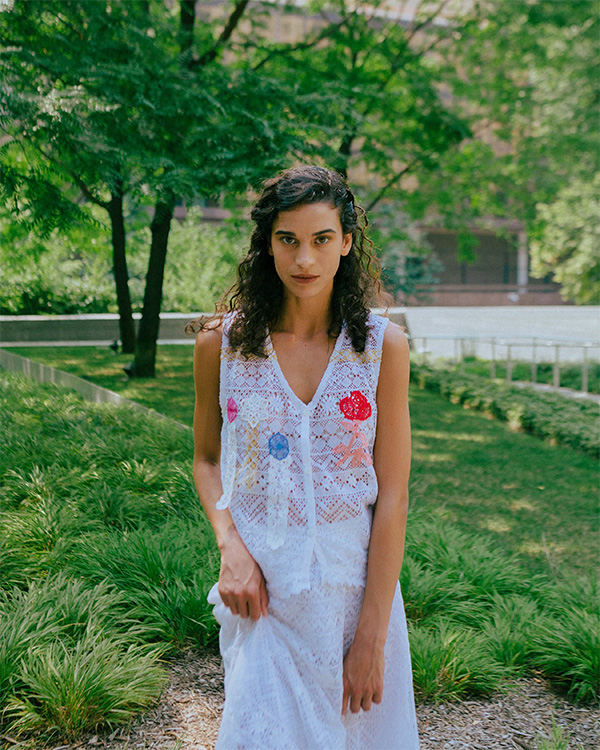 Crafting Change
Gallery FIT
September 17 – October 16, 2022
The work of FIT alumni took center stage in the FIT exhibition Crafting Change. Organized by the Textile/Surface Design Department in conjunction with New York Textile Month, the works featured in the exhibition used long-established techniques in a modern context to highlight the potential for promoting connection, community, and wellbeing through creating textiles. These works explored the potential for art to promote the connection with ourselves and others and how the tactility of textiles can provide balance to time spent in the digital realm.
Image: KÙR x BLG
Past Exhibitions Archive
A-Z | 2023-24 | 2022-23 | 2021-22 | 2020-21| 2019-20 | 2018-19 | 2017-18 | 2016-17 | 2015-16 | 2014-15 | 2013-14 | 2012-13 | 2011-12 | 2010-11 | 2009-10 | 2008-09