Art & Design Graduating Student Exhibition 2013
Boots: The Height of Fashion
Cloud 9: Master of Fine Arts in Illustration Visual Thesis Exhibition
Fantastic: FIT Art and Design Faculty Exhibition
Fashion, A-Z, Part Two
Fashion and Technology
The Fourth Dimension
Interior Design Annual Senior Thesis Exhibition
Ivy Style
Retrospective
Shoe Obsession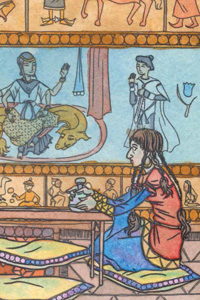 A Voyage to Panjikant, detail. Watercolor on digital print Marguerite Dabaie
Cloud 9: Master of Fine Arts in Illustration Visual Thesis Exhibition
Gallery FIT
June 8 - July 6, 2013
Cloud 9
represented the culminating body of work - a "visual thesis" - of the students of the MFA in Illustration program. The exhibition included works-on-paper, digital painting, three-dimensional sculpture, and animation, all designed to address a myriad of markets. As diverse in their works as they are in their backgrounds, these nine students showed a singular goal to present visual stories.
---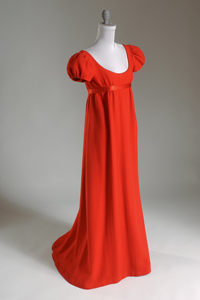 Norman Norell, dress, red wool crepe and satin, 1962, USA, gift of Claudia Halley.
RetroSpective
Fashion and Textile History Gallery
May 22 - November 16, 2013
Visit the
exhibition page
or the
online exhibition
for more info and images.
RetroSpective
explored fashions relationship with its own history. The speed of the fashion cycle is faster than ever, and yet, in the constant drive for newness, the past is often used as a point of reference. Many contemporary designers embrace looking back at fashion history as a fundamental part of the design process. In doing so, they create inventive and modern re-interpretations of everything from crinolines to flapper dresses. As cutting-edge designer Yohji Yamamoto once said, Going to the future means you have to use your past.
---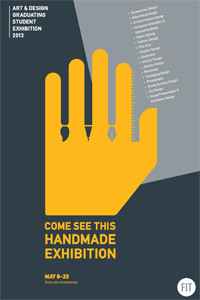 Art & Design Graduating Student Exhibition 2013
Gallery FIT
and elsewhere
May 8 - 23, 2013
This show presented the work of more than 800 students receiving AAS and BFA degrees from the School of Art & Design and was on view throughout the main floors of the Marvin Feldman Center, the Fred P. Pomerantz Art and Design Center, the Shirley Goodman Resource Center, and the John E. Reeves Great Hall.
The exhibition featured work in seventeen areas of study - Accessories Design, Advertising Design, Communication Design, Computer Animation & Interactive Media, Fabric Styling, Fashion Design, Fine Arts, Graphic Design, Illustration, Interior Design, Jewelry Design, Menswear, Packaging Design, Photography, Textile/Surface Design, Toy Design, and Visual Presentation & Exhibition Design.
The art selected was the culmination of each students unique experience in the Fashion Institute of Technology's diverse, challenging, and demanding undergraduate Art & Design programs. Featuring juried, award winning, and thesis projects, this presentation was the manifestation of several years of research, experimentation, critical thinking, and artistic proficiency.
The Graduating Student Exhibition advances the Colleges applied philosophy that integrates practice in industry with theory and teaching inside the studio.
---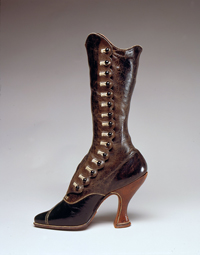 Jack Jacobus, Ltd., boot, leather, circa 1900, Austria, gift of Victoria and Albert Museum.
Boots: The Height of Fashion
Gallery FIT
March 5 - April 6, 2013
Visit the
exhibition page
Boots: The Height of Fashion
examined how boots emerged as a modern fashion phenomenon during the last century and evolved to become a staple of the fashionable woman's wardrobe. The exhibition featured 20 pairs of women's boots from the museum's permanent collection, including boots originally worn by fashion icons Jane Holzer and Tina Chow. Boots, as objects, are expressive of power, and the exhibition explored this concept via three significant sub-themes: sex, rebellion, and status.
Students in the
Fashion and Textile Studies M.A. program
at FIT's School of Graduate Studies collaborated with the Museum at FIT to present
Boots: The Height of Fashion
.
Read the
press release here
.
---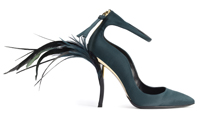 Roger Vivier (Bruno Frisoni), Eyelash Heel pump, Rendez-Vous (Limited Edition Collection), Fall 2012-2013, Courtesy of Roger Vivier / Photos by Stephane Garrigues.
Shoe Obsession
Special Exhibitions Gallery
February 8 - April 13, 2013
Visit the
exhibition page
Shoe Obsession
examined our cultures ever-growing fascination with extravagant and fashionable shoes. Designer shoes have overtaken
It
bags as the most coveted fashion accessories. In response, shoe departments in major department stores have undergone significant expansions, and the great designer shoe wars have escalated. Shoes by established designers such as Manolo Blahnik and Christian Louboutin continue to be bestsellers, while the number of rising stars within the footwear industry is multiplying. Over the past decade, heels have reached new heights as have prices. High-heeled shoes
—
the
fashion shoes of the 21st century have become so tall that even a 4-inch heel is considered low.
Shoe Obsession
featured approximately 150 examples of contemporary footwear, highlighting the extreme, lavish, and imaginative styles that have made shoes central to fashion. The exhibition included work by prominent footwear labels such as Manolo Blahnik, Salvatore Ferragamo, Christian Louboutin, and Roger Vivier, as well as shoes from influential design houses, including Azzedine Alaa, Balenciaga, Alexander McQueen, and Prada. Avant-garde designers such as Kei Kagami and Noritaka Tatehana
—
who have made some of the most extreme shoes of the 21st century
—
further underscore the exceptional creativity of contemporary shoe design.
Shoe Obsession
also included highlights from the incredible shoe collections of several stylish women, including jewelry designer Lynn Ban and fashion icon Daphne Guinness. The exhibition was curated by Dr. Valerie Steele, director and chief curator, and Colleen Hill, associate curator of accessories.
---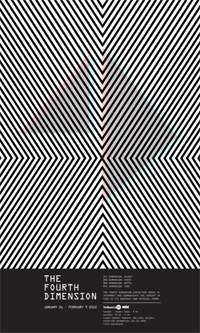 The Fourth Dimension: The Media Club at FIT
Gallery FIT
January 26 - February 9, 2013
The Fourth Dimension
responded to the changing world of graphic design. Time was not only the main design element for all of the projects in this exhibition, but it was also the subject/theme of the exhibition. According to researchers from Oxford University, time is the most commonly used noun in the English language; however, it remains a mystery. What is time? Does everyone experience time the same way? Is time a scientific phenomenon that can be universally measured and catalogd? How do different cultures interpret time in their own unique ways? Through the use of motion and interactive technology, this exhibition explored personal, artistic, academic, and scientific concepts of time.
The Media Design Club at FIT (MDC) was established in 2009 by Prof. C. J. Yeh from the Communication Design Department. It brings together students interested in digital media together outside of the traditional classroom setting. Currently, MDC has 160 members from Communication Design (AAS), Graphic Design (BFA), Advertising Design (BFA), Computer Graphics (BFA), and Illustration (AAS) programs. It is one of the most active student clubs at FIT.
---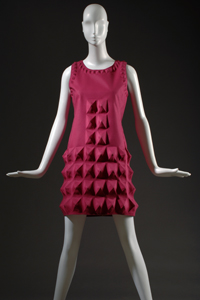 Pierre Cardin, Dress, Fuchsia Dynel (Cardine), 1968, France, 70.62.1, Gift of Lauren Bacall.

Fashion and Technology
Fashion & Textile History Gallery
December 4, 2012 - May 8, 2013
Visit the
exhibition page
or the
online exhibition
for more info and images.
Fashion and Technology
examined how, throughout history, fashion has engaged with technological advancement and been altered by it. Time and again, fashions dynamic relationship with technology has both expanded its aesthetic vocabulary and streamlined its means of production.
In recent years, designers have made technology a focal point of their collections, but as early as the mid-18th century, technological advancements were shaping fashion design and fabrication. The development of aniline dyes, the sewing machine, synthetic fibers, and zippers have all sent fashion in new directions. More recently, so have wireless circuitry and the creation of fashion design software. Technologies outside of the fashion industry also contribute to change within it. These include global transportation, the internet, blogging, online retailing, and the increased speed of global communication through digital platforms and social media outlets.
The goal of this exhibition was to analyze the impact of technologies on the nature of fashion and its design, and to question whether these developments push the industry forward or ultimately set it back.
Fashion and Technology
began with a display of examples from the 18th and 19th centuries, such as a 1780s suit made with a machine-knit textile, and an 1860s dress produced using synthetic dyes. From there, it showcased prominent developments from different time periods, traveling chronologically all the way to the present day.
The exhibition featured objects exclusively from The Museum at FIT's costume collection alongside a selection of textiles and accessories that highlighted the multifaceted nature of technological developments. The use of video monitors and computers enhanced the exhibition, offering the opportunity to showcase works by small, cutting-edge design teams, such as the Dutch label Freedom of Creation, alongside pieces by fashion icons such as Elsa Schiaparelli, André Courrèges, Issey Miyake, and Nicolas Ghesquire for Balenciaga.
Fashion and Technology
was organized by Ariele Elia and Emma McClendon.
---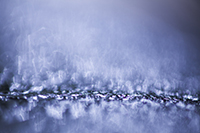 Photograph by Ron Amato, Giardini di Boboli, Florence, Italy.
Fantastic: FIT Art and Design Faculty Exhibition
Gallery FIT
November 10 - December 8, 2012
This exhibition of FIT faculty artists features a variety of artworks from ten different departments within the School of Art and Design. Media include painting, drawing, digital, animation, sculpture, photography, and jewelry, based on the theme of the fantastic, otherworldly, and imagined. Many of the artists works are for sale and are featured online at
sites.fitnyc.edu/depts/fantastic
. Participating artists are donating proceeds from their sales to Kids in Distressed Situations, an organization that supports relief efforts in Haiti.
---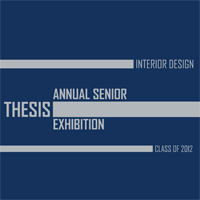 Interior Design Annual Senior Thesis Exhibition, Class of 2012
Gallery FIT
October 2 - 27, 2012

This exhibition showcases a selection of outstanding senior thesis presentations from the FIT Interior Design departments four-year degree program. The programs yearlong thesis project has two parts: a semester of research followed by a semester of design. Upon entering the eighth semester of study, students translate their research and 4 years of cumulative experience into final design solutions. They establish horizontal and vertical circulation patterns as they locate stairs, elevators and means of egress. While shaping and composing the various interior volumes they anticipate mechanical systems for heating, ventilation, air conditioning, power, fire, and life safety. In addition to selecting colors, finishes, furniture, and equipment students develop extensive space plans, lighting plans, elevations, perspectives, and details to illustrate their design intent.
---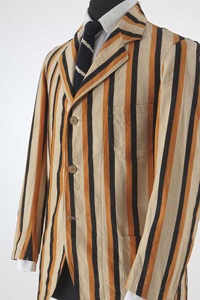 Cream, orange, and black striped cotton blazer, circa 1928. Museum purchase, P89.40.25.
Ivy Style
Special Exhibitions Gallery
September 14, 2012 - January 5, 2013
Visit the
exhibition page
or the special
exhibition website
Ivy Style
celebrated one of the most enduring clothing styles of the 20th century. While viewed today as a classic form of dressing, in its heyday, Ivy style
—
or the Ivy League look
—
was actually so cutting-edge that it went on to inform the evolution of menswear for decades. This exhibition examined the genesis of Ivy style on the prestigious college campuses of the United States during the early years of the twentieth century, looked at the ways in which the style became codified by mid-century, and revealed how now, nearly one hundred years after its inception, Ivy style is still a thriving global influence.
---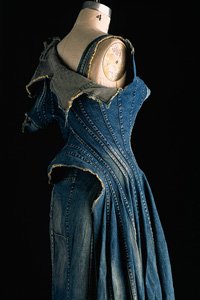 Comme des Garcons, dress in cotton and polyurethane stretch denim, spring 2002, Japan, gift of anonymous donor. Photograph by William Palmer.

Fashion, A-Z: Highlights from the Collection of the Museum at FIT,
Part Two
Fashion & Textile History Gallery
May 23 - November 10, 2012
Fashion, A-Z: Highlights from the Collection of the Museum at FIT, Part Two
was the second of two exhibitions that highlighted modern and contemporary pieces from the Museums permanent collection. More than sixty garments and accessories were featured by designers from Adrian to Zoran, including work by Charles James, Ralph Lauren, and Diane von Furstenberg. Full portraits of all exhibition objects from the two exhibitions are included in a companion publication by TASCHEN, fall 2012.
Read more about this exhibition here
.