The Museum at FIT has many objects from its collections on view via the link above. We hope you will take some time to discover and learn about fashion through this amazing resource. Every month we add new pieces to the Online Collections, so come back often!
Check out some of our New ACquisitions!
---
The Museum is aggressively building its permanent collection, focusing on "directional" fashion, i.e., the kind of fashion that makes fashion history. The permanent collection of The Museum at FIT currently includes more than 50,000 garments and accessories, dating from the 18th century to the present, with particular strength in modern and contemporary women's fashion. Represented are the major figures in fashion history, such as Azzedine Alaïa, Cristobal Balenciaga, Gabrielle Coco Chanel, Christian Dior, Halston, Charles James, Norman Norell, Paul Poiret, Yves Saint Laurent, and Vivienne Westwood as well as contemporary avant-garde designers, such as Rei Kawakubo of Comme des Garons and Rick Owens. Among the 15,000 accessories there are more than 4,000 pairs of shoes alone, including examples by Manolo Blahnik, Ferragamo, Perugia, and Roger Vivier. There are also 30,000 textiles, dating from the 5th century to the present, including the work of artists and designers such as William Morris, Salvador Dalí, Raoul Dufy, and Junichi Arai. A small archive of fashion photography contains works by Louise Dahl-Wolfe and John Rawlings.
Below are more details about the collections of The Museum at FIT.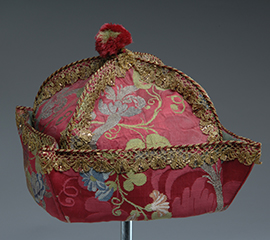 The accessories collection consists of approximately 15,000 objects that date from the mid-17th century to the present day. The collection has a particularly strong emphasis on designer accessories from the second half of the 20th century.

The accessories collection is supported by the Solomon-Sloan Endowment Fund, which was established in 2005 to facilitate the acquisition, conservation, documentation and exhibition of accessories.
The footwear collection contains more than 4,000 pairs of shoes, boots and sandals. It includes examples by designers such as Manolo Blahnik, Roger Vivier, Herbert Levine, and Salavatore Ferragamo.
The millinery collection contains more than 3,000 hats by famous milliners such as Caroline Reboux, Lilly Daché, Halston and Philip Treacy. There are also many examples from designers such as Christian Dior, Balenciaga and Jacques Fath.
The handbag collection includes fine examples by luxury houses such as Hermés and Gucci as well as examples by Roberta di Camerino, Judith Leiber and Bonnie Cashin for Coach.
Other accessories include fans, gloves, belts, hosiery and costume jewelry.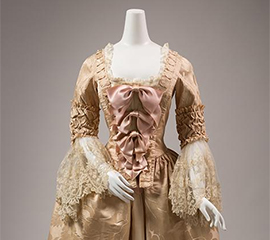 The Costume Collection consists of more than 50,000 objects dating from the mid-18th century to the present. The strength of the collection lies in its 20th-century holdings and, particularly, in couture and ready-to-wear women's clothing. The collections are currently being computerized to facilitate research.
The costume collection includes fashion by designers such as Azzedine Alaïa, Balenciaga, Chanel, Comme des Garçons, Dior, Galanos, Halston, Charles James, Norell, Paul Poiret, Yves Saint Laurent, and Vivienne Westwood.
The Halston Archives and Study Room hold designs, patterns, and related records documenting this important designer's life work.
The menswear collection features some 2,000 garments ranging from formal to activewear, including suits, coats, vests, and uniforms.
Also included are swimwear, lingerie, outerwear, and knitwear.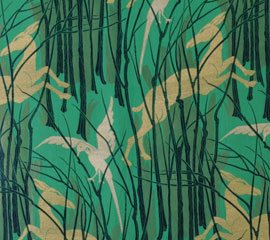 The Textile Collection consists of more than 30,000 textiles dating from the fifth century to the present, and includes the work of artists and designers such as Junichi Arai, Salvador Dali, Raoul Dufy, and William Morris.
The textile collection includes apparel and home furnishing fabrics, embroideries, and shawls.
The collection also includes a number of ribbon sample books.
The J.B. Martin Velvet Room archives handwoven and production velvets spanning a 125-year period.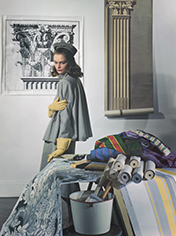 The Photography Archive features the work of fashion photographers Louise-Dahl Wolfe (1895-1989), who produced 86 cover images and thousands of interior shots for Harper's Bazaar magazine, and John Rawlings (1912-1970), who had over 200 Vogue and Glamour magazine covers.
Image: Louise Dahl-Wolfe photograph of model Sandra Payson. Featured in Harper's Bazaar, March 1947, page 205, gift of Louise Dahl-Wolfe, 74.84.54
For those looking for the Herman Landshoff collection, the archive has been transferred to:
Munchner Stadtmuseum
Sammlungsleiter Fotomuseum
St.-Jakobs-Pl. 1
80331 Munchen

The contact for the collection is:
Dr. Ulrich Pohlmann
Tel.: 089/233-22948
Fax.: 089/233-27969
email.: [email protected]
Museum exhibitions draw on these collections and are open free of charge to the public. Access to collections in storage is limited, however, to those granted research appointments.
The Museum at FIT has relationships with many museums to which it lends objects from our specialized collections. Past loans include those to the Museum of Fine Arts, Boston (for an exhibition on hippie fashion), the Museum of the City of New York (for an exhibition on African-American designers), the Musée de la Mode et du Textile (for a retrospective on Cristóbal Balenciaga), The Victoria & Albert Museum (for exhibitions on Surrealism and maharajas), and the Imperial War Museum (for an exhibition on camouflage). The Museum at FIT collaborated with the Chicago History Museum on the exhibition Chic Chicago: Treasures from the Chicago History Museum, which was jointly curated by MFIT and CHM staff and was on view at both institutions from 2007 to 2008.