A & D Graduating Student Exhibition 2012
Daphne Guinness
Death to Pie Charts: Media Design Club at FIT
Fashion, A-Z, Part One
IMPACT: 50 Years of the CFDA
Interior Design Annual Senior Thesis Exhibition
The MFA Bridge Thesis Show 2011
Sporting Life
Triangle Factory Fire: Then, Since, Now
'up river' - Faculty Exhibition 2011
Youthquake! The 1960s Fashion Revolution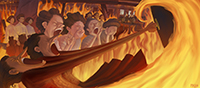 The Fight to Flee the Fire, Min Suk Choi, 2012, mixed media.
This final art for an animation captures the horror and the fight to leave the flaming factory.
Triangle Factory Fire: Then, Since, Now
June 13 - July 7, 2012
The MFA in Illustration program, in collaboration with the American History Department and the Triangle Factory Fire Coalition, presented
Triangle Factory Fire: Then, Since, Now
, an exhibition of the work of 25 artists where each piece was a visual interpretation of the fire, its impact, and its aftermath. Works included paintings, drawings, collage, sculpture and interactive media.
---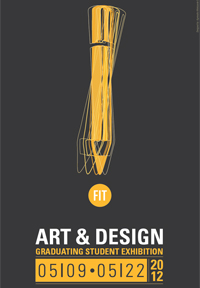 Art & Design Graduating Student Exhibition 2012
May 9 - 22, 2012
This show presented the work of more than 800 students receiving AAS and BFA degrees from the School of Art & Design. The exhibition featured work in seventeen areas of study - Accessories Design, Advertising Design, Communication Design, Computer Animation & Interactive Media, Fabric Styling, Fashion Design, Fine Arts, Graphic Design, Illustration, Interior Design, Jewelry Design, Menswear, Packaging Design, Photography, Textile/Surface Design, Toy Design, and Visual Presentation & Exhibition Design.
The art selected was the culmination of each students unique experience in the Fashion Institute of Technology's diverse, challenging, and demanding undergraduate Art & Design programs. Featuring juried, award winning, and thesis projects, this presentation was the manifestation of several years of research, experimentation, critical thinking, and artistic proficiency.
The Graduating Student Exhibition advances the Colleges applied philosophy that integrates practice in industry with theory and teaching inside the studio.
---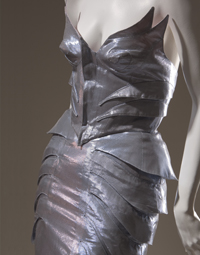 Thierry Mugler ensemble -
Metallic silver lilac lam and satin - Circa 1987, France - Museum purchase

---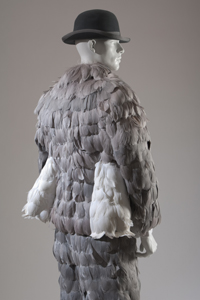 Thom Browne ensemble -
Pheasant feather / wool suit with grey felted fur bowler hat - Autumn/Winter 2008-2009, USA - lent by Thom Browne.

IMPACT: 50 Years of the CFDA
February 10 - April 17, 2012
Special interactive timeline


Conceived by CFDA President Diane von Furstenberg and curated by Patricia Mears, deputy director of The Museum at FIT, IMPACT: 50 Years of the CFDA was an ode to the illustrious designs of the CFDA's many members and marked the organizations fiftieth anniversary in 2012. The exhibition included approximately 100 objects, both garments and accessories, by the CFDA's most impactful creators of the last 50 years. Also included were visual images and acknowledgment of the nearly 600 designers who have been members over the past five decades. Each living designer selected to participate in the exhibition chose a single object or ensemble that best represents his or her impact on the fashion world. A visually rich publication also entitled Impact, produced by the CFDA and published by Harry N. Abrams, was the companion book to the exhibition. Read more about this exhibition here.
---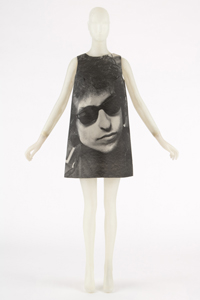 Bob Dylan by Harry Gordon, paper, 1968, England, gift of Estelle Ellis.

Youthquake! The 1960s Fashion Revolution
March 6 - April 7, 2012
Visit the exhibition website.
Youthquake! The 1960s Fashion Revolution
explored the dramatic impact of youth culture on fashion during the 1960s. More than thirty garments, accessories, videos, and other related media were featured, including fashions by Yves Saint Laurent, André Courrèges, and Giorgio di Sant'Angelo.
The epicenter of youth-generated style was London, where young shoppers flocked to boutiques opened by energetic, equally young designers. Regardless of which youth group was redefining fashion at the moment
—
the early 1960s Mods or the Hippies later in the decade
—
its styles were quickly appropriated by mass marketers and couturiers alike. By comparing designs ranging from cutting-edge boutique and mass-market labels to high fashion ready-to-wear and couture, the exhibition attested to the ascendance of youth as the driving force in fashion.
Youthquake! The 1960s Fashion Revolution
was organized and curated by FIT graduate students of the
Fashion and Textiles: History, Theory, Museum Practice
program in conjunction with the Museum at FIT. R
ead more
about this exhibition
.
---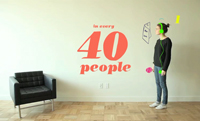 Margaux Le Pierres, Student Animation Project (2011), Digital Junky for Motion Infograph Project
*Winner, C. J. Yeh's Time-based Design Scholarship Competition 2011.

Death to Pie Charts: Media Design Club at FIT
January 28 - February 11, 2012
Death to Pie Charts examined the recent trends in the fields of information graphics, highlighting a selection of the best information graphics done by the members of the Media Design Club at FIT. This exhibition showcased information graphics in a variety of formats including animation, interactive, print, and physical constructions.
---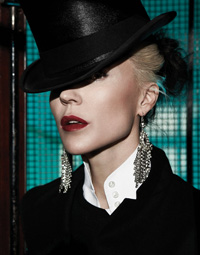 Photo Ren Hebermacher.

Daphne Guinness
September 16, 2011 - January 7, 2012
Visit the exhibition website.
The exhibition Daphne Guinness featured approximately 100 garments and accessories from Guinness' personal collection, including designs from the likes of Alexander McQueen, Azzedine Alaa, Karl Lagerfeld for Chanel, John Galliano for Christian Dior, Dolce & Gabbana, Rick Owens, Gareth Pugh, and Valentino. Guinness' own designs were also on display. The exhibition was co-curated by Daphne Guinness and Valerie Steele, Director and Chief Curator of The Museum at FIT. Read more about this exhibition here.

Read press about this exhibition here.
---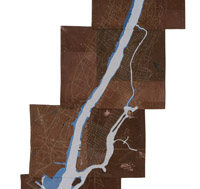 Kingsley Parker
'up river' - An Installation by Kingsley Parker
FIT Art and Design Faculty Exhibition2011
November 12 - December 10, 2011
Kingsley Parker, a multi-media artist, has been a full-time member of FIT's Communication Design Department for the past 15 years.
'up river'
was, in many ways, a romance -- Professor Parker's romance with the Hudson River which he has been intimately connected with since he and his family left Brooklyn to settle permanently in Hudson, NY. Commuting to New York along the river on an almost daily basis, Professor Parker -- whose body of work already reflected an interest in mapping and boats -- became enamored with the Hudson as an idea, as a resource, and as a thing of beauty. The sewn nautical chart is 61 linear feet long and was accompanied by small vignettes (in 2 and 3 dimensions) depicting life, commerce, and activities on the river. The exhibition also included prints and sculpture.
---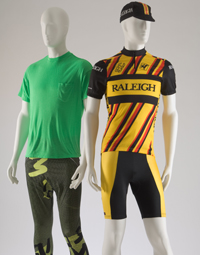 Left: Stephen Sprouse t-shirt and
leggings, 1985, Gift of Stephen
Sprouse, Inc.
Right: Raleigh/Giordana Sport
bicycling ensemble, 1985, Gift of
Raleigh Cycle Co. - Photograph by Eileen Costa MFIT.
Sporting Life
May 25 - November 5, 2011
Visit the exhibition website
.
Sporting Life
explored the relationship between active sportswear and fashion over the past 150 years. Participation in sports, for recreation as well as competition, has increased dramatically since the late nineteenth century. The clothing worn for such pursuits has often been influenced by fashion—and vice versa. Featuring more than 100 garments, accessories, and textiles from the Museums permanent collection, the exhibition discussed changes in silhouette, construction, and technology that have improved the performance and aesthetic of active sportswear. In addition, active sportswear garments were juxtaposed with the fashionable ready-to-wear garments they have inspired.


Sporting Life
had sections devoted to competitive sports: football, baseball, tennis and golf
—
as well as activities such as bicycling, horseback riding, motoring, skating, skiing, hunting, walking, swimming, and surfing. Highlights included women's swimwear from the mid-nineteenth century and a woman's bicycling ensemble with divided skirt, circa 1888. The exhibition also featured fashion by designers such as Claire McCardell, Norma Kamali, Stephen Sprouse, and Isabel Toledo.
Sporting Life
was organized by Fred Dennis, Jennifer Farley, and Colleen Hill.
Read more about this exhibition
.
---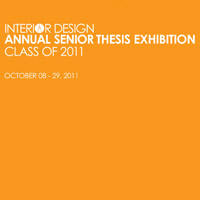 Interior Design Annual Senior Thesis Exhibition
October 8 - 29, 2011
This exhibition showcased a selection of outstanding senior thesis presentations from the FIT Interior Design departments four-year degree program. The programs yearlong thesis project has two parts: a semester of research followed by a semester of design.
---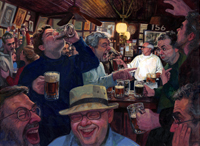 Stephen Gardner - McSorley's - 2011
The MFA Bridge Thesis Show 2011
September 2 - 24, 2011
The first-ever terminal degree at FIT, the MFA in Illustration, was a glint in the eyes of this first class of graduates as they pursued the MA in Illustration. They were enthusiastic, supportive, and patient. When approval for the new degree was granted, without skipping a beat, this extraordinary group of students signed on for an intensive and exciting year of study.
The MFA Bridge Thesis Show represented the culmination of a year of extended exploration into finding a unique voice and brand, as well as honing drawing and painting skills. The year also included a unique trip to the West Coast to visit film and entertainment studios, and to partake in studio visits with Los Angeles area illustrators whose markets and influences are markedly different from those here in New York City. The work in this exhibition represented all of these experiences and spoke to the level of study that graduate school elicits.