Installation image from Reinvention and Restlessness: 1990s Fashion, Special Exhibitions Gallery, January 19 - April 17, 2022
Exhibitions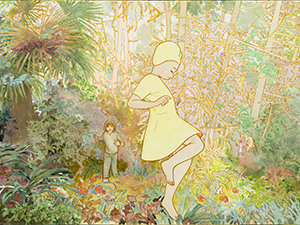 MFA Illustration Visual Thesis Selections 2020-2021
Gallery FIT
July 23 - September 4, 2022
The FIT MFA Illustration department exhibited, in person, selections from the Visual Thesis projects of the classes of 2020 and 2021. Each year the graduating MFA candidates complete a visual thesis project that represents the culmination of their three years of graduate study, artistic growth, and professional training. The FIT Alumni participating in this exhibition finished their degrees online during the extreme circumstances and unprecedented conditions of the COVID-19 pandemic and were unable to exhibit their bodies of work at the completion of their degrees. This exhibition celebrated the illustrative work of 19 MFA alumni working in a variety of mediums and formats.
Image: Heather Hua, Class of 2021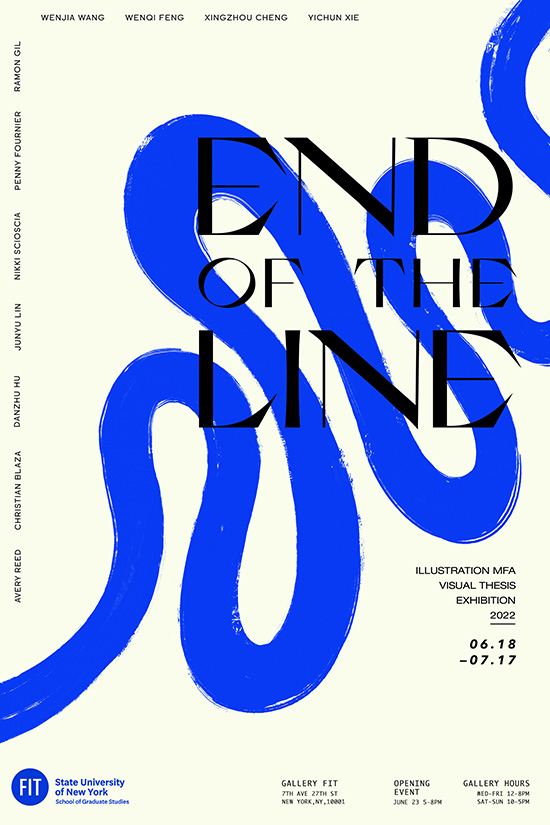 End of The Line | 2022 Illustration MFA Visual Thesis Show
Gallery FIT
June 18 - July 17, 2022
The 2022 Illustration MFA Visual Thesis exhibition, titled End of The Line, represented the culmination of three year of graduate study for the FIT MFA Illustration candidates. Each MFA candidate developed and executed a unique body of work that represented the cumulative experience of three years of study, exploration, artistic growth, academic research, and professional development. The exhibition consisted of works on paper, collaged drawings, digital art and motion graphics, and picture books.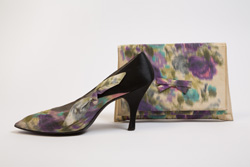 Head to Toe
Fashion & Textile History Gallery
November 17, 2021 - May 15, 2022
Head to Toe explored approximately 200 years of women's dress from 1800 to the early 21st century through the lens of accessories. Often garments are the focus of fashion exhibitions, however accessories are integral components of the full ensemble, and are important in communicating vital messages about the wearer. Over time accessories have become powerful tools in articulating ideas about femininity, sexuality, modesty, power, class, and race, as well as an important outlet to express style and individuality.
Read more about this exhibition.


Roger Vivier for Christian Dior, evening pumps and matching purse, silk, 1955-1959, gift of Arthur Schwartz, 79.169.6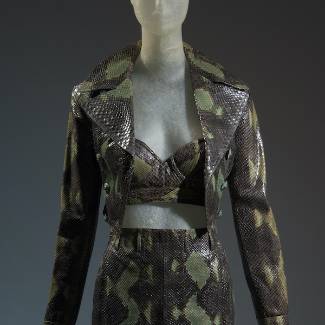 Reinvention and Restlessness: 1990s Fashion
Special Exhibitions Gallery
January 19 - April 17, 2022
Minimalism. Retro revivals. Deconstruction. The rejuvenation of haute couture. These are just a few of the concepts that have come to define 1990s fashion, which was not easily characterized by a handful of silhouettes or the dictates of a few designers. As fashion editor Stephen Gan wrote in 1997, "To focus on one current look or to obsess over the rise and fall of hemlines is to miss out on the wonder and variety in fashion today."
Reinvention and Restlessness: 1990s Fashion was organized by Colleen Hill, curator of costume and accessories, and featured more than 75 looks from Alexander McQueen, Hussein Chalayan, Gucci, Calvin Klein, Helmut Lang, Maison Martin Margiela, Prada, XULY.Bët, and many others. The exhibition centered on designers who challenged the expected appearance or workings of high fashion, and who played an important role in laying the foundation for fashion of the twenty-first century.
Read more about this exhibition.


Azzedine Alaïa, ensemble, snakeskin, spring 1991, France, gift of Veronica Webb, 2008.65.7.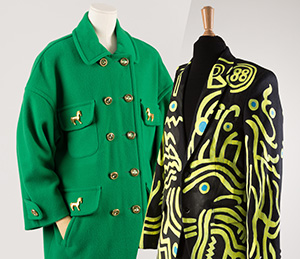 Asian Americans in New York Fashion: Design, Labor, Innovation
Gallery FIT
March 2-27, 2022
Asian Americans in New York Fashion: Design, Labor, Innovation celebrated the Asian American community's diverse contributions to the fashion industry through a selection of garments, textiles, runway clips, and photographs. The recent rise of racially-motivated attacks against Asian Americans due to the COVID-19 pandemic has shown the need for increased support for Asian American communities. Using objects from The Museum at FIT collection, this exhibition raised awareness of the diverse and essential ways that Asian Americans have shaped the New York Fashion industry.
Learn more about the exhibition.


LEFT: Gemma Kahng jacket, fall 1991, gift of Linda Tain, 2002.56.3.
RIGHT: Shail Upadhya jacket, 1988, gift of The Estate of Shail Upadhya, 2013.36.2.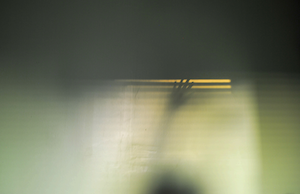 Around the Corner
Gallery FIT
November 13, 2021 - January 30, 2022

Around the Corner was an exhibition that took an in-depth look at a group of 21 artists' experiences during the COVID-19 pandemic, telling individual stories through the art they made and corresponding photographs captured during this imposed reality. Through challenging circumstances, their creative acts took on new significance- helping them to cope with and process a rapidly changing world. Participating artists were from the FIT Club Urban Studio, with members representing Fine Arts, Photography and Illustration majors.


Image: Eva Casto, Fading Wave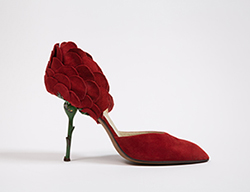 Ravishing: The Rose in Fashion
Special Exhibitions Gallery
August 6 – November 28, 2021
Ravishing: The Rose in Fashion presented the first socio-cultural examination of the rose in fashion. This flower can be dated back over three million years, and its broad geographic sweep is entwined with stories of trade, immigration, politics, religion, gender, food, beauty, and identity. It has been worshiped and reviled, and it is inextricably linked to perceptions of love. Not surprisingly, this delicate and fragrant flower — as well its sharp thorns — have provided endless inspiration for artists, writers, and designers. The rose has greatly influenced the form and decoration of apparel, jewelry, and fashion imagery.
Read more about this exhibition.

V. Buso stiletto pumps, red suede and green painted metal, circa 1960, Italy, museum purchase, P90.78.2
Past Exhibitions Archive
A-Z | 2023-24 | 2022-23 | 2021-22 | 2020-21| 2019-20 | 2018-19 | 2017-18 | 2016-17 | 2015-16 | 2014-15 | 2013-14 | 2012-13 | 2011-12 | 2010-11 | 2009-10 | 2008-09