Installation image from Ravishing: The Rose in Fashion, Special Exhibitions Gallery, September 11, 2020 – January 9, 2021
Exhibitions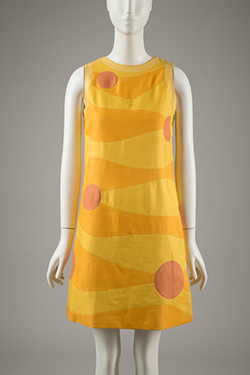 The Roaring Twenties and The Swinging Sixties
Virtual Exhibition
March 15, 2021
The Fashion Institute of Technology's School of Graduate Studies and The Museum at FIT (MFIT) launched The Roaring Twenties and The Swinging Sixties, a virtual exhibition comparing the fashions of the Twenties and Sixties, both periods of significant crisis and change. Organized by students of FIT's Master of Arts program, Fashion and Textile Studies: History, Theory, and Museum Practice, the exhibition features 26 objects from the permanent collection of MFIT and fashion illustrations from FIT's Gladys Marcus Library Special Collections and College Archives (SPARC). It is supplemented with archival photographs that further demonstrate the parallels between the fashion of the two decades. The process of creating an exhibition is a unique experience and a key feature of the Fashion and Textiles Studies graduate program at FIT. For the first time, this student-led project was presented solely online, with the class working together remotely.
The Twenties and the Sixties each brought about new ideas of the "modern woman" which impacted fashion in remarkably similar ways. These similarities are explored through six thematic sections: Twenties Nostalgia; Dreams and Discontent; Obsession with Youth; Music Mania; Cultural Appropriation; and Mode and Modernity. The shared spirit of the times, whether in art, music, technology, social movements and upheaval, or cultural inspiration, is highlighted by paired objects with discernible visual similarities.


Mila Schön dress, linen, circa 1968, Italy, gift of Mrs. Donald Elliman, 78.208.2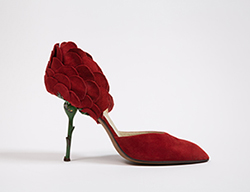 Ravishing: The Rose in Fashion
Special Exhibitions Gallery
September 11, 2020 – January 9, 2021
Ravishing: The Rose in Fashion presented the first socio-cultural examination of the rose in fashion. This flower can be dated back over three million years, and its broad geographic sweep is entwined with stories of trade, immigration, politics, religion, gender, food, beauty, and identity. It has been worshiped and reviled, and it is inextricably linked to perceptions of love. Not surprisingly, this delicate and fragrant flower — as well its sharp thorns — have provided endless inspiration for artists, writers, and designers. The rose has greatly influenced the form and decoration of apparel, jewelry, and fashion imagery.
Read more about this exhibition.

V. Buso stiletto pumps, red suede and green painted metal, circa 1960, Italy, museum purchase, P90.78.2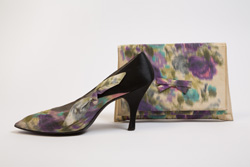 Head to Toe
Fashion & Textile History Gallery
November 17, 2021 - May 15, 2022
Head to Toe explored approximately 200 years of women's dress from 1800 to the early 21st century through the lens of accessories. Often garments are the focus of fashion exhibitions, however accessories are integral components of the full ensemble, and are important in communicating vital messages about the wearer. Over time accessories have become powerful tools in articulating ideas about femininity, sexuality, modesty, power, class, and race, as well as an important outlet to express style and individuality.
Read more about this exhibition.


Roger Vivier for Christian Dior, evening pumps and matching purse, silk, 1955-1959, gift of Arthur Schwartz, 79.169.6
Past Exhibitions Archive
A-Z | 2022-23| 2021-22 | 2020-21| 2019-20 | 2018-19 | 2017-18 | 2016-17 | 2015-16 | 2014-15 | 2013-14 | 2012-13 | 2011-12 | 2010-11 | 2009-10 | 2008-09