Current
Fashion and Textile History Gallery
June 1 - November 6, 2022
Learn more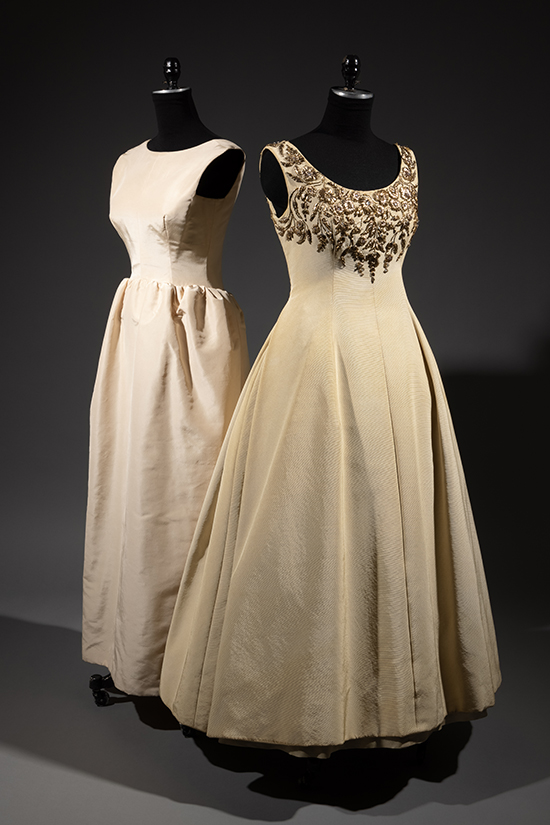 This exhibition features fashions by Christian Dior (1905-1957) and Cristobal Balenciaga (1895-1972), the two most important couturiers of the mid-twentieth century. Featuring objects drawn solely from The Museum at FIT's permanent collection, this exhibition is the first to juxtapose the work of these legendary designers, side-by-side.

Their backgrounds and working methodologies were markedly different, yet Dior and Balenciaga concurrently produced fashions that captured the era's hunger for luxury and elegance. They also led the restoration of France's profitable fashion industry after the devastation of two world wars and a crippling economic depression.

Fashion enthusiasts will recognize Dior's Belle Époque inspired dresses built upon corsets and crinolines and Balenciaga's brilliantly crafted and voluminous coats and dresses. Viewers may, however, be surprised to see remarkable similarities in some of the pairings, making immediate attributions less obvious. The couturiers' shared vocabulary can be seen in the juxtaposition of wool day dresses, boxy suits, and voluminous evening dresses. We ask the viewer: without looking at the labels, can you correctly guess the designer of each garment, Balenciaga or Dior?

This curatorial exploration and re-evaluation of these kings of couture—Dior and Balenciaga—also includes designs by subsequent creative directors of the houses they founded, including Yves Saint Laurent, Marc Bohan, Demna Gvesalia, and Maria Grazia Chiuri.

Image:
Left: Cristóbal Balenciaga evening dress, silk faille, spring 1961, France, gift of Mrs. Walter Eytan, 80.261.13
Right: Christian Dior ball gown, embroidered silk and rhinestones, fall 1957, France, permanent loan of Mrs. Michael Blankfort, PL74.1.24
Current
Gallery FIT
June 18 - July 17, 2022
End of the Line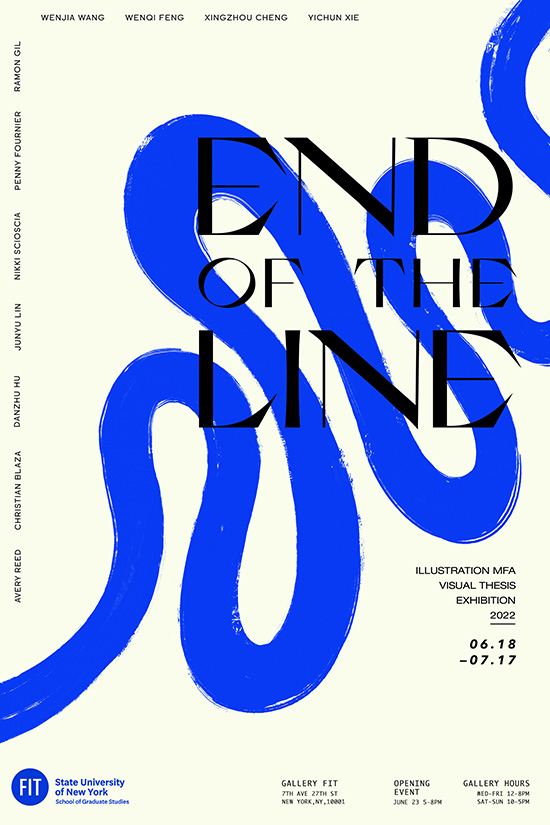 The 2022 Illustration MFA Visual Thesis exhibition, titled End of The Line, represents the culmination of three years of graduate study for the FIT MFA Illustration candidates. Each MFA candidate develops and executes a unique body of work that represents the cumulative experience of three years of study, exploration, artistic growth, academic research, and professional development. The exhibition consists of works on paper, collaged drawings, digital art and motion graphics, and picture books.
Upcoming
Special Exhibitions Gallery
September 1 - December 31, 2022
Shoes: Anatomy, Identity, Magic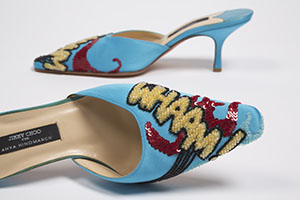 Shoes: Anatomy, Identity, Magic will highlight approximately 400 pairs of shoes from the museum's permanent collection of 4,000 shoes. Following the success of the MFIT exhibitions Shoes: A Lexicon of Style (1999) and Shoe Obsession (2013), this exhibition will provide its own rich narrative on the enduring cultural significance of shoes, while showcasing the museum's world-class collection of footwear. The museum's earliest shoes date from the 17th century (a pair of high-heeled men's shoes). The most recent are spectacular 21st-century footwear. Labels to be featured include Alaïa, Manolo Blahnik, Chanel, Ferragamo, Christian Louboutin, Alexander McQueen, Prada, Noritaka Tatehana, Iris van Herpen, and Roger Vivier, among others.

Image: Jimmy Choo for Anya Hindmarch, evening mules, circa 1998, England, gift of Virginia Barbato, 2017.72.2

The exhibition, curated by Dr. Valerie Steele and Colleen Hill, will be accompanied by a lavishly-illustrated companion book, published by Taschen, similar to Fashion Designers, A-Z: The Collection of the Museum at the Fashion Institute of Technology (now in its third edition).
Upcoming
Special Exhibitions Gallery
February 8 - April 23, 2023
Learn more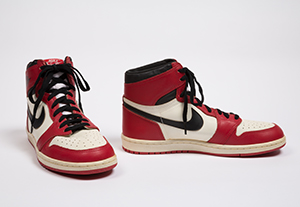 Fresh, Fly, and Fabulous: Fifty Years of Hip Hop Style
will celebrate the 50th anniversary of the birth of hip hop by examining the roots and history of hip hop fashion from its inception to the present time. This exhibition will explore themes such as the transition of hip hop from the 'hood to the runway, luxury and designer influence, the impact of hip hop celebrities on the fashion industry, and the growth of hip hop style as an international phenomenon.
This exhibition is curated by Elena Romero, Assistant Professor of Advertising and Marketing Communications at FIT and author of
Free Stylin': How Hip Hop Changed the Fashion Industry
together with Elizabeth Way, Assistant Curator at The Museum at FIT.
Image: Nike, "Air Jordan" sneakers, 1985, USA, gift of Nike, 85.196.1
Looking for a longer read? Find something on our list of publications!
MFIT on the Road
The Museum at FIT often loans objects from its permanent collections to other institutions for use in exhibitions. Check out what venue is featuring MFIT on the road.
Read more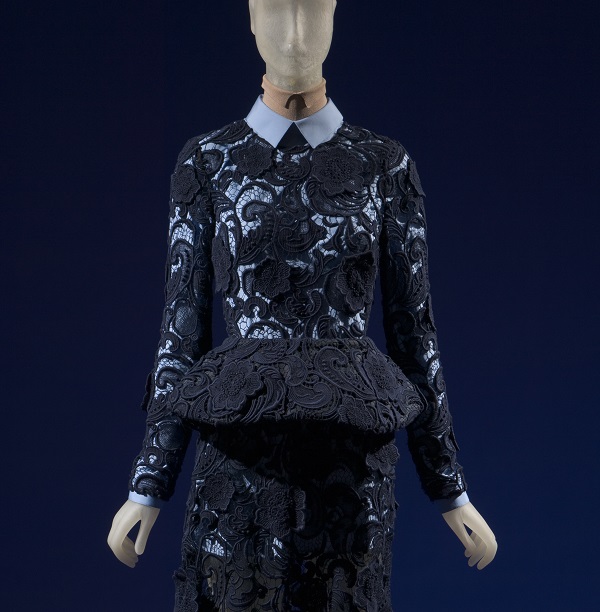 There's no shame in living in the past
We have an archive of over ten years of exhibition websites. Take some time to explore our curatorial history!