Current
MFIT Lobby
November 18 - December 10, 2023
Being & Becoming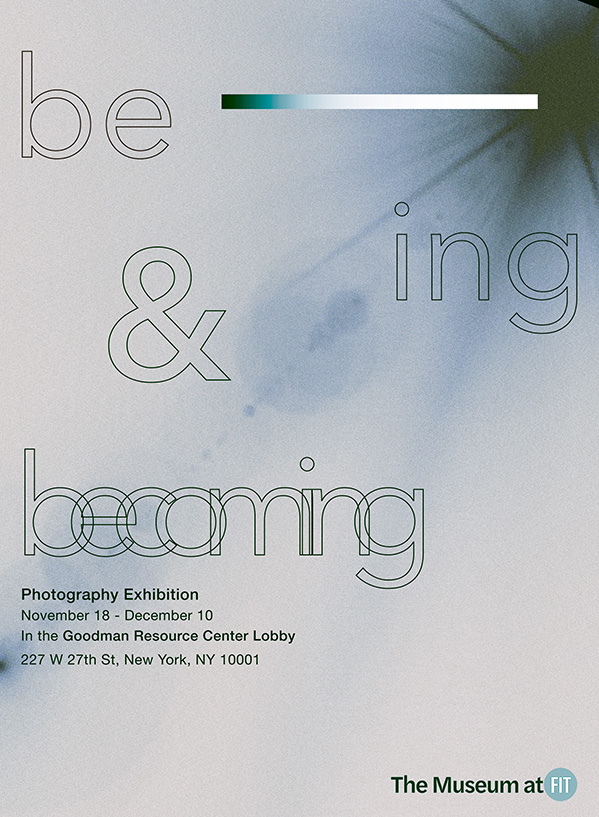 The Fashion Institute of Technology proudly presents student work from the BFA Photography program in their first exhibition titled Being & Becoming. Twenty-eight students collaborate in this showcase featuring large-scale printed work and photo-based installations. Equipped with techniques developed through previous semesters and with the support of Adjunct Professors Tiffany Smith and Nat Ward, students have actualized their creative concepts. Through connective themes of identity, intimacy, and creative space, students share in the ever-changing process of "Becoming." This exhibition serves as a celebration of each artist's personal vision and dedication to their craft.

By Being, we are Becoming.

Image: Anna Jewel Schluterman
Upcoming
Fashion and Textile History Gallery
January 24 – August 25, 2024
Statement Sleeves
Learn More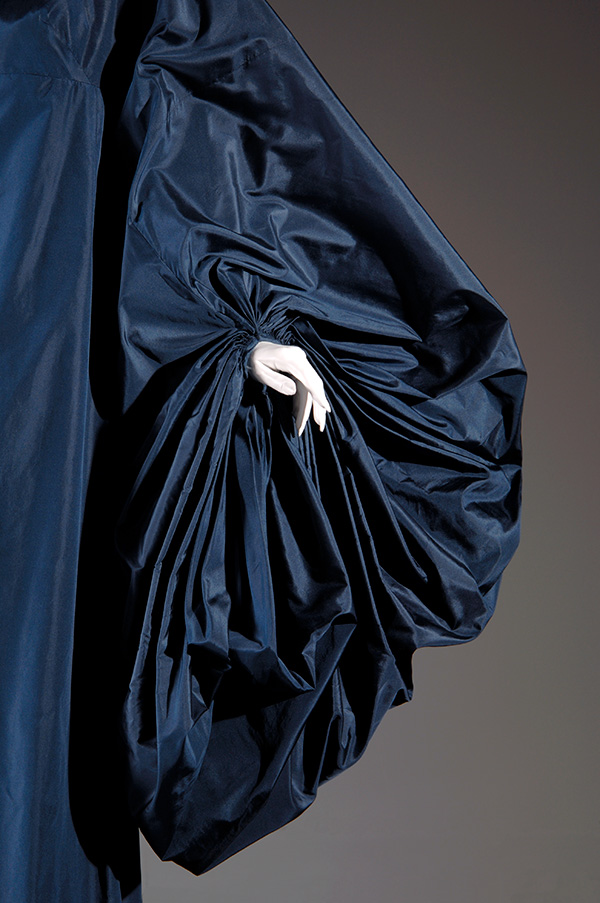 Whether puffed, ruffled, split, or sheer, statement sleeves have been a ubiquitous fashion trend for the past decade. These dramatic, contemporary creations can enliven and update a wardrobe, yet many current sleeve styles have cycled in and out of fashion for decades, if not centuries. Although sleeves can be especially challenging to make, they also inspire countless creative ideas.
Statement Sleeves
takes an original approach to the history of fashion. The selected garments date from the 18th century to the present, but they are not presented chronologically. They are instead organized by type. Following an introduction to basic sleeve shapes–from
gigot
to raglan–visitors will encounter the myriad ways in which designers have reinterpreted and remixed sleeves through variations in material, shape, embellishment, and even functionality. More than sixty styles, all from the museum's permanent collection, emphasize how sleeves hold the power to define a look–in both the past and present.
Image: Madame Grès, evening gown (detail), navy blue silk taffeta, circa 1980, France, gift of Mrs. Mildred Hilson, 82.234.3
Upcoming
Gallery FIT
March 1 - 24, 2024
Untying the Bow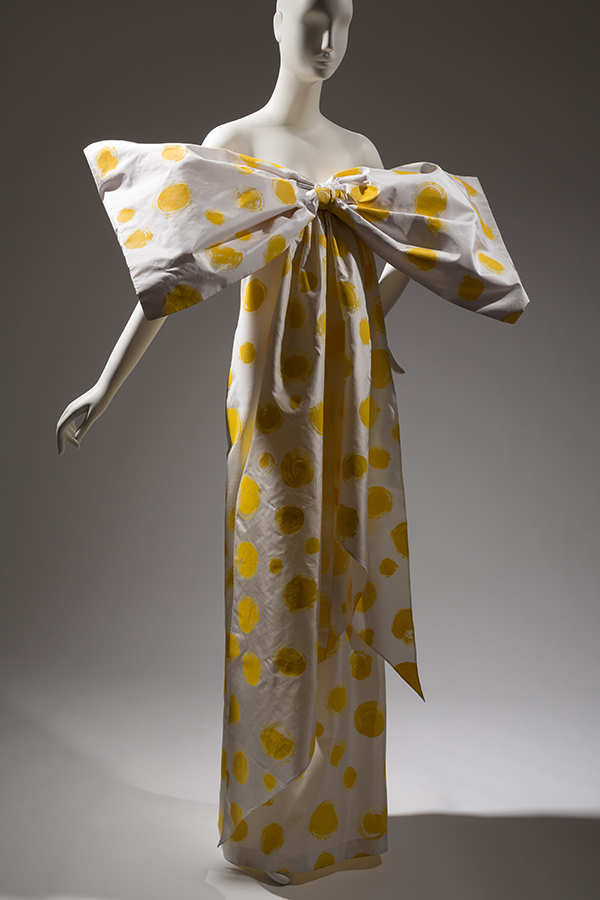 Unassuming as they may seem, bows have played an indispensable role in securing garments and accessories for centuries. Experience their allure in Untying the Bow, an exhibition curated by graduate students in FIT's MA Fashion and Textiles Studies program. Discover the ubiquitous influence of bows in our lives, transcending shoelaces to become a subtle yet powerful element of personal style.

Untying the Bow is an exploration into the utility and symbolism of this pervasive element of clothing. This exhibition invites visitors to explore the rich history, symbolism, and enduring charm of bows in fashion. It unfolds in three thematic sections, beginning by tracing the bow's origins and delving into its form and function for utilitarian purposes. The next theme is the bow's symbolism as a marker and subverter of status and gender. Finally, the exhibition examines how the symbolism of bows in fashion has evolved into abstract forms and patterns. Experiments with scale and technique allow bows to transcend their original form and become captivating motifs. Untying the Bow is a transformative journey, unraveling the hidden narratives and cultural expressions that have elevated the bow from a mere structural element to a timeless icon in fashion.
Image: Ágatha Ruiz de la Prada, dress, white silk taffeta with hand-painted yellow dots, spring/summer 2014, Spain, gift of Ágatha Ruiz de la Prada, 2014.44.1
Upcoming
Gallery FIT
April 3 – 21, 2024
Cross-Pollination: ¡Moda Hoy!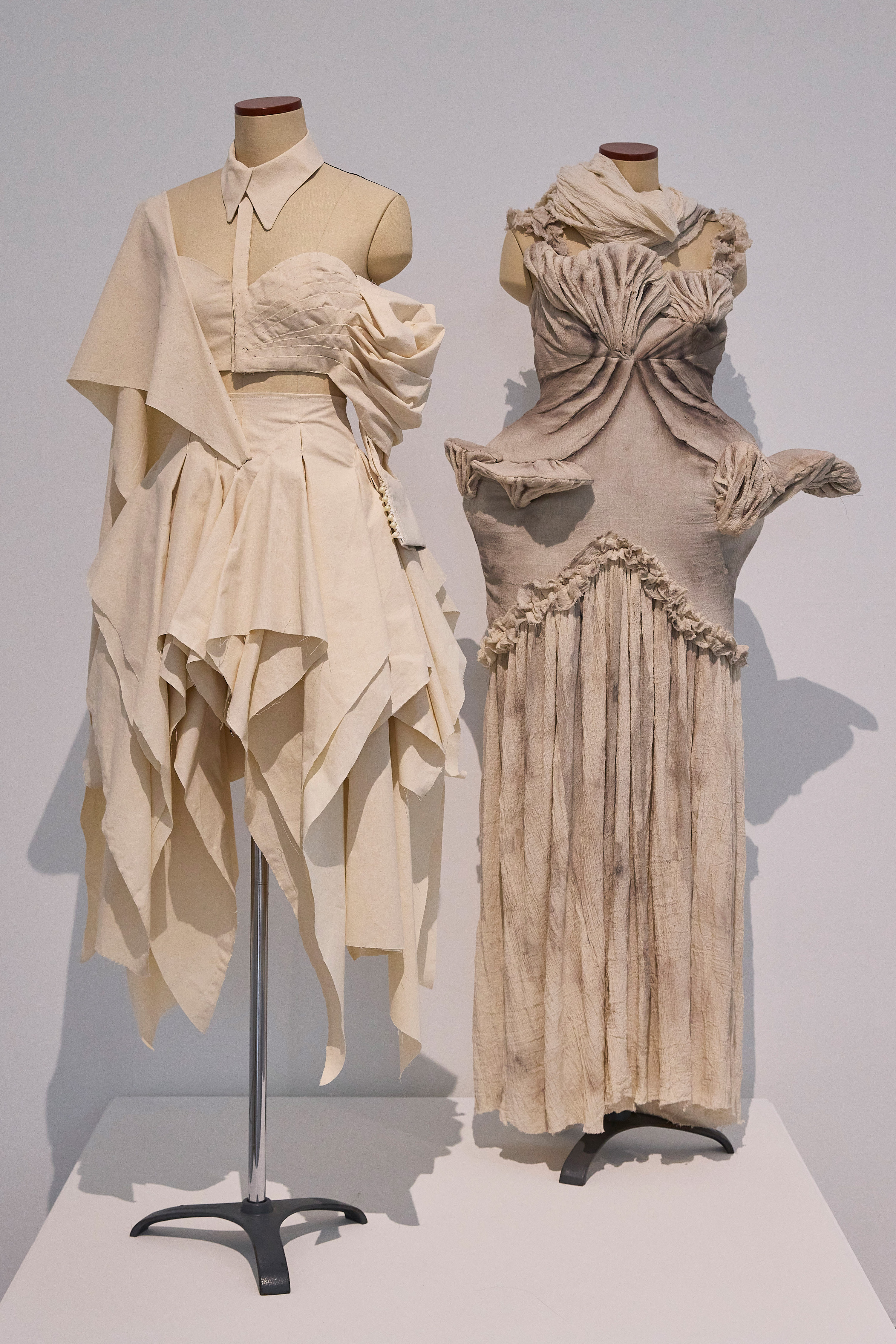 A collaborative showcase between FIT and LASALLE College of the Arts, this exhibition draws inspiration from The Museum at FIT's spring 2023 exhibition
¡Moda Hoy! Latin American and Latinx Fashion Design Today
. Students from both fashion colleges engage in creative dialogues around the themes of Myth and Rituals, Beliefs and Economics of Care, and Activism and Resistance. Connecting the threads between Latin America, Singapore, and New York, these students bring to life fresh perspectives on our collective future. This thought-provoking exhibition celebrates the diversity in craftsmanship and individual identities and illuminates the boundless possibilities of our interconnected world.

Image: Outfits designed by students from LASALLE College of the Arts (right) and the Fashion Institute of Technology (left) created during the Cross-Pollination Workshop: ¡Moda Hoy!
Upcoming
Special Exhibitions Gallery
September - December 2024
Africa's Fashion Diaspora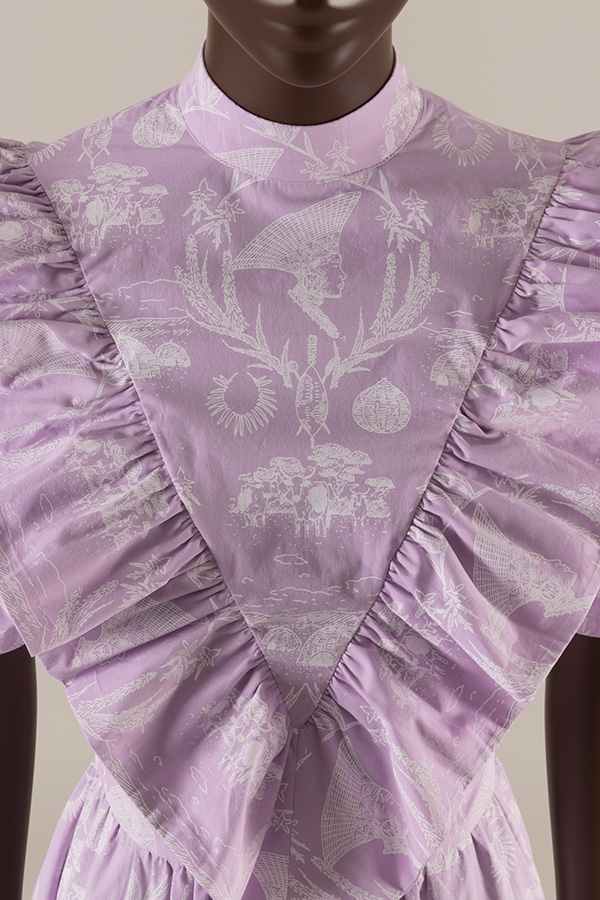 Africa's Fashion Diaspora examines fashion as a medium of storytelling and as a vital way for designers to contribute to longstanding and evolving ideas of transnational Black cultural spaces. Whether described as Négritude, Pan-Africanism, the Black Atlantic, Black consciousness, or Afrofuturism, Black thinkers and creatives, from philosophers to writers, musicians, and visual artists, have theorized cultural connections between diverse communities of African descent. This exhibition explores designers from Africa, the Americas, and Europe who interpret and construct the culture of their distinct localities and communities for an international audience and/or reach across geographies to tie Black cultural practices together through their designs.

Examples include South African designer Sindiso Khumalo's textile print inspired by American abolitionist Harriet Tubman, British designer Grace Wales Bonner's tuxedo informed by the court of Emperor Haile Selassie in Ethiopia, and French designer Olivier Rousteing's collection for Balmain based on Black American cowboys. Through approximately 60 ensembles, textiles, and accessories, Africa's Fashion Diaspora illustrates how fashion designers have contributed to international dialogues to chronicle, evaluate, and expand modern ideas of Blackness.

Africa's Fashion Diaspora is curated by MFIT associate curator Elizabeth Way.

Image: Sindiso Khumalo, printed cotton dress detail, Spring 2021, South Africa. The Museum at FIT, museum purchase, 2023.32.1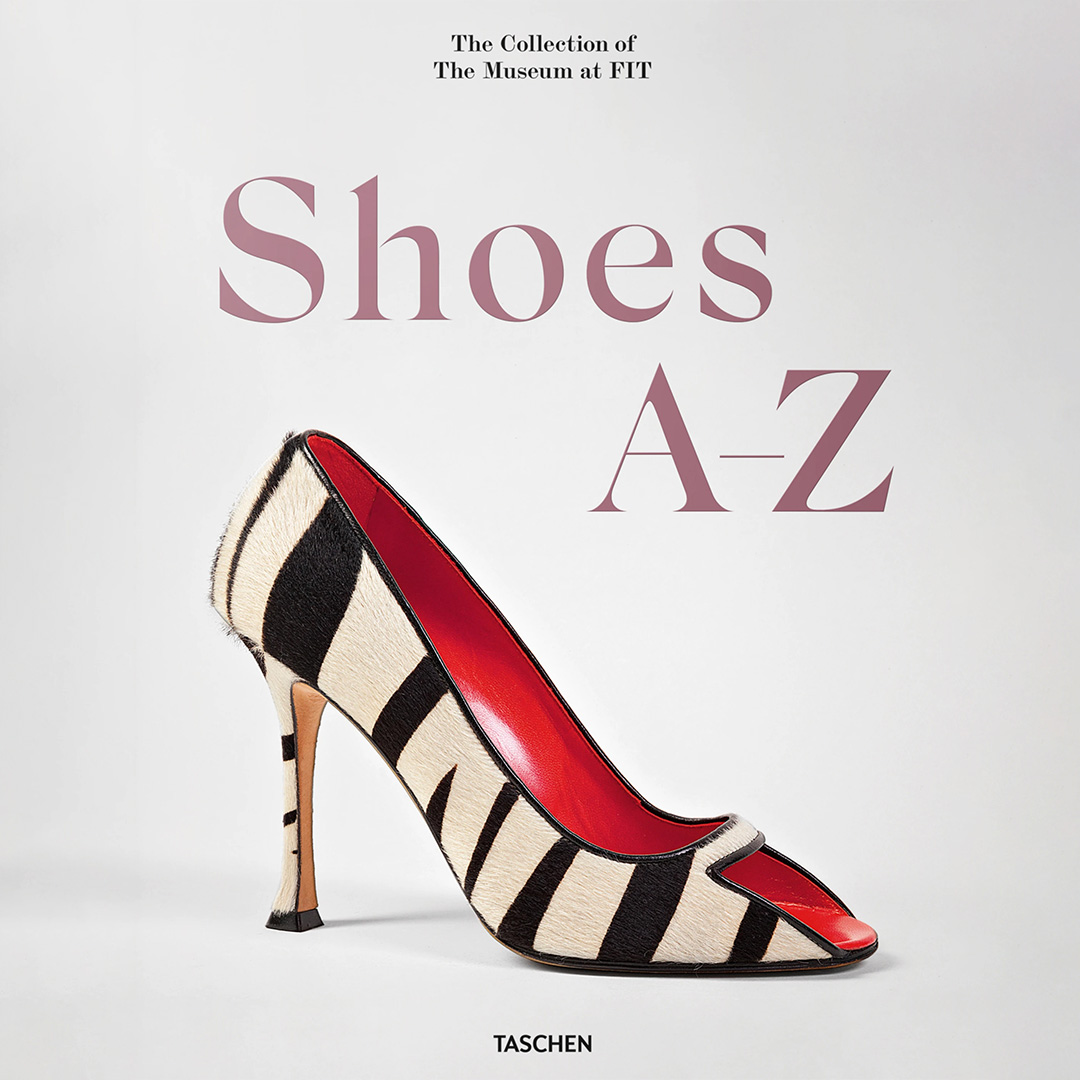 Looking for a longer read?
Find something on our list of publications!
MFIT on the Road
The Museum at FIT often loans objects from its permanent collections to other institutions for use in exhibitions. Check out what venue is featuring MFIT on the road.
Read more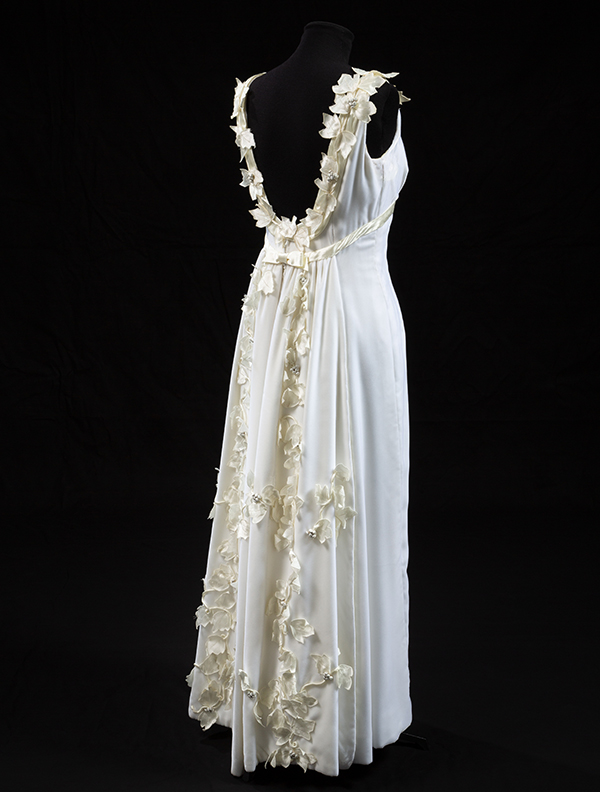 There's no shame in living in the past
We have an archive of over ten years of exhibition websites. Take some time to explore our curatorial history!