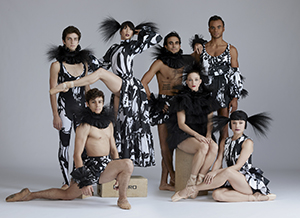 The Museum at FIT (MFIT) presents highlights from the exhibition Design in Motion: A New York City Ballet Fall Fashion Gala Retrospective, which provides an up-close look at the incredible artistry of the New York City Ballet (NYCB) Costume Shop, and showcases costumes from NYCB's Fall Fashion Galas, which were designed by some of the fashion world's most visionary designers.
Originally presented in the Fall of 2019, in partnership with INTERSECT BY LEXUS-NYC and curated by NYCB Director of Costumes Marc Happel, this is the first-ever collaboration between NYCB and MFIT, New York City's only museum solely devoted to fashion. Design in Motion uniquely complements the museums current exhibition, Ballerina: Fashion's Modern Muse. This is the first large-scale exhibition to illustrate the profound and enduring influences of classical ballet and its most celebrated practitioners — ballerinas — on modern high fashion, which is on view through April 18.
This exhibition of highlights from Design in Motion features nearly 30 original costumes, designed by 25 of the world's leading fashion designers and spans eight years of NYCB's Fall Fashion Gala from 2012-2019. Designer sketches and performance videos, commissioned by INTERSECT BY LEXUS – NYC, are also be on view.
Read more about Design in Motion.
Image: The Runaway. Choreography by Kyle Abraham. Costume design by Giles Deacon.
---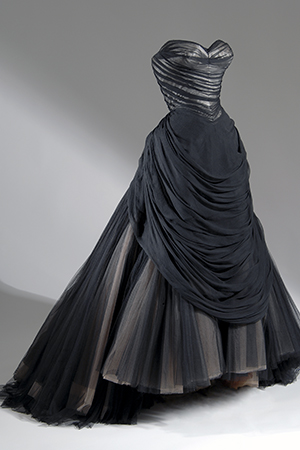 Ballet is a century's old art form that consistently reflected and absorbed prevailing fashions. It was not until the interwar years of the twentieth century that ballet took its place in the western pantheon of modern high culture and began to influence many areas of creativity, including fashion. At the same time, the ballerina, the art form's most celebrated practitioner, blossomed into a revered figure of beauty and glamour, and her signature costume — the corseted tutu — inspired many of fashion's leading designers for the first time. Organized by Patricia Mears, deputy director of MFIT, Ballerina: Fashion's Modern Muse illustrates the rise and subsequent influence of classical ballet and ballerinas on high fashion from the early 1930s to the late 1970s.
The popularization of classical ballet during the mid-century owes much to the British and Americans. A French creation that was elevated to a supreme art form in Imperial Russian, classical ballet would become the most popular performing art in the United Kingdom during the 1930s and 1940s, and later, the United States. At its peak, from the early 1930s to mid-century, haute couture looked to classical ballets such as Giselle, Swan Lake, and Sleeping Beauty for aesthetic inspiration. Modern ballets performed in leotards and tights would also influence mid-century American activewear fashions.
Most of the 80 objects on view in the exhibition will be high fashion garments, ranging from Parisian couture to British custom-made clothing to American ready-to-wear. Also included is a small selection of costumes and rehearsal clothing illustrating the rich yet often overlooked connection between classical ballet and fashion. The exhibition is accompanied by a lavishly illustrated book published by Vendome Press. Contributors include Patricia Mears, Laura Jacobs, Joel Lobenthal, Jane Pritchard, and Rosemary Harden.
Read more about Ballerina.
Image: Charles James ballgown, s

ilk chiffon, satin, netting, and boning

,

1954-1955

, USA, gift of

Robert Wells in memory of Lisa Kirk

.
---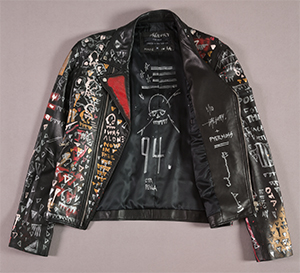 Power is part identity, part behavior, and part physicality. The way we outfit ourselves can play an outsized role in conveying power to others - whether it be the pink "pussy hats" at the 2017 Women's March or the Cleveland Cavaliers' coordinated Thom Browne suits during the 2018 NBA playoffs. However, power is not easily defined. It is political position and economic status, but also military strength, sexual authority, rebellion, and protest. Each form of power has found sartorial expression in a variety of ways, from gray flannel suits to latex fetish wear, and from gilded brocades to distressed jeans.
Power Mode: The Force of Fashion explores the role fashion plays in establishing, reinforcing, and challenging power dynamics within society. It includes both men's and women's clothing from the 18th century to the present, organized thematically to concentrate on five categories: military, suits, status, rebellion, and sex. Each section investigates how certain designs and garments have come to be culturally associated with power, as well as how their meanings have evolved over time. The exhibition also examines how fashion designers have interpreted these stylistic archetypes — both to convey and to subvert power.
Image: Pyer Moss by Kerby Jean-Raymond, jacket, fall 2015, USA, gift of Pyer Moss.