Installation image from Dance & Fashion, Special Exhibitions Gallery, September 13, 2014 – January 3, 2015
Exhibitions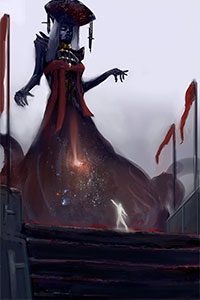 Exit Lines
Master of Fine Arts in Illustration Visual Thesis Exhibition
Gallery FIT
June 6 – July 3, 2015

Students in the Master of Fine Arts in Illustration program develop their studio practice in drawing, painting, and digital media—and the integration of all three. Through a focus on studio practice along with classes on creative writing and research, students gain a broad perspective on the illustrators role across different media. Students work in a range of areas, such as animation, concept art, children's books, graphic novels, murals, and reportage. The program culminates in an annual visual thesis exhibition in Gallery FIT.
Exit Lines. An ending to a beginning. Like the exit line spoken by an actor as he leaves the stage, this exhibition represented the close of our own performance at FIT, and the start of a new act.


Jorge Saldana, Black Magic Woman, digital painting.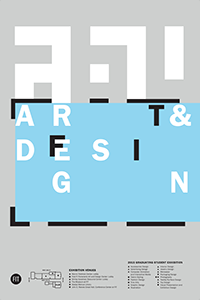 Art and Design Graduating Student Exhibition
Gallery FIT and elsewhere
May 6 – 21, 2015

The annual Art and Design Graduating Student Exhibition presented the work of more than 800 students receiving AAS and BFA degrees from the School of Art and Design. The exhibition featured work in 17 areas of study: Accessories Design, Advertising Design, Communication Design, Computer Animation and Interactive Media, Fabric Styling, Fashion Design, Fine Arts, Graphic Design, Illustration, Interior Design, Jewelry Design, Menswear, Packaging Design, Photography, Textile/Surface Design, Toy Design, and Visual Presentation and Exhibition Design.
The projects on view were the culmination of each student's unique experience in FIT's undergraduate Art & Design programs and featured juried selections, thesis work, and award-winning projects.


Art and Design Graduating Student Exhibition 2015 Poster. Courtesy of FIT School of Art and Design.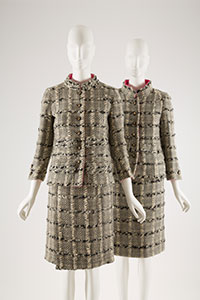 Faking It: Originals, Copies, and Counterfeits
Fashion & Textile History Gallery
December 2, 2014 – April 25, 2015
View the online exhibition.

Faking It: Originals, Copies, and Counterfeits explored various levels of authenticity in fashion using approximately 100 objects from the museum's permanent collection. Throughout the past 150 years of fashion history, couture copies, diffusion lines, and licensing agreements have blurred the line between what is genuine and imitation. Meanwhile, the exponential growth and sophistication of the counterfeit industry has made it increasingly difficult to identify an inauthentic item. Faking It shed light on the complexities surrounding these topics.

Image: (left) Gabrielle Coco Chanel day suit, 1966, France, gift of Eleanor K. Graham, 73.82.1 / (right) Licensed copy of a Chanel day suit, c. 1967, USA, gift of Ruth L. Peskin, 78.179.4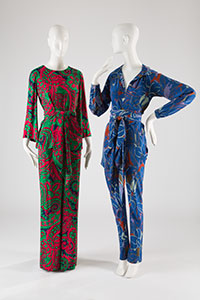 Yves Saint Laurent + Halston: Fashioning the 70s
Special Exhibitions Gallery
February 6 – April 18, 2015
Yves Saint Laurent and Halston were the most famous and influential fashion designers of the 1970s. Drawing inspiration from menswear, foreign cultures, and historical periods, Saint Laurent and Halston crafted a new, chic, and modern way of dressing that became synonymous with the sexy and glamorous lifestyle of the decade. While they and their designs are recognizable to fashion enthusiasts and monographic books and exhibitions on each designer abound, Yves Saint Laurent + Halston: Fashioning the 70s was the first exhibition to juxtapose and analyze their contributions to fashion at the height of their careers, as well as how they came to exemplify this singular, dynamic era in fashion history.
Read more about the exhibition.
(left) Saint Laurent Rive Gauche, pajama set, printed silk crepe, c. 1970, France, museum purchase, P89.55.4
(right) Halston, pajama set, printed crepe de Chine, c.1976, USA, gift of Ms. Gayle Osman, 91.41.12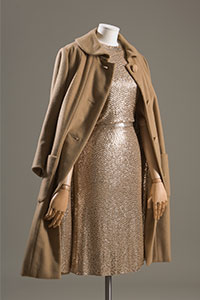 Lauren Bacall: The Look
Gallery FIT
March 3 – April 4, 2015
Lauren Bacall: The Look was a celebration of the film and theater star's unique style. Bacall's own garments took the spotlight in this exhibition, which also explored her relationships with fashion designers who dressed her, including Marc Bohan, Pierre Cardin, Norman Norell, Yves Saint Laurent, and Emanuel Ungaro. Students in the Fashion and Textile Studies: History, Theory, Museum Practice MA program in FIT's School of Graduate Studies collaborated with MFIT to present 12 items from a collection of 700 that Bacall donated to the museum in 22 gifts, between 1968 and 1986.

Normal Norell, evening dress and coat, cashmere, silk jersey, and sequins, circa 1958, USA, gift of Lauren Bacall, 68.143.6.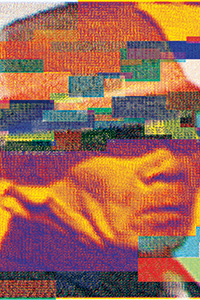 Cultural Spheres: 2015 International Exhibition Celebrating Diversity of Culture and Creativity
Gallery FIT
January 24 – February 7, 2015

This exhibition of multimedia projects was initiated by faculty from the Fashion Institute of Technology's School of Art and Design and brought together student artwork from FIT, Gachon University in South Korea, and Kun Shan University in Taiwan. Visiting Professor Chang Soo Kim's work was also showcased.

Chang-Soo Kim, Flickering Series 2002 - present, digital imagery.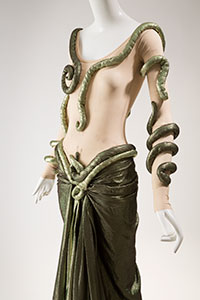 Dance & Fashion
Special Exhibitions Gallery
September 13, 2014 – January 3, 2015
Dance & Fashion explored the relationship between two great embodied art forms: dance and fashion. Dance has utilized a wide variety of costumes, including contemporary fashions, to identify different characters, but there are also certain iconic styles, which represent a dance more abstractly. Tutus and pointe shoes, for example, are integral to the image and movements of the ballerina, just as leotards and tights are associated with the modern dancer.
Traditionally, dance costumes were created by dancers (such as Martha Graham), artists (such as Léon Bakst), and costume designers (such as Karinska). But in recent years, fashion designers have increasingly been invited to create dance costumes. For example, Yves Saint Laurent and Valentino designed for the ballet and Rei Kawakubo of Comme des Garçons provided costumes for Merce Cunningham. Fashion designers have also been inspired by the dance. Christian Dior loved the tutus of Romantic ballerinas, while the shoe designer Christian Louboutin has transformed pointe shoes into fetishistic high heels. The focus of this exhibition, organized by Dr. Valerie Steele, was on ballet and modern dance, but other dance forms, such as tango, flamenco, and stepping were featured.
Read more about the exhibition.
Halston, woman's costume for Tangled Night, 1986, lent by Martha Graham Dance Company. Photograph by Eileen Costa.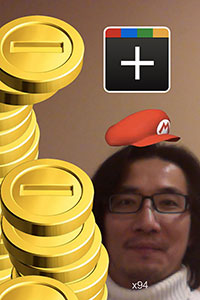 ESC: Digital Artworks by C.J. Yeh
Gallery FIT
October 4 – December 13, 2014
ESC: Digital Artworks by C. J. Yeh investigated and illustrated the life, career, and thoughts of Art & Design faculty member C. J. Yeh, and looked at how the digital revolution has resulted in a new cultural paradigm centered on social networking. The exhibition included artworks from four different bodies of work: CJ Was Here, a series of conceptual mixed-media art; De-Purpose, a series of interactive installations; Equals, a series of net art (artworks using the Internet as its primary medium or platform); and vWare 1.0, a series of visual software programs inspired by literature.
C.J. Yeh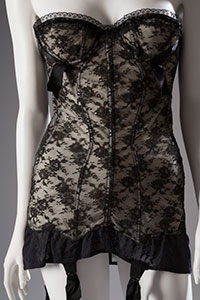 Exposed: A History of Lingerie
Fashion & Textile History Gallery
June 3 – November 15, 2014
Exposed: A History of Lingerie examined intimate apparel from the 18th century to the present, featuring over 70 of the most delicate, luxurious, and beautifully crafted objects from the museums permanent collection. Each piece illustrated key developments in fashion, such as changes in silhouette, shifting ideals of propriety, and advancements in technology.

Marie Rose Lebigot for Lily of France, corselet of lace, nylon, and elastic, c. 1954, France, gift of Mr. Robert Kaye, 82.155.8
Past Exhibitions Archive
A-Z | 2023-24 | 2022-23 | 2021-22 | 2020-21| 2019-20 | 2018-19 | 2017-18 | 2016-17 | 2015-16 | 2014-15 | 2013-14 | 2012-13 | 2011-12 | 2010-11 | 2009-10 | 2008-09