Calendar of Events
Fashion Culture Online Programs
Fashion Culture programs are organized by The Musuem at FIT to provide new perspectives on the culture of fashion. All programs will premiere on YouTube at 6 pm on the designated day and are offered FREE of cost to the public.
You can watch any of our past programs on demand on our YouTube channel.
If you are able, please consider supporting The Museum at FIT, our collection, and our programming by making a donation in any amount.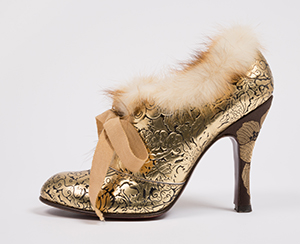 Friday, December 3, 2021
In conjunction with the exhibition Head to Toe.

The Museum at FIT's 26th fashion symposium Stilettos to Sneakers: A Virtual Shoe Symposium brings together scholars and curators and their new research on the social and cultural significance of shoes. Shoes have played an important role in human society for millennia, but interest in them has grown exponentially in the past few decades with Americans—especially women—buying more shoes. A growing cohort of men have begun collecting sneakers. This symposium explores the evolving significance of shoes over the centuries—in real life and in the cultural imagination. In this way, we hope to show the many ways in which shoes matter to us.
Visit the event page to learn more about the speakers and get prepared with the reading list!
Join us for Q&A during the YouTube premieres of these pre-recorded events.