Fashion Culture programs are organized by The Museum at FIT to provide new perspectives on the culture of fashion.
All programs will premiere on YouTube at 6 PM on the designated day.

Please scroll down to register for the programs below.
All our online programs are offered FREE of cost to the public.

If you are able, please consider supporting The Museum at FIT, our collection, and our programming by making a donation in any amount.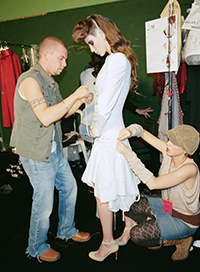 The Dance of the Twisted Bull, Spring 2002. © Robert Fairer
Online Program: Alexander McQueen: Unseen

Robert Fairer and John Matheson in conversation with Tanya Melendez-Escalante
Alexander McQueen's spectacular shows were full of extraordinary moments and people. Author and photographer Robert Fairer will discuss his stunning, high-energy photographs of McQueen's runway shows. Fairer, who was Vogue's backstage fashion photographer for more than a decade, was an integral part of the whirl of activity behind the scenes. In Alexander McQueen: Unseen, Fairer's images, which capture both the glamour and the grit, represent a new genre of fashion photography and are a treasure trove of inspiration.
Robert Fairer joins writer and consultant John Matheson (of Instagram's @McQueen_Vault) in a talk moderated by MFIT's senior curator of education Tanya Melendez-Escalante.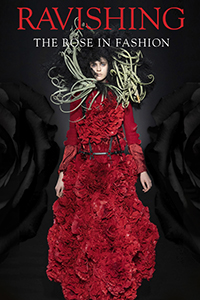 Noir Kei Ninomiya, ensemble, red wool, resin-treated faux fur, nylon, spring 2020. Photograph © Noir Kei
Ninomiya, photograph courtesy Comme des Garçons.
Ravishing: The Rose in Fashion Symposium
Friday, April 30, 2021

10 am - noon EDT
Online Program
This virtual event will be The Museum at FIT's 24th academic symposium. Ravishing: The Rose in Fashion explores how the beauty, mythology, and symbolism of the rose have long influenced fashionable dress. Rose: it's a flower, a color, and a scent. It's in fairy tales and design. This flower has become integral to art and culture.
Speakers include Amy de la Haye, professor at London College of Fashion and cocurator of the exhibition; Jonathan Faiers, professor of Fashion Thinking at Winchester School of Art; Colleen Hill, curator at MFIT and cocurator of the exhibition; Mairi MacKenzie, research fellow at Glasgow School of Art; and Elizabeth Way, assistant curator at MFIT. The symposium is organized in conjunction with the book and exhibition Ravishing: The Rose in Fashion, which will open in 2021.
Join us for Q&A during the YouTube premieres of these pre-recorded events.