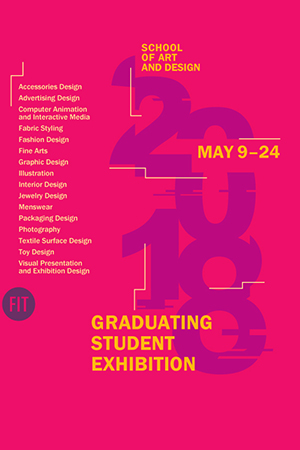 Art and Design Graduating Student Exhibition
Gallery FIT & other locations
May 9 – May 24, 2018
FIT is part of NYCxDESIGN, New York City's annual celebration of design which attracts hundreds of thousands of attendees and designers from across the globe. The Art and Design Graduating Student Exhibition presents the work of more than 800 students receiving AAS and BFA degrees from the School of Art and Design and is on view throughout the main floors of the Marvin Feldman Center, the Shirley Goodman Resource Center, The Museum at FIT, the Gladys Marcus Library, and the John E. Reeves Great Hall.
The art selected is the culmination of each student's unique experience in the FIT's diverse, challenging, and demanding undergraduate Art and Design programs. Featuring juried, award–winning, and thesis projects, this presentation is the manifestation of several years of research, experimentation, critical thinking, and artistic proficiency. The Graduating Student Exhibition advances the college's applied philosophy that integrates practice in industry with theory and teaching inside the studio.
The exhibition features work in 16 areas of study: Accessories Design, Advertising Design, Computer Animation and Interactive Media, Fabric Styling, Fashion Design, Fine Arts, Graphic Design, Illustration, Interior Design, Jewelry Design, Menswear , Packaging Design, Photography, Textile Surface Design, Toy Design, and Visual Presentation and Exhibition Design.
For more information about the School of Art and Design, visit fitnyc.edu/artanddesign.
Image: Art and Design Graduating Student Exhibition 2018 poster. Courtesy of FIT School of Art and Design.