Not in New York?
The Museum at FIT often loans objects from its permanent collections to other institutions for use in exhibitions. Watch this space for venues featuring MFIT on the road.
---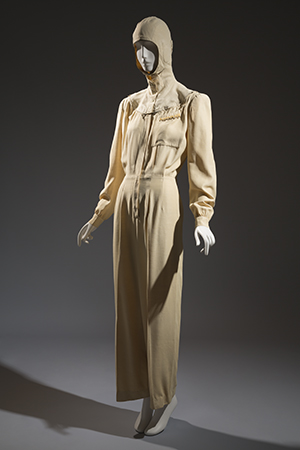 Over its short 130-year history, the car has become one of the most loved, contested and influential innovations in the world. It has revolutionised manufacturing, transformed how we move, forever changing our cities, environment and economies. This exhibition looks at the role of the car in shaping the world we live in today.
The Museum at FIT loaned this object to
Cars: Accelerating The Modern World.
Victoria and Albert Museum
London
vam.ac.uk
Flight suit and hood, rayon, c. 1913, USA, P94.9.1,
museum purchase.