Not in New York?
The Museum at FIT often loans objects from its permanent collections to other institutions for use in exhibitions. Watch this space for venues featuring MFIT on the road.
---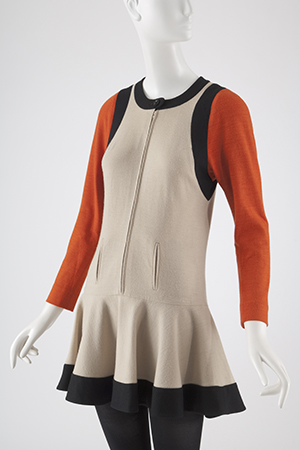 The world of fashion was turned on its head in the 1960s, as its traditions were challenged, rejected, and reimagined for the restless next generation. Beginning with the introduction of First Lady Jacqueline Kennedy as a new American style icon and evolving over the course of the decade, fashions of the 1960s were legendary for their energy, their ingenuity, and their enduring appeal.
Mod New York: Fashion Takes a Trip
explores the full arc of 1960s fashion.
On January 18, join Phyllis Magidson (author of the
exhibition's publication
), Donald Albrecht, and Caroline Rennolds Milbank at RizzoIi Bookstore for a vibrant discussion of the Mod fashion style. RSVP to
awilliams@mcny.org
or call 917.492.3430.
The Museum at FIT loaned ten looks for
Mod New York: Fashion Takes a Trip
.
Museum of the City of New York
New York City
www.mcny.org
Mary Quant, dress, wool jersey, c. 1965, England,
2012.27.1, gift of Mary Quant.