Not in New York?
The Museum at FIT often loans objects from its permanent collections to other institutions for use in exhibitions. Watch this space for venues featuring MFIT on the road.
---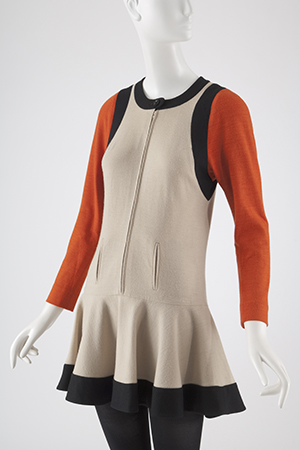 The world of fashion was turned on its head in the 1960s, as its traditions were challenged, rejected, and reimagined for the restless next generation. Beginning with the introduction of First Lady Jacqueline Kennedy as a new American style icon and evolving over the course of the decade, fashions of the 1960s were legendary for their energy, their ingenuity, and their enduring appeal. Their influence was far-reaching—many of the era's defining styles have been invoked by new generations of designers. Yet the scope of the decade's trends far exceeds its iconic miniskirt, color-block dress, or bohemian spirit.
Mod New York: Fashion Takes a Trip
explores the full arc of 1960s fashion.
The Museum at FIT loaned ten looks for
Mod New York: Fashion Takes a Trip
.
Museum of the City of New York
New York City
www.mcny.org
Mary Quant, dress, wool jersey, c. 1965, England,
2012.27.1, gift of Mary Quant.

---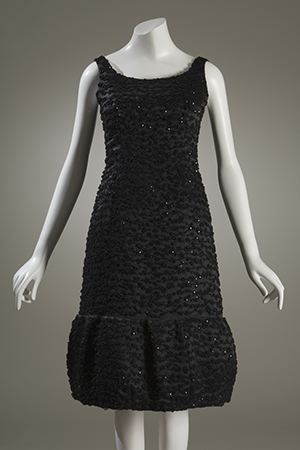 Is Fashion Modern?
Items: Is Fashion Modern?
explores the present, past—and sometimes the future—of 111 items of clothing and accessories that have had a strong impact on the world in the 20th and 21st centuries—and continue to hold currency today. Among them are pieces as well-known and transformative as the Levi's 501s, the Breton shirt, and the Little Black Dress, and as ancient and culturally charged as the sari, the pearl necklace, the kippah, and the keffiyeh. Driven first and foremost by objects, not designers, the exhibition considers the many relationships between fashion and functionality, culture, aesthetics, politics, labor, identity, economy, and technology.
The Museum at FIT loaned three looks for
Items: Is Fashion Modern?
The Museum of Modern Art
New York City
www.moma.org
Givenchy, dress, black satin with black cording, sequins
and jet beads, 1968, France, 80.181.11, gift of Jane Holzer.