Art & Design Graduating Exhibition 2011
Eco-Fashion: Going Green
gotoAndPlay();
His and Hers
Hurly-Burly MA in Illustration 2011
Japan Fashion Now
Lightness
Vivienne Westwood, 1980-89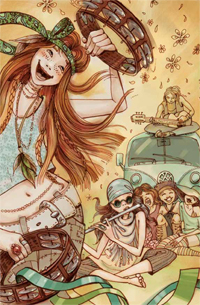 Hurly-Burly MA in Illustration 2011
June 8 - July 2, 2011
Hurly-Burly
is an exciting collection of works by the fifth class of MA in Illustration graduates from the School of Graduate Studies. These illustrations reflect the independently-minded mission of the program.
As the name
Hurly-Burly
implies, our studios have been filled with activity—the bustle of the classroom has given way to walls rich with a broad range of media and ideas. Along the way, deep bonds, lasting friendships, and collaborations have been born and will flourish. The show represents a unique group of students who embody the very essence of diversity in their backgrounds, as well as their influences. The confluence of cultures has elicited a rich environment that has provided a platform for growth on levels that extend far beyond the printed page.
---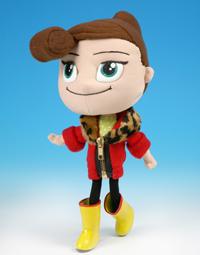 Katie Sacchi, soft toy Alex - Photograph by Guenter Knop.
Art & Design Graduating Student Exhibition 2011
May 11 - 24, 2011
This show presents the work of more than 800 students receiving AAS and BFA degrees from the School of Art & Design and is on view throughout the main floors of the Marvin Feldman Center, the Fred P. Pomerantz Art and Design Center, the Shirley Goodman Resource Center, and the John E. Reeves Great Hall. The exhibition features work in seventeen areas of study - Accessories Design, Advertising Design, Communication Design, Computer Animation & Interactive Media, Fabric Styling, Fashion Design, Fine Arts, Graphic Design, Illustration, Interior Design, Jewelry Design, Menswear, Packaging Design, Photography, Textile/Surface Design, Toy Design, and Visual Presentation & Exhibition Design.
The art selected is the culmination of each students unique experience in the Fashion Institute of Technology's diverse, challenging, and demanding undergraduate Art & Design programs. Featuring juried, award winning, and thesis projects, this presentation is the manifestation of several years of research, experimentation, critical thinking, and artistic proficiency. The Graduating Student Exhibition advances the Colleges applied philosophy that integrates practice in industry with theory and teaching inside the studio.
---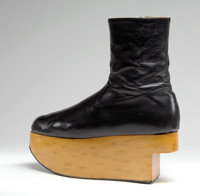 Vivienne Westwood, Rocking
Horse boots, leather and wood,
1987, England, Gift of Francisco
Melendez A.K.A. Francois.
Vivienne Westwood, 1980-89
March 8, 2011 - April 2, 2011
Online Exhibition
Vivienne Westwood, 1980-89
focused exclusively on Westwood's fashions of the 1980s and highlighted the significant shift in Westwood's design style during this decade. Her work of the early 1980s was prominently featured in edgy magazines such as
i-D
, and her following was comprised mainly of street-style insiders. By 1985, her more structured, feminine, and historically-inspired styles began to attract the attention of the mainstream press and widened Westwood's audience. The exhibition included a unisex ensemble from the
Pirate
collection (1981), a woman's ensemble from the influential
Buffalo
collection (1982) and a pair of Westwood's iconic Rocking Horse boots from the
Harris Tweed
collection (1987). Editorial photographs from magazines such as
The Face
and British
Vogue
further illuminated Westwood's impact on 1980s fashion, as did the runway footage and video interviews with the designer.
Vivienne Westwood, 1980-89
was organized and curated by FIT graduate students of the
Fashion and Textile Studies: History, Theory, Museum Practice program
.
Read more about this exhibition.
---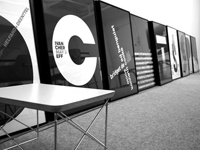 gotoAndPlay();
A Selection of Innovative Graphic Design Projects with Game-like Qualities
January 28 - February 12, 2011
The exhibition
gotoAndPlay();
reflected the youthful vision of the young designers in the
Media Design Club
at FIT. It included a selection of interactive and time-based design projects with game-like qualities which engaged audiences in a playful, charismatic, and compelling manner. Approximately 120 projects from 100 students were reviewed, and the Exhibition Planning Committee of the department of Communication Design selected the top 30 pieces for the exhibition. The exhibition also included an award-winning poster series by Professor Rocco Piscatello.
---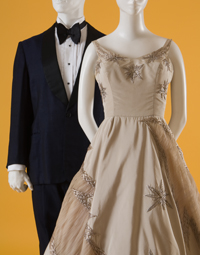 His: Cucci, mans tuxedo, navy slubbed silk, black satin, black wool, 1957, Italy, Gift of Elizabeth E. Brady.
Hers: Fontana, evening dress, grey silk taffeta and raffia, circa 1957, Italy, gift of Barbara Halpern.
His and Hers
November 30, 2010 - May 10, 2011
Online Exhibition
His & Hers
explored the relationship between gender and fashion over 250 years. Clothing can act as an immediate signifier of gender however, while making distinctions between masculine and feminine styles of clothing may seem natural, gendering is not a biological phenomenon. The exhibition discussed the changing ideas of "appropriate" attire for each gender; it also included examples of so-called unisex and androgynous fashion. More than 100 garments, accessories, and textiles from the Museum's permanent collection were featured chronologically, from a seemingly "feminine" 18th-century man's velvet suit to a woman's "power suit" from the 1980s. Also included were works by innovative designers such as Giorgio Armani, Jean-Paul Gaultier, Gianni Versace, and Vivienne Westwood.
Read more about this exhibition.
---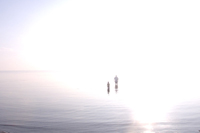 Jessica Wynne, Trurobay, 2010.
Lightness: FIT Art and Design Faculty Exhibition
November 13, 2010 - December 11, 2010
The focus of
Lightness
was to embrace, explore, and exploit the many meanings, interpretations, and associations of "lightness." Lightness is a theme that emerges in many cultures, world religions, and ideologies. Ideas of lightness have also been explored by philosophers and writers such as Friedrich Nietzsche and Milan Kundera. Some definitions of lightness: blaze, glow, sparkle, illumination, weightlessness, buoyancy, levity, play, joy, grace, agility, ease, freedom, light in value, light in color, light as a feather.

Visit the exhibition website.
---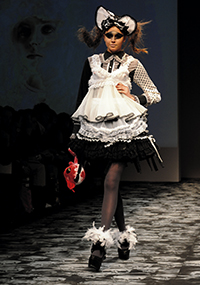 h.NAOTO Autumn/Winter 2008. Photograph courtesy of h.NAOTO
Japan Fashion Now
September 17, 2010 - January 8, 2011 /
Extended through April 2, 2011
Online Exhibition
Japan Fashion Now
explored how Japanese fashion has evolved in recent years. Japanese fashion today embraces not only the cerebral, avant-garde looks associated with the first wave of Japanese design in the 1980s, but also a range of subcultural and youth-oriented styles, such as the Elegant Gothic Lolita style and the Cosplay phenomenon. In addition, Japanese fashion often has a strong component of realism and an obsessive interest in perfecting classic styles. Contemporary Japanese fashion is globally significant precisely because it mixes elements of realism, such as high-tech fabrics or creating a perfect pair of jeans, with both the avant-garde and pop cultural elements, especially those associated with electronic media, such as
manga
(comics),
anime
(animated cartoons), and video games.
More information about this exhibition here.
---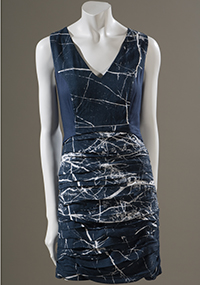 FIN, marble print dress in organic bamboo satin. Fall 2010, Norway. Gift of Per Sivertsen of FIN. Photograph by Eileen Costa MFIT 2010

.
Eco-Fashion: Going Green
May 26 - November 13, 2010
Online Exhibition
Eco-Fashion: Going Green
explored the evolution of the fashion industry's multifaceted and complex relationship with the environment. By examining the past two centuries of fashions, good and bad, environmental and ethical practices,
Eco-Fashion: Going Green
provided historical context for today's eco-fashion movement.
Presented chronologically and featuring more than 100 garments, accessories, and textiles, the exhibition used contemporary methods for "going green" as a framework to study the past. The objects displayed each touch upon at least one of six major themes: the re-purposing and recycling of materials, fiber origins, textile dyeing and production, quality of craftsmanship, labor practices, and the treatment of animals. Curated by Jennifer Farley and Colleen Hill, the exhibition featured some of the finest examples of 21st-century sustainable fashions by current, cutting-edge labels, including Alabama Chanin, Ciel, Edun, FIN, and NOIR.
Read more about this exhibition.