Installation image from Pink: The History of a Punk, Pretty, Powerful Color, Special Exhibitions Gallery, September 7, 2018 – January 5, 2019
Exhibitions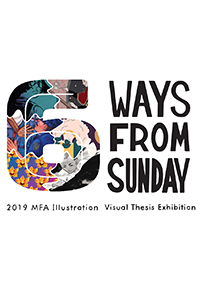 Six Ways From Sunday
Gallery FIT
June 8 – July 13, 2019
This exhibition represented the culmination of three years of hard work and personal exploration by six unique artists. Six artists who, side by side during their candidacies for the MFA degree in Illustration at FIT, found their own voices and developed their own approaches. The work on display featured depictions of deeply personal narratives, complex social circumstances, historical blind spots, mental health, media, and merchandise.

Image: Visual Thesis Exhibition 2019 poster. Courtesy of MFA Illustration.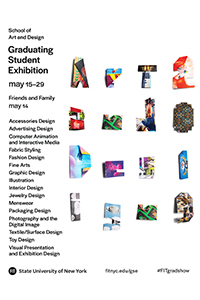 Art and Design Graduating Student Exhibition
Gallery FIT & other locations
May 15 – 29, 2019
The Art and Design Graduating Student Exhibition presented the work of more than 800 students receiving AAS and BFA degrees from the School of Art and Design. It was on view throughout the main floors of the Marvin Feldman Center, the Shirley Goodman Resource Center, The Museum at FIT, the Art and Design Gallery in the Pomerantz Center and the John E. Reeves Great Hall.
The art selected was the culmination of each student's unique experience in FIT's diverse, challenging, and demanding undergraduate Art and Design programs. Featuring juried, award–winning, and thesis projects, the exhibition was the manifestation of several years of research, experimentation, critical thinking, and artistic proficiency. The Graduating Student Exhibition advanced the college's applied philosophy that integrates practice in industry with theory and teaching inside the studio.
The exhibition featured work in 16 areas of study: Accessories Design, Advertising Design, Computer Animation and Interactive Media, Fabric Styling, Fashion Design, Fine Arts, Graphic Design, Illustration, Interior Design, Jewelry Design, Menswear, Packaging Design, Photography, Textile Surface Design, Toy Design, and Visual Presentation and Exhibition Design.
For the first time that year, The Future is In The Making: the processes of thought and ideation leading to the work highlighted in the Graduating Student Exhibition complemented the exhibition, and was seen in the Art and Design Gallery in the Pomerantz Center.
FIT is part of NYCxDESIGN, New York City's annual celebration of design which attracts hundreds of thousands of attendees and designers from across the globe.
Image: Art and Design Graduating Student Exhibition 2019 poster. Courtesy of FIT School of Art and Design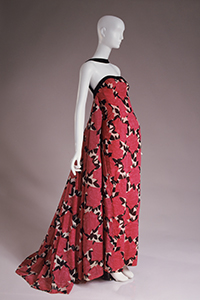 The Traphagen School: Fostering American Fashion
Gallery FIT
March 5 – 30, 2019

The Traphagen School: Fostering American Fashion explored the legacy of one of the first institutions dedicated to educating fashion industry professionals in New York City. The impact of the school, in operation from 1923-1991, was explored through an introduction to founder Ethel Traphagen, the main philosophies of the school, and its lasting influence. Highlights included ensembles by Geoffrey Beene and Anne Klein, evening wear by Luis Estevez and James Galanos, and illustrations by Antonio Lopez.
This exhibition, the first dedicated to the school, focused on the Traphagen methods of design-by-adaptation and experimentation, both of which are still used in design education and the fashion industry today. The Traphagen School also included never-before seen garments from the school's study collection, as well as photographs, publications, and advertisements that chronicle the creative environment that Ethel Traphagen created for her students.
Image: Grenelle-Estevez, evening set, circa 1957, gift of Sylvia Levine, 92.173.6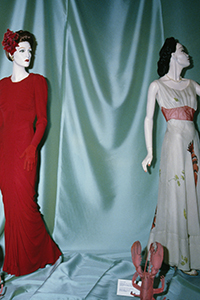 Exhibitionism: 50 Years of The Museum at FIT
Special Exhibitions Gallery
February 8 – April 20, 2019
Founded in 1969 by the Fashion Institute of Technology, The Museum at FIT is a specialized fashion museum famous for its innovative and award-winning exhibitions. The museum has been the site of more than 200 exhibitions since the 1970s, and Exhibitionism commemorated approximately 33 of the most influential of these, including Fashion and Surrealism (1987), a groundbreaking show that explored the relationship between art and fashion; The Corset (2000), a beautiful and brilliant exploration of the most controversial garment in fashion history; and Fairy Tale Fashion (2016), a magical look at the such enchanted and emblematic items as the glass slipper and the red riding hood.

Exhibitionism also included highlights from more recent, award-winning exhibitions, such as A Queer History of Fashion: From the Closet to the Catwalk (2013) and Black Fashion Designers (2017). Each exhibition was highlighted using garments, photos of its original installation, and text explaining its importance. The result offered an engaging, "behind the scenes" look at the process of exhibition making.
View the online exhibition.

Image: Installation image from Fashion and Surrealism (October 30, 1987 – January 23, 1988)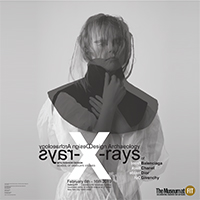 X-RAYS of Balenciaga, Chanel, Dior, and Givenchy
Gallery FIT
February 6 – 16, 2019
X-RAYS of Balenciaga, Chanel, Dior, and Givenchy was the result of a collaboration between the students of FIT's MFA Fashion Design program and The Museum at FIT. The project was part of a course entitled "Fashion Creation 3 - Design Archaeology," which centered on the concept that in order to move design forward, it is of utmost value to know where it has been.

The students were divided into four groups, and then each group was tasked with producing a replica of a couture garment from a leading fashion house: Balenciaga, Chanel, Dior, or Givenchy. The original garments, housed in The Museum at FIT collection, were carefully researched by the students. In addition to creating the line-for-line replicas, the students gained a deep understanding of the brand's heritage. They then developed a contemporary, technology-driven collection.

The display of process-based design work highlighted each student's personal development, resulting in a fully realized look and an advertorial that completed their vision and projected a new direction for each house.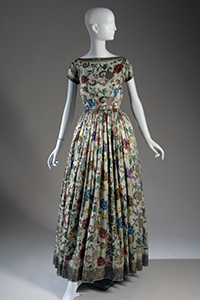 Fabric In Fashion
Fashion & Textile History Gallery
December 4, 2018 – May 11, 2019
Fabric In Fashion explored the role played by textiles in forming the silhouette in Western fashion over the last 250 years. The examination of textiles is often separated from that of the fashionable silhouette, yet historically, textiles were as important as the cut of clothing in keeping up with current fashion. This exhibition delved into the mechanics of textiles, looking at how fibers and weaves build the materiality of fashion. It also explored the cultural influence of fabric. The Western world's demand for fashionable textiles of silk, cotton, wool, and synthetics has had enormous repercussions across the globe.
Fabric In Fashion highlighted both clothing and flat textiles from the museum's permanent collection, examined how the physical properties of specific fabrics determine the way a piece of clothing interacts with the body, as well as how the design and cultural associations of textiles reveal the social motivations that drive fashion forward. The exhibition was organized by Elizabeth Way, assistant curator of costume.
Read more about Fabric in Fashion.
Image: Traina-Norell, "Indian sari" silk brocade dress, circa 1955, gift of Mildred Morton, 76.113.3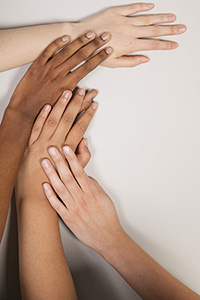 Expressions of Civility
Gallery FIT
November 19, 2018 – January 26, 2019
Expressions of Civility was the annual Fashion Institute of Technology faculty/staff exhibition. For the first time ever, the faculty/staff show included student work. The theme was chosen in order to support and expand upon President Dr. Joyce F. Brown's campus-wide initiative on civility, which culminated in October with Civility Week. All of the work featured in this multimedia exhibit revolved around this meditation on civility: What does it mean to be civil in a world that is increasingly coarse and unkind? In an era during which personal attacks and inflammatory positions have superseded dialogue and debate, how do we seek to understand that which separates us? How do we build connections that increase empathy, inclusivity, knowledge, and community? Civility, and the ability to reconcile our differences for the greater good, are at the very root of a democratic society. Civility encourages forward movement, it moves us past our points of conflict, it fuels progress. Ultimately, it's the only thing that ever has.
Image: Courtesy of Ni Ouyang.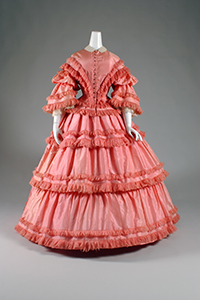 Pink: The History of a Punk, Pretty, Powerful Color
Special Exhibitions Gallery
September 7, 2018 – January 5, 2019

Pink is popularly associated with little girls, ballerinas, Barbie dolls, and all things feminine. Yet the symbolism and significance of pink have varied greatly across time and space. The stereotype of pink-for-girls versus blue-for-boys may be ubiquitous today, but it only gained traction in the mid-twentieth century. In the 18th century, when Madame de Pompadour helped make pink fashionable at the French court, it was perfectly appropriate for a man to wear a pink suit, just as a woman might wear a pink dress. In cultures such as India, men never stopped wearing pink.
Yet anyone studying pink comes up against "the color's inherent ambivalence." One of "the most divisive of colors," pink provokes strong feelings of both "attraction and repulsion." "Please sisters, back away from the pink," wrote one journalist, responding to the pink pussy hats worn at the Women's March in Washington D.C.. Some people think pink is pretty, sweet, and romantic, while others associate it with childish frivolity or flamboyant vulgarity. In recent years, however, pink has increasingly has been interpreted as cool, androgynous, and political.
Curated by Dr. Valerie Steele, director of The Museum at FIT, Pink: The History of a Punk, Pretty, Powerful Color explored the changing significance of the color pink over the past three centuries.
Read more about Pink.
Image: Afternoon dress, pink silk taffeta, 1857, USA, museum purchase, P92.40.1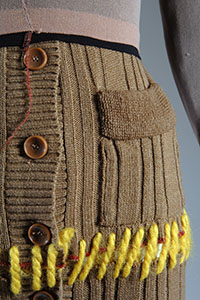 Fashion Unraveled
Fashion & Textile History Gallery
May 25 – November 17, 2018
Online Exhibition
Fashion Unraveled examined the concepts of imperfection and incompletion in fashion. Garments that were altered, unfinished, or deconstructed, in addition to clothing that shows signs of wear, highlighted the aberrant beauty in flawed objects. Unless such imperfections are intentional — as they are in the case of deconstructed fashion — these garments are often overlooked in museum collections. This exhibition included a selection of objects from the museum's permanent collection, highlighting objects that are not only visually compelling, but that may also tell intriguing stories about their makers and/or wearers.
It is only in recent years that imperfect or inauthentic objects have been given greater consideration, as interest in their "biographies" has grown. Signs of repeated wear, shortened hemlines, and careful mends can be found even on haute couture garments, and they highlight the lasting economic and emotional worth of many clothes within museum collections. These findings — which are often unseen and unknown by museum visitors — challenge the concept of fashion as a strictly ephemeral, disposable commodity. Fashion Unraveled also revealed how the appearance of aged clothing, with its flaws and signs of decay, has been embraced by many designers as an aesthetic choice, furthering the reconstruction of notions about beauty and value in fashion.
Read more about Fashion Unraveled.
Image: Detail of ensemble by XULY.Bët, repurposed acrylic sweaters, fall 1994, gift of XULY.Bët, 95.7.2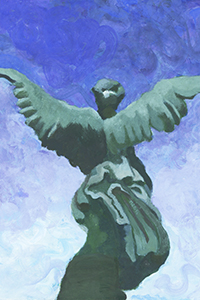 The Italian Way, Lessons from the Masters of our Time
Gallery FIT
October 20 – November 10, 2018

The Italian Way presented paintings and sketchbooks created by students who were participants in FIT's month-long study abroad program in Florence, Italy. The students – sophomores, juniors, and seniors – were from the Fine Arts, Illustration, Packaging Design, and Graphic Design departments within the School of Art and Design at FIT. The goal of the abroad program was to build a bridge between the art of the Italian Renaissance and these young, contemporary artists.
Students were taught to paint with egg tempera, the medium of choice for many Renaissance artists. Egg tempera was then used to create all of the paintings in this exhibition, though students were not required to produce a finished painting. Instead, it was important that they experience first-hand what the artists of the Renaissance did to create their masterpieces. Through the process, students gained a better understanding and enhanced appreciation of the work and the craftsmanship of artists during 15th-century Italy.
Image: Courtesy of Megan Brady.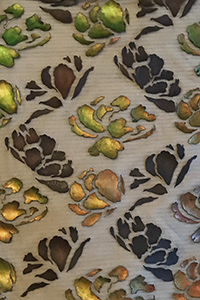 Crafting Change
Gallery FIT
September 15 – October 6, 2018

The work of FIT students and faculty took center stage in the Gallery FIT exhibition Crafting Change. Organized by the Textile/Surface Design Department in conjunction with New York Textile Month, the works featured in Crafting Change used long-established techniques in a modern context to explore the shifting boundaries between art, design, and technology. Combining hand-crafting techniques with digital processes preserves tradition while pushing textiles into the future. Projects bridging science and textiles have the potential to revolutionize the fashion and textile industries, leading us to a more sustainable world. These works were promising examples of how FIT is successfully encouraging interdisciplinary mergers of craft, technology, and sustainability in order to usher textile arts into the 21st century.
Photo Credit: Laura Gauthier.
A-Z | 2023-24 | 2022-23 | 2021-22 | 2020-21| 2019-20 | 2018-19 | 2017-18 | 2016-17 | 2015-16 | 2014-15 | 2013-14 | 2012-13 | 2011-12 | 2010-11 | 2009-10 | 2008-09