Installation image from Black Fashion Designers, Fashion & Textile History Gallery, December 6, 2016 – May 16, 2017
Exhibitions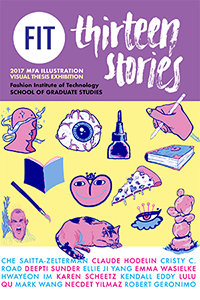 Thirteen Stories
Gallery FIT
June 10 – July 8, 2017

The Fashion Institute of Technology was proud to present the 2017 MFA in Illustration Visual Thesis Exhibition. A diverse group of MFA candidates bound together by a passion for visual storytelling presented 13 unique visions. 13 artists, 13 voices, 13 stories.
The exhibition featured work by Cristy Road, Kendall Eddy, Robert Geronimo, Claude Hodelin, Hwayeon Im, Yueming LuLu Qu, Che Saitta-Zelterman, Karen Sheetz, Deepti Sunder, Mark Wang, Emma Wasielke, Ellie Ji Yang, and Necdet Yilmaz.
Image: Master of Fine Arts in Illustration Bookends Exhibition 2017 Poster. Courtesy of the Master of Fine Arts in Illustration program.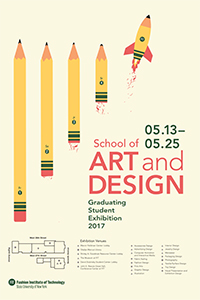 Art and Design Graduating Student Exhibition
Gallery FIT & other locations
May 13 – 25, 2017
The annual Art and Design Graduating Student Exhibition presented the work of more than 800 students receiving AAS and BFA degrees from the School of Art and Design. The exhibition featured work in 16 areas of study: Accessories Design, Advertising Design, Computer Animation and Interactive Media, Fabric Styling, Fashion Design, Fine Arts, Graphic Design, Illustration, Interior Design, Jewelry Design, Menswear, Packaging Design, Photography, Textile/Surface Design, Toy Design, and Visual Presentation and Exhibition Design.
The projects on view were the culmination of each student's unique experience in FIT's undergraduate Art and Design programs and features selections, thesis work, and award-winning projects.
Image: Art and Design Graduating Student Exhibition 2017 Poster. Courtesy of FIT School of Art and Design.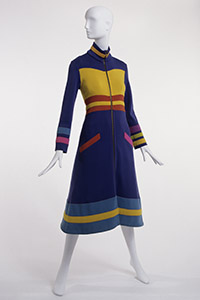 Black Fashion Designers
Fashion & Textile History Gallery
December 6, 2016 – May 16, 2017
Online Exhibition


Black Fashion Designers examined the impact made by designers of African descent on the world of fashion. Drawing exclusively from The Museum at FIT's permanent collection, the exhibition featured approximately 75 fashion objects that illustrated the individual styles of more than 60 designers, placing them within a wider fashion context. Objects dated from the 1950s to the present, included mid-century evening gowns by Anne Lowe and the jovial, yet controversial, work of Patrick Kelly from the 1980s. Contemporary pieces included Lagos-based designer Maki Oh's spring 2013 dress, which reconceptualizes Nigerian traditions, and pieces from the latest runways of established designers, such as Tracy Reese, and emerging talents, such as Charles Harbison.
The exhibition addressed the influence of black fashion models as well, by highlighting milestone events, such as "The Ebony Fashion Fair." Black Fashion Designers was meant to enliven the conversation about historic and ongoing issues of diversity within the fashion industry. It honored the creative talents of designers who are often overlooked and provided a fresh, holistic view of the fashion industry, emphasizing the significant roles in culture and society played by black designers.
Learn more about the exhibition.
Image: Stephen Burrows coatdress, wool, fall 1970, USA, gift of Stephen Burrows, 92.105.8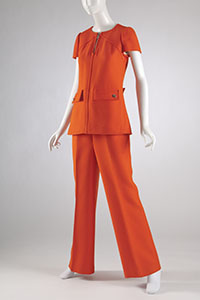 Paris Refashioned, 1957-1968
Special Exhibitions Gallery
February 10 – April 15, 2017
Exhibition Blog


Paris Refashioned, 1957-1968 examined the significant role that Paris played during one of the most fascinating and groundbreaking periods in fashion history. In 1957, twenty-one-year-old Yves Saint Laurent was made creative director of the esteemed couture house of Christian Dior. His first solo collection for Dior included his A-line "trapeze" dresses, ushering in an unmistakable shift toward more relaxed and ultimately more youthful designs—and with it, dramatic changes to the couture fashion industry.
By 1963, a group of young French ready-to-wear designers known as the stylistes had begun to make an impact on fashion both in their home country and abroad. Their of-the-minute fashions, which were favored by style arbiters such as Brigitte Bardot, presented an unexpected challenge to the more staid, costly, and labor-intensive creations of the couturiers. By 1968, some of the best-known couturiers—including Saint Laurent, Pierre Cardin, and André Courrèges—were presenting ready-to-wear lines in addition to their couture creations. Paris Refashioned examined the shift from the unassailable dominance of the haute couture to the newfound influence of ready-to-wear.
Image: Couture Future (ready-to-wear label by André Courrèges) pantsuit, wool blend, 1968, France, gift of Mrs. Phillip Schwartz, 81.132.4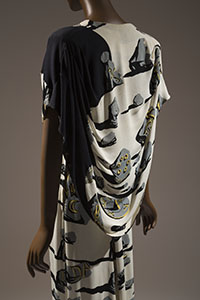 Adrian: Hollywood and Beyond
Gallery FIT
March 7 – April 1, 2017
Online Exhibition
Adrian: Hollywood and Beyond explored Gilbert Adrian's ready-to-wear and costume designs, with a focus on his innovative use of textiles. Organized by graduate students in the Fashion and Textile Studies: History, Theory, Museum Practice program, this exhibition was the first to analyze Adrian's work within the context of the contemporary fashion and textile design of the mid-twentieth century.
Adrian's relationships with prominent figures within the textile industry, such as Wesley Simpson and Pola Stout, were integral to his artistic vision. In Adrian: Hollywood and Beyond, these collaborations and other professional associations were explored alongside a selection of garments and textile samples from the permanent collection of The Museum at FIT. Included was an eye-catching gown created from a Wesley Simpson textile and illustrated by artist Salvador Dali. This dress, alongside a selection of garments, textiles, advertisements, and film clips demonstrate how Adrian's use of printed textiles and creative construction methods made him a master of modern design.
Image: Adrian, evening dress, 1947, USA, printed rayon textile by Wesley Simpson/Salvador Dalí, museum purchase, P90.69.1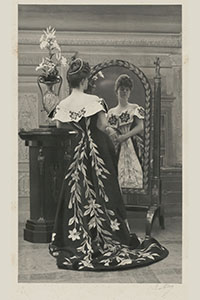 Proust's Muse, The Countess Greffulhe
Special Exhibitions Gallery
September 23, 2016 – January 7, 2017
Exhibition Blog
Proust's Muse, The Countess Greffulhe featured 40 extraordinary fashions and accessories from the fabulous wardrobe of Élisabeth de Caraman-Chimay, the Countess Greffulhe (1860-1952). A famous beauty celebrated for her "aristocratic and artistic elegance," the countess fascinated her contemporaries, including Marcel Proust who told her cousin, Robert de Montesquiou, "I have never seen a woman so beautiful." When Proust wrote his great novel In Search of Lost Time (À la recherche du temps perdu), the Countess Greffulhe was one of the primary inspirations for his immortal fictional character, Oriane, the Duchess de Guermantes, of whom he wrote, "Each of her dresses seemed like...the projection of a particular aspect of her soul."
Proust's Muse was based on La Mode retrouvée: Les robes trésors de la comtesse Greffulhe, an exhibition organized in Paris by Olivier Saillard, director of the Palais Galliera, Musée de la Mode de la Ville de Paris, which is the repository of the countess's wardrobe. Dr. Valerie Steele, director and chief curator of The Museum at FIT, organized the exhibition in New York in collaboration with Saillard.
Image: The Countess Greffulhe wearing the "Lily Dress" created by Worth, 1896. Galliera, musée de la Mode de la Ville de Paris. © Nadar / Galliera / Roger-Viollet.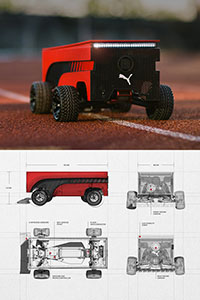 #TIME: 2016 Creative Technology Program Annual Exhibition
Gallery FIT
November 15 – December 13, 2016
To highlight the importance of time as a primary design element in addition to type and imagery, the Creative Technology Program at FIT dedicated its second annual exhibition to temporal design. #TIME: 2016 Creative Technology Program Annual Exhibition emphasized visual storytelling, interaction strategies, and conceptual thinking for designing with time in mind. The exhibition was divided into three parts: motion design, interaction design, and time-based information design, such as timelines and calendars. Each project in the exhibition displayed its own distinctive, creative approach to solving design problems using temporal design principles. It provided an opportunity for those interested in temporal design, across a range of disciplines, methods, and practices, to reflect on what it might mean to them.
#TIME showcased the best projects from Creative Technology program courses such as Kinetic Typography, Immersive-Publication Design, User Experience Design, and Design for Screen-based Media. To demonstrate the linkage between these student projects and current industry practices, selected professional projects from the alumni, faculty, and advisory board of the program were also on view.
Image: Creative Technology Program Advisory Board "JWT"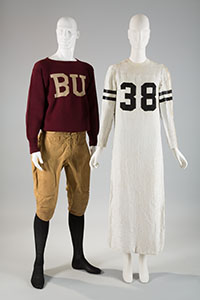 Uniformity
Fashion & Textile History Gallery
May 20 – November 19, 2016
Online Exhibition
Uniforms are the antithesis of high fashion. Where uniform design focuses on notions of functionality, control, and tradition, fashion promotes constant change, creativity, and subversion. Yet fashion has often drawn inspiration from uniforms of all kinds, taking functional features and transforming them into decorative elements. Simultaneously designed to blend in and stand out, uniforms occupy a unique place in our society. We encounter uniforms everywhere, from those of soldiers and school children, to the distinctive attire of flight attendants and fast-food clerks. Likewise, the uniforms of athletes and police officers have become familiar, everyday sights. They are overt symbols of social order, but they are also considered so commonplace that they are often overlooked.
Uniformity explored the dynamic history behind a variety of uniforms, considering both their social role and their influence on high fashion. The exhibition was organized thematically to focus on four categories of uniforms: military, work, school, and sports. Uniformity included over 70 objects from The Museum at FIT's permanent collection, many of which had never been on view before.
Image: (left) Football uniform, c. 1920, wool and cotton duck, USA, museum purchase, P89.57.36 and P84.38.1
(right) Geoffrey Beene, "football jersey" dress, fall 1967, silk and sequins, USA, museum purchase, 2015.77.3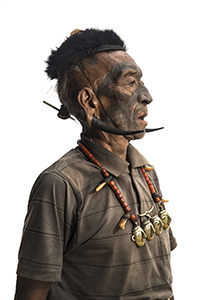 The Last Living Headhunters
Gallery FIT
October 1 – 29, 2016

Longwa village is located on the eastern edge of the province of Nagaland in northeast India, where it shares a border with Myanmar. Longwa is home to the Konyak Naga Tribe, who for centuries have been known as fierce headhunters. Killing an enemy and bringing home the head used to be considered a rite of passage. It was rewarded with a tattoo on the face or chest of the warrior.
Animal skulls and bones decorate the walls of every Konyak house, a testimony to the pride and respect of the warrior. Before the Konyaks converted to Christianity during the 1970s, human skulls also adorned their walls. Today, many traditional practices and rituals have nearly vanished, and the most feared warriors of yesteryear have diminished. What now remains are a few old men with faded tattoos. These men can sometimes be spotted around the village, smoking opium and sharing stories about their glorious past.
"My goal was to capture their striking personalities and to help revive their sense of pride by telling their stories." — Trupal Pandya, student photographer.
Image: "The Last Living Headhunters" courtesy of Trupal Pandya.
Past Exhibitions Archive
A-Z | 2023-24 | 2022-23 | 2021-22 | 2020-21| 2019-20 | 2018-19 | 2017-18 | 2016-17 | 2015-16 | 2014-15 | 2013-14 | 2012-13 | 2011-12 | 2010-11 | 2009-10 | 2008-09