For more information about how you can support the activities of The Museum at FIT, please visit Support MFIT.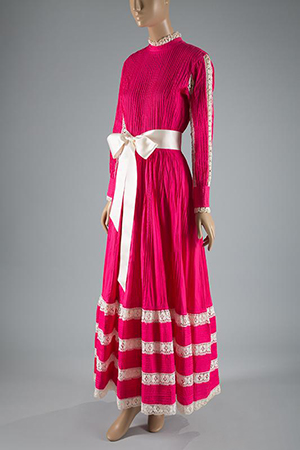 This dress was on view in the exhibition
Pink: The History of a Punk, Pretty, Powerful Color.
Lila Bath
Pink dress
Cotton and lace
1972, Mexico
Gift of Tanya Melendez, 2017.54.1
Designed by Mexico-based designer Lila Bath, this dress was originally resort wear. The maxi style featuring tucked cotton and lace was known in the USA as a Mexican wedding dress. In the United States, Mexican pink epitomizes traditional Mexico, while south of the border the color is often used to express modernity.
---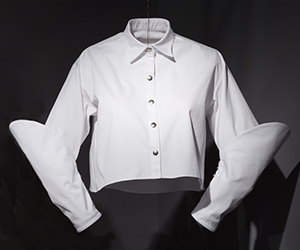 This shirt was on view in the exhibitionThe Body: Fashion and Physique
Lucy Jones
Shirt
White cotton and metal magnetic fasteners
2017, USA
Gift of Lucy Jones, 2017.60.1
Lucy Jones creates fashionable garments for wheelchair users and people with diverse abilities who sit for extended hours at a time. Both groups are often unable to consume mainstream fashion. Jones designed this shirt for a seated body. It has a cropped silhouette to prevent bunching and discomfort, and magnetic fasteners for ease of dressing.
---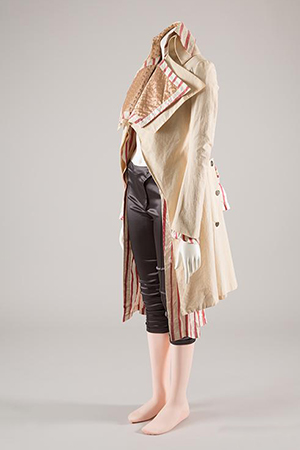 This ensemble was on view in the exhibition Paris, Capial of Fashion.
John Galliano
Ensemble
Cotton muslin, striped dupioni silk, and grey stretch satin
Spring 1992, England
Museum purchase, 2017.80.2
Throughout his career, John Galliano has repeatedly created fashions evoking the Incroyables (the Incredible ones) and their female counterparts, the Merveilleuses. Contrary to popular belief, most Incroyables were not royalists or aristocrats. Rather, they were among Paris's "gilded youth" who now felt free to abandon sober clothes in favor of extreme fashions, which would have been highly dangerous during the radical phase of the French Revolution.
---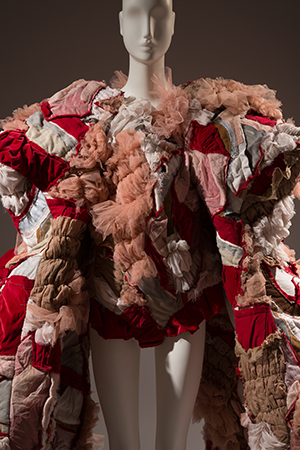 This ensemble was on view in the exhibition Minimalism/Maximalism.

Comme des Garçons
Ensemble
Multicolored cotton, nylon, wool, polyester, rayon, and linen
Fall 2016, Japan
Museum purchase, 2018.2.1

Exaggerated proportions and visual intricacy define this maximalist ensemble by Comme des Garçons. Titled Multidimensional Graffiti, the collection appropriated the work of 10 artists ranging from the 16th century to today. According to Women's Wear Daily, the result was a mash-up of prints and textures that allude to "the possibilities inherent when wildly unlike visual perspectives coexist."