For more information about how you can support the activities of The Museum at FIT, please visit Support MFIT.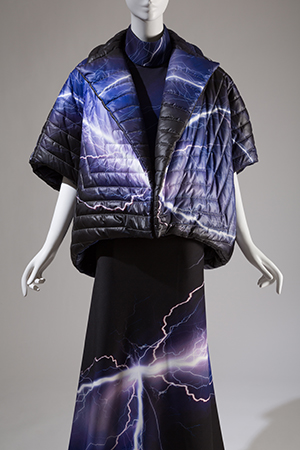 This dress is on view in the exhibition Force of Nature.
Arzu Kaprol
Ensemble
Purple, black, and white synthetic stretch knit with quilted nylon
Fall 2014, Turkey
Gift of Arzu Kaprol, 2015.31.2
Arzu Kaprol has significantly contributed to Istanbul's fashion industry by opening nine stores in Turkey since starting her company in 1998. Her business has expanded internationally, and she designs both ready-to-wear and couture collections, which are presented in Istanbul and Paris. In this boldly printed dress and quilted jacket, Kaprol combines fine craftsmanship with a sporty touch.
---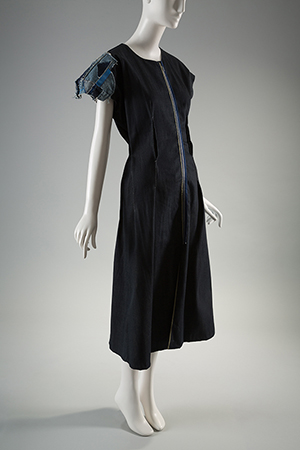 This ensemble was on view in the exhibition Denim: Fashion's Frontier.

Susan Cianciolo
Dress
Blue denim and cotton tape
2006, USA
Gift of Anonymous, 2015.41.2
This dress is from a collection of one-of-a-kind pieces New York-based artist/designer Susan Cianciolo created in collaboration with Cone Mills, the most widely renowned denim producer in America. The collection featured pieces in which Cianciolo combined raw and pre-washed Cone denim with scraps of historic denim from Cone's archives, transforming each piece into a living chronicle of American craftsmanship.
---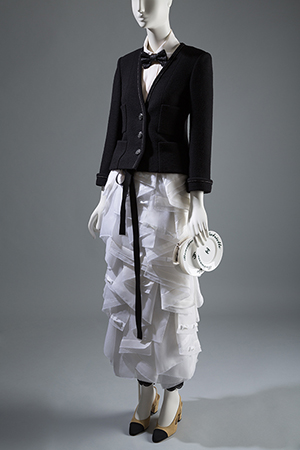 This ensemble was on view in the exhibition Uniformity.
Chanel (Karl Lagerfeld) for "Brasserie Gabrielle"
Ensemble
Black wool, black cotton demin, ivory silk crepe, black silk, white silk organza, white leather, and beige suede
Fall 2015, France
Gift of Chanel, 2015.64.1
This ensemble mimics the uniform of Parisian brasserie waiters with a short black jacket, bow tie, long white apron, and a purse shaped like plates. According to Women's Wear Daily, Karl Lagerfeld wanted "to celebrate something intrinsically French," so he took the eminently Parisian brasserie as his starting point and drew on the waiters' distinctive attire.
---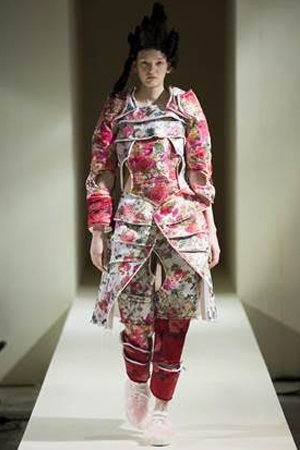 This ensemble will be on view in the exhibition Pink: A History of Pink in Fashion, Art & Culture.
Comme des Garçons (Rei Kawakubo)
Ensemble
Pink floral acetate/polyester/nylon lamé jacquard jacket and pants
Fall 2016, Japan
Museum purchase, 2016.6.1

Rei Kawakubo's "Eighteenth-Century Punk" collection for Comme des Garçons was a tour-de-force of rococo roses and samuraii-like armor. The museum acquired this look for its forthcoming exhibition on the color pink.