For more information about how you can support the activities of The Museum at FIT, please visit Support MFIT.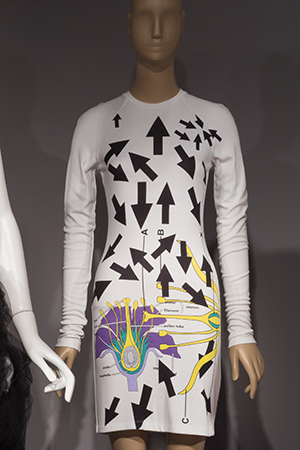 This suit was on view in the exhibition Force of Nature

.
Christopher Kane
Dress
Print cotton
2014, England
Museum purchase, 2017.5.1
Christopher Kane took a scientific yet tongue-in-cheek approach to florals for his spring 2014 collection. This dress was inspired by diagrams of plant reproduction Kane found during a visit to his old high school. He explained, "I was thinking about how flowers are taken for granted — and how the reproductive organs, the female anatomy, are so similar to a dissected flower."
---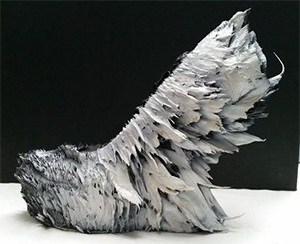 These shoes
are currently on view in the exhibition Minimalism /Maximalism.



Iris van Herpen with Jólan van der Wiel
Magnetic Motion Shoes
Polyurethane, metal, and leather
2014, Netherlands
Museum purchase, 2017.6.2
Iris Van Herpen's designs combine imagination and cutting edge technology to push aesthetic boundaries and challenge traditional ideas of craftsmanship. A collaboration with artist Jólan van der Wiel allowed her to harness magnetic fields and "grow" this pair of otherworldly shoes made of iron fillings and resin.
---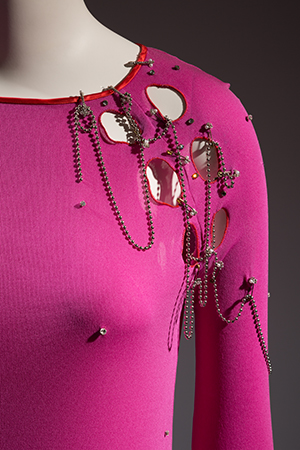 This ensemble was on view in the exhibition Pink: The History of a Punk, Pretty, Powerful Color.
Zandra Rhodes
Set (top and skirt)
Rayon jersey ensemble with metal, faux pearls, and rhinestones
1977, France
Museum purchase, 2016.114.1
"Pink is the only true rock and roll color," said Paul Simonon, bass guitarist for The Clash. Already worn in the 1950s by performers like Elvis Presley, pink became even more popular in the 1970s with the development of fluorescent colors. The English designer Zandra Rhodes (known for her pink hair) featured several pink dresses in her notorious "punk" collection.
---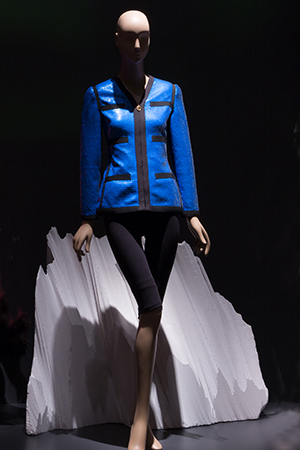 This suit was on view in the exhibition Expedition: Fashion From the Extreme.

Karl Lagerfeld for Chanel
Evening jacket
Spring 1991, France
Museum purchase, 2017.9.1

The spring 1991 collection by Karl Lagerfeld for Chanel was inspired by surfing wetsuits. This blue jacket was one of several brightly-colored versions covered in shimmering sequins that glistened like wet neoprene, and the lines of the black, grosgrain trim are similar to the seams of a wetsuit. Lagerfeld called this jacket "the city surfer" look and noted that it was "perfect for diving into the nightlife from Paris to Rome to London to New York."