For more information about how you can support the activities of The Museum at FIT, please visit Support MFIT.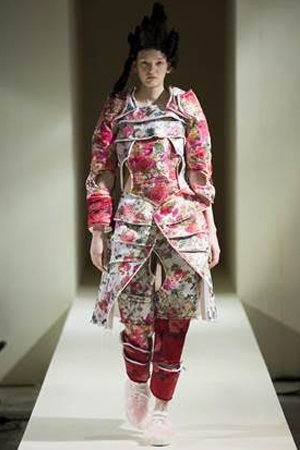 This ensemble will be on view in the exhibition Pink: A History of Pink in Fashion, Art & Culture.
Comme des Garçons (Rei Kawakubo)
Ensemble
Pink floral acetate/polyester/nylon lamé jacquard jacket and pants
Fall 2016, Japan
Museum purchase, 2016.6.1

Rei Kawakubo's "Eighteenth-Century Punk" collection for Comme des Garçons was a tour-de-force of rococo roses and samuraii-like armor. The museum acquired this look for its forthcoming exhibition on the color pink.
---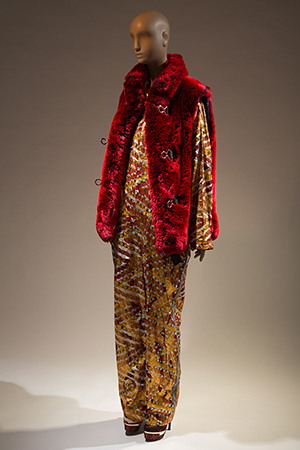 This ensemble was on view in the exhibition Black Fashion Designers.
XULY.Bët
Ensemble
Cotton with applied metallic pattern, faux fur, synthetic stretch suede
Fall 2016, France
Gift of XULY.Bët, 2016.16.1
Since 1991, Parisian designer Lamine Kouyaté of XULY.Bët has been using the street as both inspiration and performance space. In 2015, he staged a guerrilla show in New York. Kouyaté utilizes the subversive street setting to counterbalance his commercial success, separating his defiantly attention-grabbing designs from the fashion establishment.
---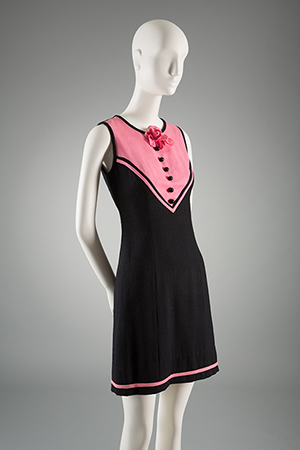 This dress was on view in the exhibition Paris Refashioned.
Mademoiselle Arlette
Dress
Black and pink linen
Circa 1966, France
Gift of Chanel, 2015.64.1
Mademoiselle Arlette clothing was designed by Arlette Nastat, co-owner of and designer for Réal, a high-end Paris boutique. Réal opened on Paris's rue Saint Honoré in 1957, and, much like Mary Quant's London shop Bazaar, the styles were designed for young women who had difficulty finding clothing that appealed to their tastes. This Mademoiselle Arlette dress exemplifies the label's vibrant, girlish aesthetic. It is narrowly cut, with dimensions only scarcely wider through the hips than through the bust. This markedly underscores the slender, youthful body type for which it was intended.
---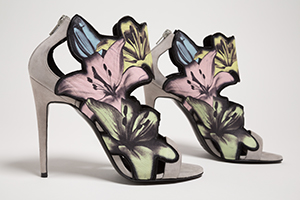 These shoes are currently on view in the exhibition Force of Nature.


Pierre Hardy
Shoes
White high heel leather shoes with multi color flowers
Summer 2015, France
Gift of Pierre Hardy, 2016.18.1

This pair of shoes challenges customary representations of flowers. Pierre Hardy rendered realistic images of lilies in saccharine, artificial colors that he described as "acidic in the style of Warhol or Gilbert & George." This was the first time Hardy had depicted flowers in a spring collection, and he said, "I tried to deal with them a different way."