For more information about how you can support the activities of The Museum at FIT, please visit Support MFIT.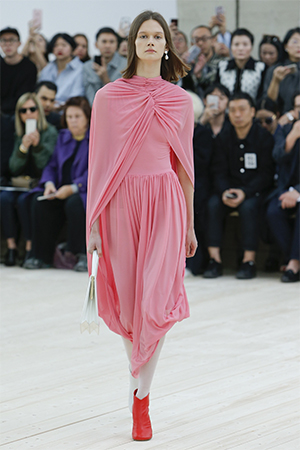 This ensemble is on view in the exhibition Paris, Capital of Fashion.
Phoebe Philo for Céline
Dress with self-drape cape
Silk jersey
Spring 2017, France
Gift of Céline, 2017.19.1
Phoebe Philo was born in Paris to British parents, but she grew up in London and studied at Central Saint Martins. In 1997, she began working for Chloé, but her greatest impact came during the decade that she designed for Céline. Philo's minimalist aesthetic and much-copied accessories transformed the French luxury house into a global fashion force.
---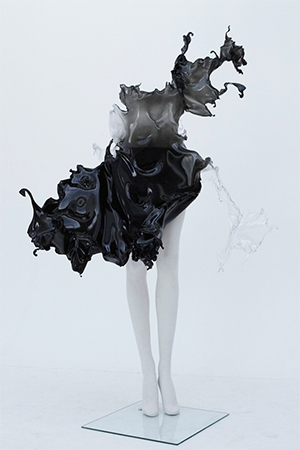 This dress was on view in the exhibition Force of Nature

.
Iris van Herpen
Splash dress
Created in collaboration with SHOWstudio and Daphne Guinness
Acrylic glass
2013, Netherlands
Museum purchase, 2017.6.1
Water is the essence of all life on earth. Simulating water striking a hard surface, this one-of-a-kind, translucent dress "splashes" away from the body. To create it, Iris Van Herpen used hot air guns and metal pliers to mold sheets of acrylic. "I look to nature a lot and also to the processes within nature . . . technology is inspired by natural processes," Van Herpen explained.
---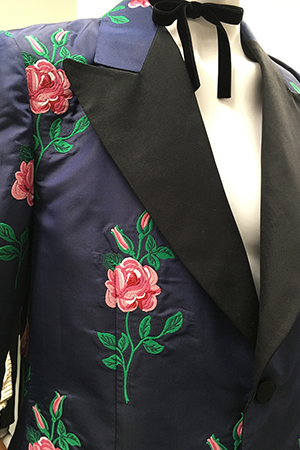 This suit was
on view in the exhibition Minimalism /Maximalism.



Gucci
Man's ensemble
Silk, sequins, silk velvet
Spring 2017, Italy
Gift of Gucci, 2017.18.1
This rose-embroidered suit embraces flamboyant male style, and promotes Alessandro Michele's gender-fluid vision of beauty for Gucci. Michele, credited with initiating fashion's shift toward maximalism, has been referred to as the movement's "spiritual leader." His magpie aesthetic mixes patterns, time periods, and other references in irreverent ways. "Beauty doesn't have limits, it doesn't have rules," Michele remarked.
---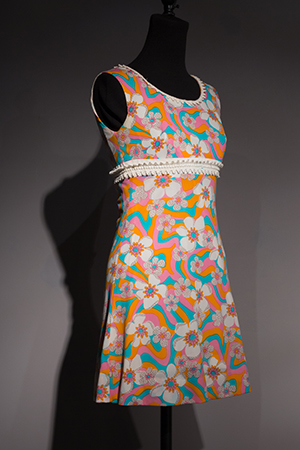 This dress was on view in the exhibition The Body: Fashion and Physique.

Twiggy London Girl
Dress
1966, England
Museum purchase, 2017.20.1

This mini-dress was part of a product line by British teenage model Twiggy, so nicknamed due to her skinny, twig-like frame. The short, A-line construction plays on the silhouette many designers were working with during the 1960s to "free" wearers from the heavily structured styles the previous decade. Twiggy came to embody the increasingly thin, youthful ideal of the '60s and remains a key reference in debates about body image.