For more information about how you can support the activities of The Museum at FIT, please visit Support MFIT.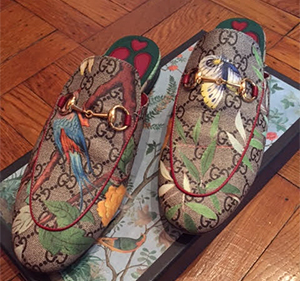 These shoes are on view in the exhibition Power Mode: The Force of Fashion.
Alessandro Michele for Gucci
Shoes
Multi-color canvas, leather, and metal
Spring 2016, Italy
Gift of Alyson Cafiero, 2017.11.1
Loafers have been a fixture of the Gucci company since the 1950s. Today, creative director Alessandro Michele has updated the signature style with a longer toe and a range of brightly colored, romantic designs – but the distinctive horsebit hardware remains intact, ensuring they are recognizably a Gucci product.
---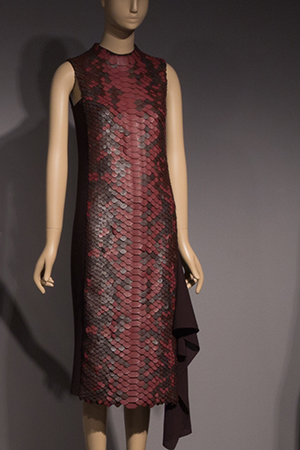 This dress was on view in the exhibition Force of Nature

.
Akris (Albert Kriemler)
Evening dress
Leather and wool
2016, Switzerland
Gift of Akris, 2017.12.1
Designer Albert Kriemler cleverly recreated python skin using hundreds of laser-cut, leather scales, each of which was hand-placed and sewn onto this dress. The result is a technical feat that highlights Akris's commitment to artistry and craftsmanship. Due to poaching, some python species are now threatened. Kriemler's design offers an imaginative and luxurious alternative to real snakeskin.
---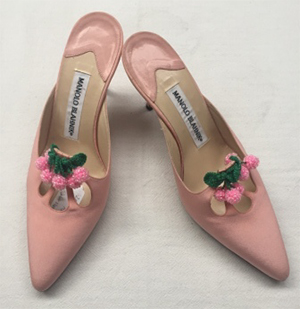 These shoes were
on view in the exhibition Pink: The History of a Punk, Pretty, Powerful Color.



Manolo Blahnik
Shoes
Silk and glass
Spring 1995, England
Gift of Michèle Gerber Klein, 2017.24.1
Pink accessories have played an important part in women's fashion. Historically, hats were an essential element of fashion, indicating class status as well as personal taste. Today, pink shoes or handbags are likely to be more significant. To see through rose-colored glasses is a common metaphor, and this style always has its fans.
---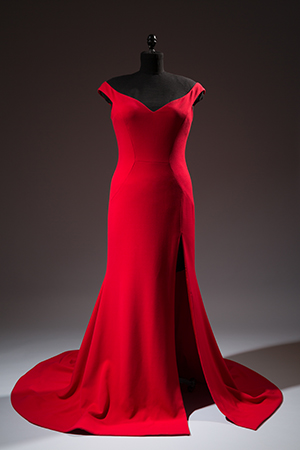 This dress was on view in the exhibition The Body: Fashion and Physique.

Christian Siriano
Dress
2016, USA
Gift of Christian Siriano, 2017.26.1

Christian Siriano designed this dress for actress Leslie Jones to wear to a film premiere. Jones had tweeted that due to her physique, no fashion designer was willing to dress her for red carpet events. Siriano responded, saying he would be proud to design for her. The episode sparked a public debate about the marginalization of certain body types by contemporary brands.