For more information about how you can support the activities of The Museum at FIT, please visit Support MFIT.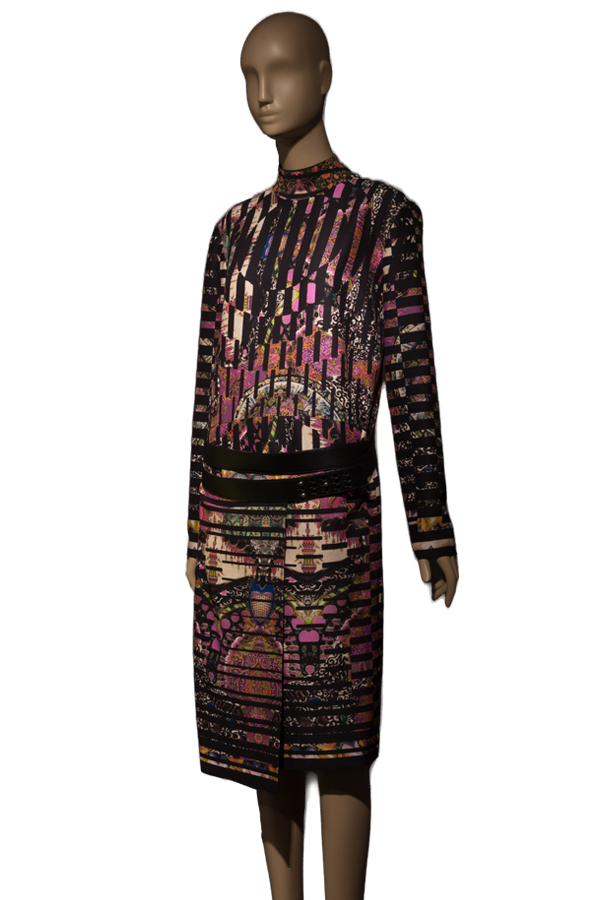 Etro dress / Digitally printed wool-silk blend and leather / Fall 2013, Italy / Gift of Jill Hemingway, 2019.16.1
This dress overlays intricate prints with black geometric intrusions, giving its look a futuristic edge. Etro is known for its vivid displays of color and print. The brand's fall 2013 collection was inspired by the digital age, yet drew from a multitude of influences: Renaissance ceilings, 19th-century ethnic textiles, and Russian ceramics.
This dress was on view in the 2019 exhibition Minimalism/Maximalism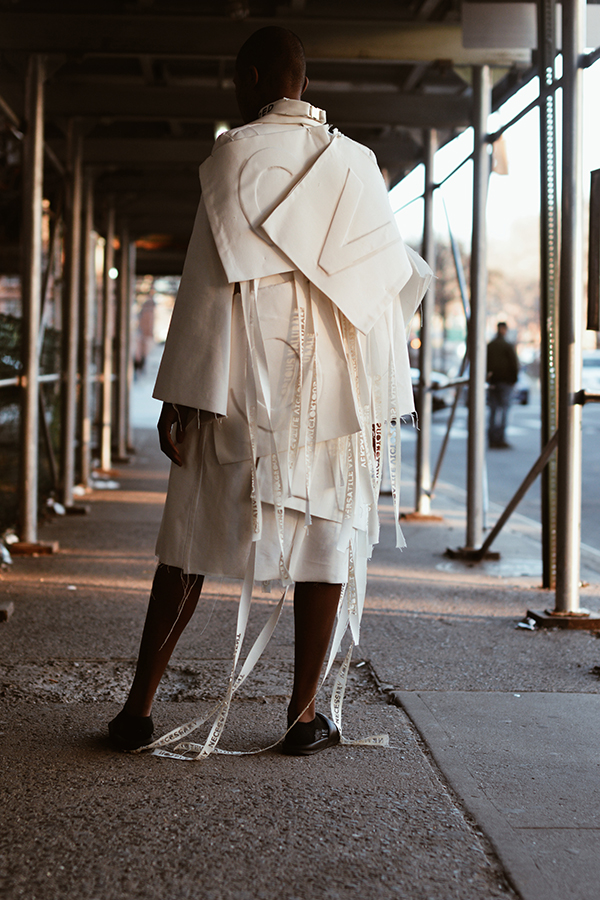 Joy Marie Douglas "Rebranded" suit / White wool / Fall 2017, USA / Gift of Joy Marie Douglas, 2019.18.1
Joy Marie Douglas designed this suit as part of her "Rebranded" project – an ongoing collaboration with previously incarcerated individuals to create looks that reclaim pejorative words like "convict." Here, Douglas deconstructs and reconstructs the classic "power" suit, infusing these words in its design. The result allows wearers to "rebrand" themselves through fashion.
This suit was on view in the 2019-2020 exhibition Power Mode: The Force of Fashion.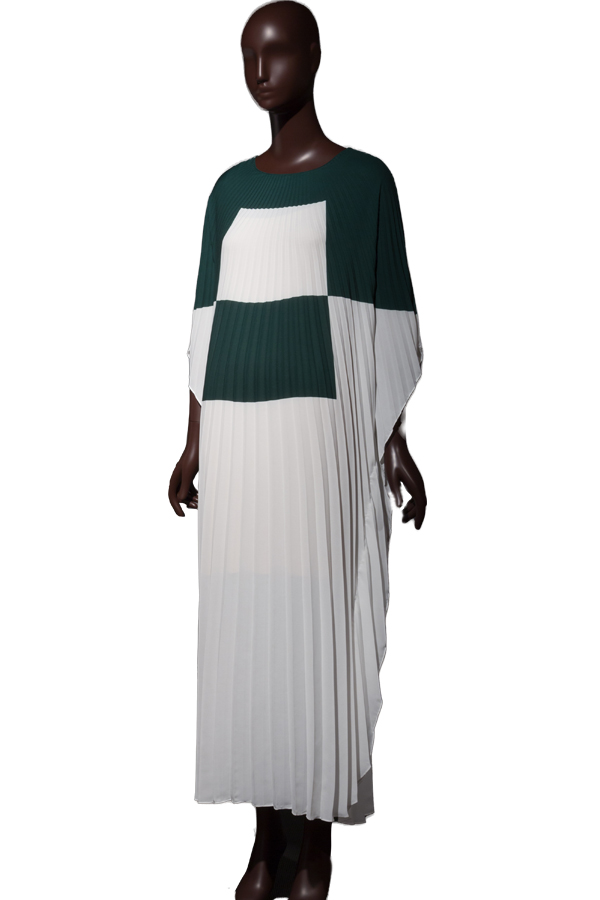 Albert Kriemler for Akris set / Polyester and viscose / elasthane blend / Spring 2017, Switzerland / Gift of Akris, 2019.22.1
Albert Kriemler drew inspiration for his spring 2017 collection from the work of Cuban-born artist Carmen Herrra — her series Blanco y Verde in particular. Transforming Herrera's colorful geometries into garments, Kriemler expressed his desire to give her minimal art "a different appearance, a different being than just a transport of the painting to the dress."
This dress was on view in the 2019 exhibition Minimalism/Maximalism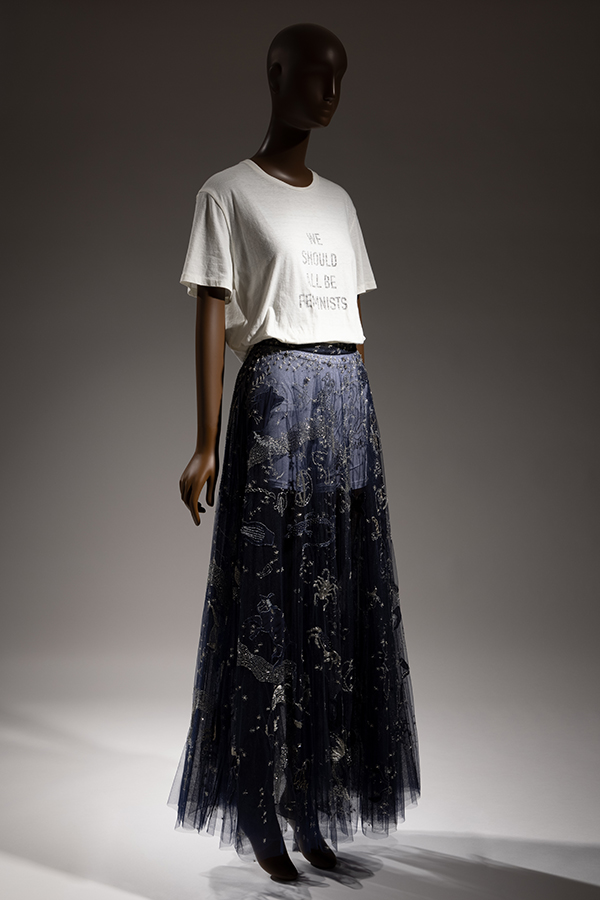 Maria Grazia Chiuri for Dior evening set / White cotton, synthetic, silk, bugle beads, and metallic thread / Spring 2017, France / Museum purchase, 2019.56.1
This look is from Maria Grazia Chiuri's debut collection for Dior. It illustrates her ability to contemporize the house's storied history of glamour, femininity, and chic. Chiuri deftly and wittily balances a T-shirt emblazoned with the title of Ngozi Adichie's essay, "we should all be feminists," and men's
underpants with a delicately embroidered, Dior-esque tulle skirt.
This set is on view in the 2022 exhibition Dior + Balenciaga: The Kings of Couture and Their Legacies
Below are the types of objects in the collections of The Museum at FIT.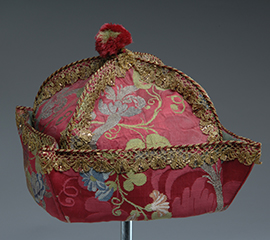 The accessories collection consists of approximately 15,000 objects that date from the mid-17th century to the present day. The collection has a particularly strong emphasis on designer accessories from the second half of the 20th century.

The accessories collection is supported by the Solomon-Sloan Endowment Fund, which was established in 2005 to facilitate the acquisition, conservation, documentation and exhibition of accessories.
The footwear collection contains more than 4,000 pairs of shoes, boots and sandals. It includes examples by designers such as Manolo Blahnik, Roger Vivier, Herbert Levine, and Salavatore Ferragamo.

The millinery collection contains more than 3,000 hats by famous milliners such as Caroline Reboux, Lilly Daché, Halston and Philip Treacy. There are also many examples from designers such as Christian Dior, Balenciaga and Jacques Fath.

The handbag collection includes fine examples by luxury houses such as Hermés and Gucci as well as examples by Roberta di Camerino, Judith Leiber and Bonnie Cashin for Coach.

Other accessories include fans, gloves, belts, hosiery and costume jewelry.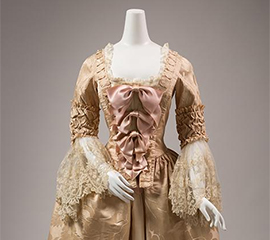 The Costume Collection consists of more than 50,000 objects dating from the mid-18th century to the present. The strength of the collection lies in its 20th-century holdings and, particularly, in couture and ready-to-wear women's clothing. The collections are currently being computerized to facilitate research.
The costume collection includes fashion by designers such as Azzedine Alaïa, Balenciaga, Chanel, Comme des Garçons, Dior, Galanos, Halston, Charles James, Norell, Paul Poiret, Yves Saint Laurent, and Vivienne Westwood.

The Halston Archives and Study Room hold designs, patterns, and related records documenting this important designer's life work.

The menswear collection features some 2,000 garments ranging from formal to activewear, including suits, coats, vests, and uniforms.

Also included are swimwear, lingerie, outerwear, and knitwear.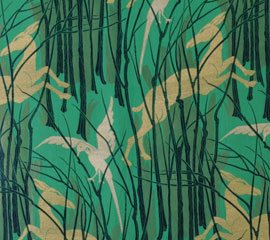 The Textile Collection consists of more than 30,000 textiles dating from the fifth century to the present, and includes the work of artists and designers such as Junichi Arai, Salvador Dali, Raoul Dufy, and William Morris.
The textile collection includes apparel and home furnishing fabrics, embroideries, and shawls.

The collection also includes a number of ribbon sample books.

The J.B. Martin Velvet Room archives handwoven and production velvets spanning a 125-year period.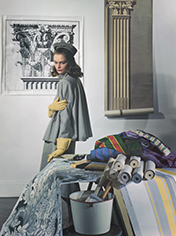 The Photography Archive features the work of fashion photographers Louise-Dahl Wolfe (1895-1989), who produced 86 cover images and thousands of interior shots for Harper's Bazaar magazine, and John Rawlings (1912-1970), who had over 200 Vogue and Glamour magazine covers.
Image: Louise Dahl-Wolfe photograph of model Sandra Payson. Featured in Harper's Bazaar, March 1947, page 205, gift of Louise Dahl-Wolfe, 74.84.54
For those looking for the Herman Landshoff collection, the archive has been transferred to:
Munchner Stadtmuseum
Sammlungsleiter Fotomuseum
St.-Jakobs-Pl. 1
80331 Munchen

The contact for the collection is:
Dr. Ulrich Pohlmann
Tel.: 089/233-22948
Fax.: 089/233-27969
email.: [email protected]