For more information about how you can support the activities of The Museum at FIT, please visit Support MFIT.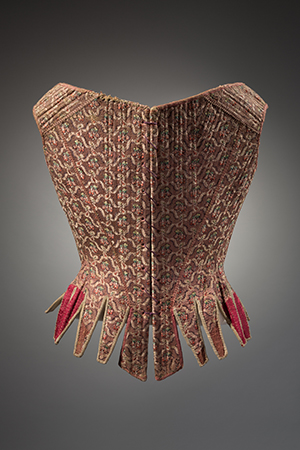 These stays will be on view in the exhibition The Body: Fashion and Physique.
Stays
Silk and suede
1750-1760, England
Museum purchase, 2016.8.2

Stays (later known as corsets) were designed to narrow the wearer's waist and push up the bust. During the 18th century, stays were largely worn by women and girls of the elite and were seen as a sign of status. They were constructed with strips of hard material called "boning" at the front, back, and sides.
---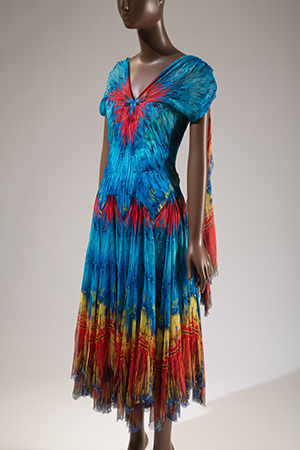 This ensemble was on view in the exhibition Force of Nature.
Alexander McQueen
Evening dress
Silk and cotton blend
Spring 2003, England
Museum purchase, 2016.15.1
The pattern on this dress evokes the plumage of the scarlet macaw. Birds, often symbolic of transformation in art and literature, were a constant leitmotif in Alexander McQueen's designs. "If he was referencing a bird, he wanted to reproduce the exact feather pattern," recalled stylist Katy England. "He wanted it to be completely authentic." McQueen's spring 2003 collection was titled Irere, an indigenous Amazonian word for "transformation."
---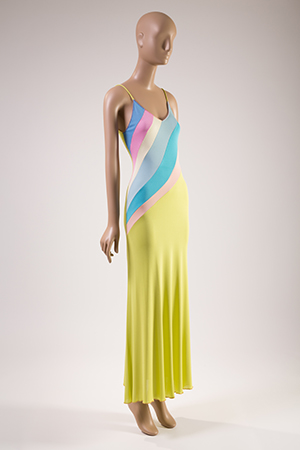 This dress was on view in the exhibition Black Fashion Designers.
Stephen Burrows
Dress
Yellow, blue, pink, lavender, and off-white rayon
Circa 1973, USA
Gift of Mary W. Delany, 2016.32.3
Stephen Burrows pieced together luminescent strips of jersey on the bias to create this dress. "He stretches a rainbow over the body," said Geraldine Stutz, president of the department store Henri Bendel. A few years after he graduated from FIT, he opened his own boutique inside Bendel – Stephen Burrows' World.
---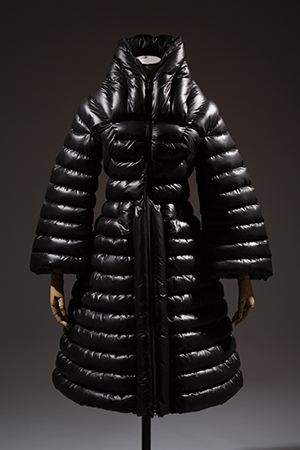 This coat is currently on view in the exhibition Expedition: Fashion from the Extreme.

Junya Watanabe for Comme des Garçons
"Puffer" coat
Black nylon
Fall 2014, Japan
Museum purchase, 2016.80.1

Since the 1970s, both high-fashion designers and companies specializing in
extreme environmental wear have made down-filled outerwear a wardrobe essential. Some of the greatest versions were designed by Junya Watanabe.