For more information about how you can support the activities of The Museum at FIT, please visit Support MFIT.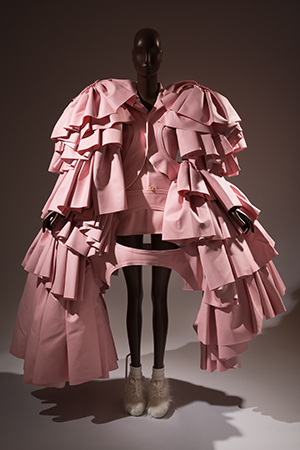 This dress was on view in the exhibition
Pink: The History of a Punk, Pretty, Powerful Color.
Comme des Garçons (Rei Kawakubo)
Pink dress
Pleather, faux fur, rubber, and synthetic ensemble
Fall 2016, Japan
Museum purchase, 2017.52.1
Rei Kawakubo's famous "18th-Century Punk" collection utilized the shapes and colors of pre-Revolutionary French fashion to convey a message of transgressive female power. The wide paniers on the 1750 dress are here transposed into broad shoulders and wide, ruffled sleeves.
---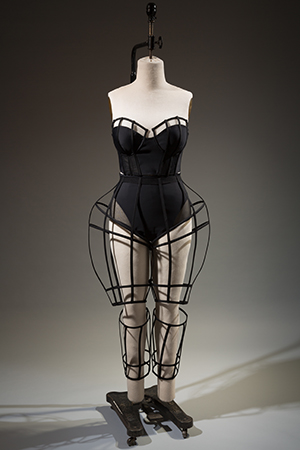 This ensemble was on view in the exhibition The Body: Fashion and Physique
Chromat (Becca McCharen-Tran)
Ensemble
Black spandex and plastic boning
Spring 2015, USA
Museum purchase, 2017.53.1
This ensemble was worn by model Denise Bidot during Chromat's spring 2015 runway show. Chromat holds some of the most diverse runway presentations in fashion, with models who range across size, race, age, and gender identity. The label is known for its architectural athletic wear and directional cage pieces that play on the construction of historical undergarments, such as the bustle and crinoline.
---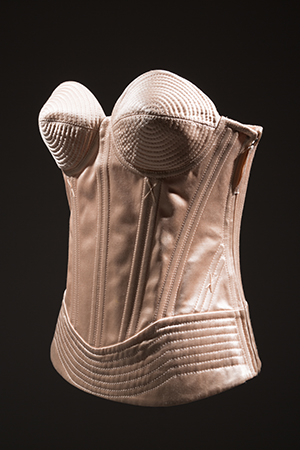 This corset top was on view in the exhibition
Power Mode: The Force of Fashion
.
Jean Paul Gaultier
Corset top
Pink satin
Fall 2010, France
Museum purchase, 2017.61.1
Jean Paul Gaultier was a pioneer of underwear as outerwear, adapting foundation wear into erotic ready-to-wear. This bustier is a prime example. Shown in 2010, it recalls the famous cone bra costumes he designed for Madonna's Blonde Ambition Tour in 1990.
---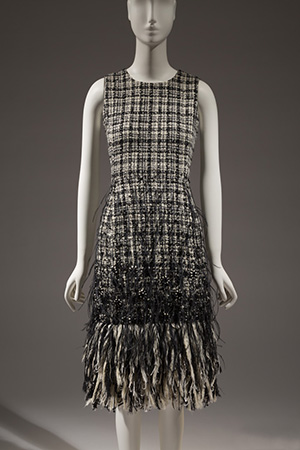 This dress was on view in the exhibition Fashion Unraveled.

Oscar de la Renta
Cocktail dress
Black and white wool tweed, ostrich feathers, beads, and rhinestones
2002, USA
Gift of Elizabeth Graham Weymouth, 2017.67.1

Oscar de la Renta's cocktail dress exemplifies how the "ragged" appearance of unraveled fabric has become fully incorporated into high fashion. The artful disarray of the dense fringe at the skirt's hem — created from strands of unwoven wool tweed — is countered by the conventional opulence of the beads, rhinestones, and ostrich feathers.