For more information about how you can support the activities of The Museum at FIT, please visit Support MFIT.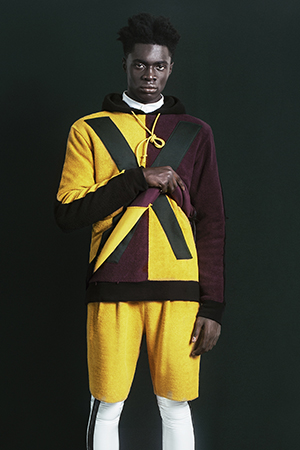 This ensemble is on view in the exhibition Exhibitionism: 50 Years of The Museum at FIT.
Pyer Moss
Man's ensemble and shoes
Cotton and synthetic blend terry
Fall 2015, USA
Gift of Pyer Moss, 2016.83.1
Kerby Jean-Raymond established Pyer Moss in 2013, elevating athletic gear and uniforms into luxury sportswear. Although for this collection he took inspiration from the 1990s streetwear brand Cross Colours, Pyer Moss is not
streetwear. Of the frequent miscategorization by journalists, Jean-Raymond asked, "I just want to know what's being called 'street,' the clothes or me?"
---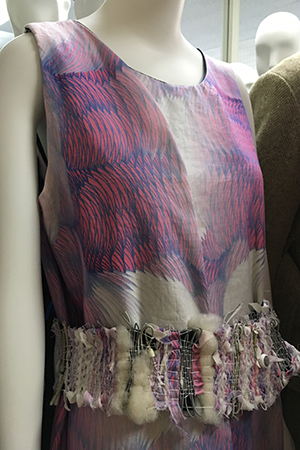 This
dress
was on view in the exhibition
Black Fashion Designers.
Loomia by Madison Maxey
Dress
Hemp, recycled computer, and headphone cords
2016, USA
Gift of Madison Maxey, 2016.84.1
Creative technologist Madison Maxey embraces both sustainability and technology as the future of fashion. For this dress, Maxey used computer code to generate the print and collaborated with natural dyer and textile artist Nica Rabinowitz to execute it. The materials are sustainable and recycled, and the dress was cut with a zero-waste pattern.
---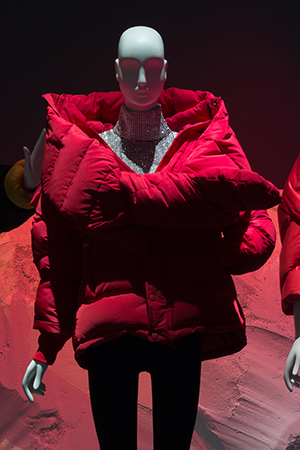 This parka was on view in the exhibition Expedition: Fashion from the Extreme.
Demna Gvasvalia for Balenciaga, Paris
Parka
Polyester and down
Fall 2016, France
Museum purchase, 2016.113.1
A noteworthy version of the puffer appeared on a Paris runway during the autumn/winter 2016 season. For his collection, Demna Gvasalia, creative director at the house of Balenciaga, devised a new silhouette: a puffer that looked like it was casually sliding off the model's shoulder. Louche and voluminous, it is evocative of Cristobal Balenciaga's dramatic innovations of the 1950s and 1960s. Gvasalia's creation pushed expedition-inspired wear into the realm of couture, as his puffer galvanized more interest and coverage than any other single garment that season.
---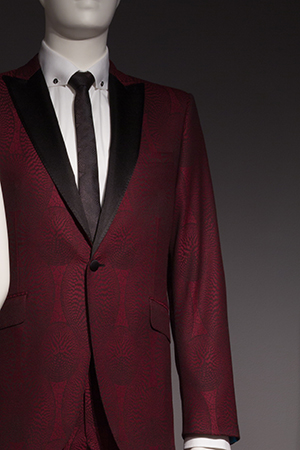 This suit was on view in the exhibition Black Fashion Designers.

Ozwald Boateng
Man's suit
Wool jacquard, cotton, and silk
2016, England
Museum purchase, 2016.85.1

Ozwald Boateng's impeccable bespoke suit merges traditional British tailoring with fashion-forward design. In 1994, Boateng was the youngest tailor – and the first of African descent – to open his own Savile Row shop. Boateng recalls early critics who told him, "You're too tailored for fashion and too fashion for tailoring." He reflects, "I had to move the market. So that's
what I did.".