For more information about how you can support the activities of The Museum at FIT, please visit Support MFIT.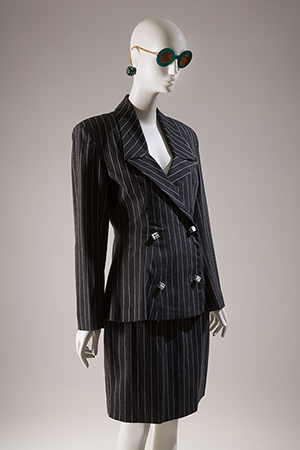 This suit was on view in the exhibition
Black Fashion Designers.
Patrick Kelly
Ensemble with sunglasses
Cotton denim, plastic, and metal
Spring 1989, France
Gift of Ady Gluck-Frankel, 2016.103.1
This ensemble accented with playing dice exemplifies the sense of humor at the heart of Patrick Kelly's designs. Bernadine Morris of the New York Times said, "The clothes are good, but what matters most is the joyful spirit the designer projects. He seems to have fun making clothes, and his models look happy showing them."
---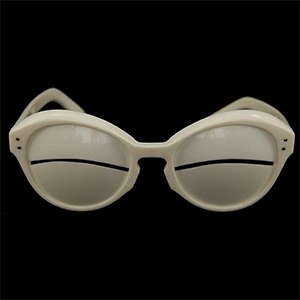 These sunglasses
are on view in the exhibition Minimalism /Maximalism.
André Courrèges
Sunglasses
Plastic
1964, France
Museum purchase, 2016.110.1
Of all the designers who embraced the Space Age aesthetic, Courrèges was perhaps the most influential. Some believed his breakout 1964 collection was almost as seminal as Dior's "New Look" debut in 1947. Yet unlike Dior, whose work clearly evoked historic modes, Courrèges eschewed tradition.
---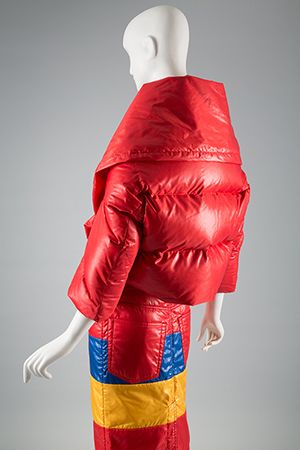 This parka was on view in the exhibition Expedition: Fashion from the Extreme.
Junya Watanabe for Comme des Garçons, Tokyo
Parka
Polyester and down
Fall 2004, France
Museum purchase, 2016.114.1
High fashion's cult of the down jacket reached its peak during the early 21st century. Some of the greatest versions were designed by Junya Watanabe.
---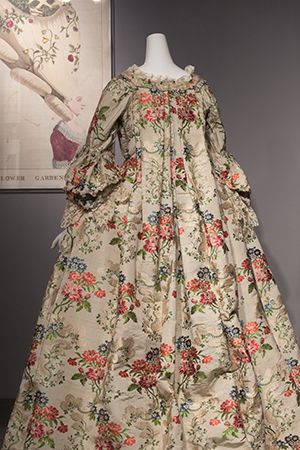 This suit was on view in the exhibition Force of Nature.

Robe à la française
Silk brocade
2017, USA (textile France)
Museum purchase, 2017.2.1

Bouquets of carnations and peonies fill the expansive body of this dress, while a fly-fringe trim suggests delicate flower buds. Robes à la française were renowned for the beauty of their floral textiles, perhaps encouraging literary metaphors of women as cultivated flowers. While botany was a male-dominated scientific discipline, women were encouraged to study flowers and tend to gardens.