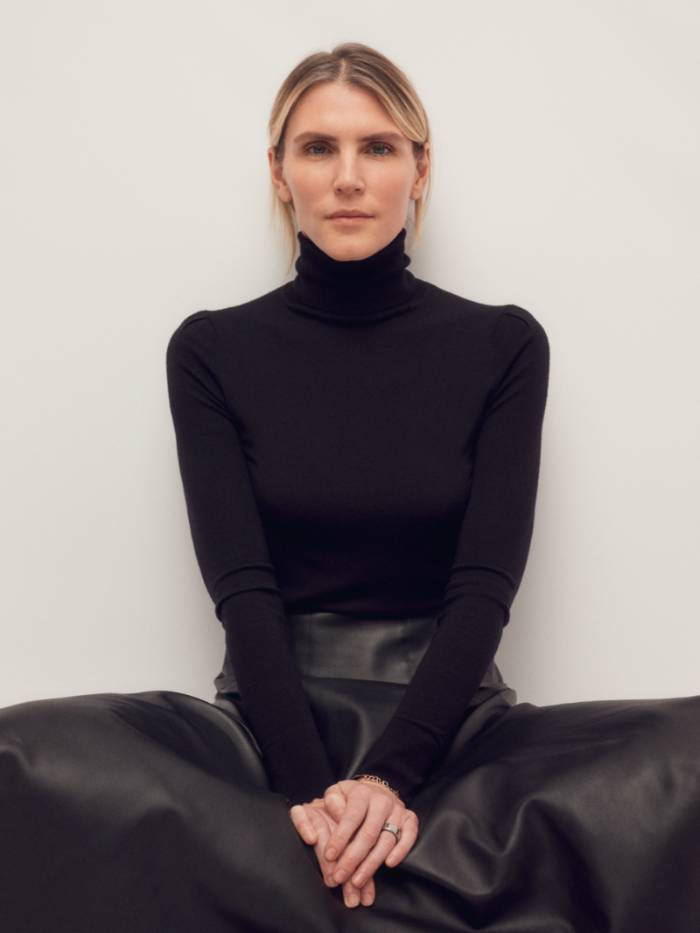 The Couture Council of The Museum at FIT honored Gabriela Hearst, founder and creative director of her namesake fashion brand Gabriela Hearst and creative director of French luxury fashion house Chloé, with its 2023 Couture Council Award for Artistry of Fashion during its annual luncheon on Wednesday, September 6, 2023, at the David H. Koch Theater at Lincoln Center in New York City. The event heralded the arrival of New York Fashion Week, with proceeds benefiting MFIT, the only museum in New York dedicated exclusively to the art of fashion. Lara Meiland-Shaw, board chair, Couture Council, and Melissa Mafrige Mithoff, vice chair, Couture Council served as co-chairs, and Nordstrom was the presenting sponsor.


Follow the conversation on Instagram using #COUTURECOUNCIL
About:
The Couture Council is a membership group that supports The Museum at FIT, "the fashion insider's fashion museum." Through membership dues and ticket sales to the annual Couture Council Award for Artistry of Fashion, the Couture Council helps make it possible for the museum to mount world-class free exhibitions that educate and inspire diverse audiences, to build and conserve its extraordinary permanent collection, and to organize free public programs that serve both FIT students and the general public.
The Couture Council, working in conjunction with the museum, organizes activities and events to raise the institution's profile and provide financial support for the museum's initiatives. The most important of these events is the Couture Council's award ceremony and benefit luncheon. Designers who have received the Couture Council Award for Artistry of Fashion include Manolo Blahnik, Thom Browne, Alber Elbaz, Wes Gordon, Carolina Herrera, Michael Kors, Albert Kriemler, Karl Lagerfeld, Christian Louboutin, Oscar de la Renta, Narciso Rodriguez, Ralph Rucci, Isabel Toledo, Valentino, and Dries Van Noten.


SEE PHOTOS OF COUTURE COUNCIL EVENTS ON FLICKR
---
JOIN THE COUTURE COUNCIL:
Members of the Couture Council are invited to all of the museum's opening receptions and other special member-only fashion events.

The Couture Council is pleased to offer the following membership levels:
Fashion Icon - $2500
Couture Council Young Patrons (Under the age 45) - $1500
Couture Council (individual or couple) - $1000
Fashion Professional Membership - (working in the industry) $500

LEARN ABOUT THE COUTURE COUNCIL'S MEMBERSHIP LEVELS
Join or renew online via our secure website using your credit card.
---
BOARD OF DIRECTORS
Lara Meiland-Shaw - Chair
Carole Divet Harting - Treasurer
Deena Aljuhani Abdulaziz
Jane DeFlorio
Angela Dotson
Joele Frank
Audrey Gruss
Julia Haart
Yaz Hernández
Eleanora Kennedy
Christina Isaly Liceaga
Stephanie Loeffler
Julie Macklowe
Melissa Mafrige Mithoff - Vice Chair
Sharon Jacob - Secretary
Amelia Ogunlesi
Liz Peek
Kathy Prounis
Darcy Rigas
Kara Ross
Jean Shafiroff
Katherine Simon
Nicole Weiss
Sarah Wetenhall
Elizabeth von der Goltz
Advisory Board
Founding Members and Past Chairs
Yaz Hernández, Founding Member and Past Chair
Kamie Lightburn, Past Chair
Julie Macklowe, Past Chair
Liz Peek, Founding Member and Past Chair
Peter G. Scotese, Emeritus Founding Chair
---
Highlights from Previous Special Events
Invitation to the annual Couture Council Artistry of Fashion benefit luncheon. Past awardees: Ralph Rucci (2006), Alber Elbaz of Lanvin (2007), Isabel Toledo (2008), Dries Van Noten (2009), Karl Lagerfeld (2010), Valentino (2011), Oscar de la Renta (2012), Michael Kors (2013), Carolina Herrera (2014), Manolo Blahnik (2015), Albert Kriemler (2016), Thom Browne (2017), Narciso Rodriguez (2018), and Christian Louboutin (2019), and Wes Gordon of Carolina Herrera (2021), Maria Grazia Chiuri of Dior (2022).
Private tours of exhibitions at The Museum at FIT.
Private visits to the ateliers of fashion designers such as Isabel Toledo and her husband, fashion illustrator Ruben Toledo, Ralph Rucci, Zac Posen, Angel Sanchez, Chadwick Bell, Prabal Gurung, J. Mendel, Francisco Costa of Calvin Klein, Reem Acra, Bibhu Mohapatra, Lafayette 148 and NYC Ballet Costume Shop.
Store events with Calvin Klein, Verdura, Tiffany, Reed Krakoff, the FD Gallery, and Mish New York.
Lectures with Michael Kors, Zac Posen, and Ruben and Isabel Toledo at the Doubles Club.
Cocktails and Conversation with Peter Copping of Oscar de la Renta at the Core Club.
Cocktails and Conversation with designers Jack McCollough and Lazaro Hernandez of Proenza Schouler and Dr. Valerie Steele, Director, The Museum at FIT at the Proenza Schouler Boutique.
Tea and Conversation with renowned hat designer Patricia Underwood.
NYC Ballet Costume Shop Tour.
Cocktails and Couture with Bibhu Mohapatra at the Core Club.
Cartier Mansion Tour.
Cocktails and Conversation with Jason Wu.
Great Designers event featuring fashions by Lee Alexander McQueen.
Introduction to Fashion History featuring The Little Black Dress.
2019 Couture Council Winter Luncheon with Roopal Patel, SVP Fashion Director, Saks Fifth Avenue.
Great Designers event featuring fashions by Azzedine Alaïa with supermodel Veronica Webb.