Ravishing: The Rose in Fashion
August 6, 2021 - November 28, 2021

Ravishing: The Rose in Fashion
explored how the rose has influenced the way we look, dress, feel, and fantasize. The rose and the savage thorns that protect it—along with the symbolism and myths it has inspired—have long affected designers of fashionable dress, textiles, and accessories. This major exhibition foregrounded innovative and experimental designs, while recognizing that wearing or holding a rose can be transformative.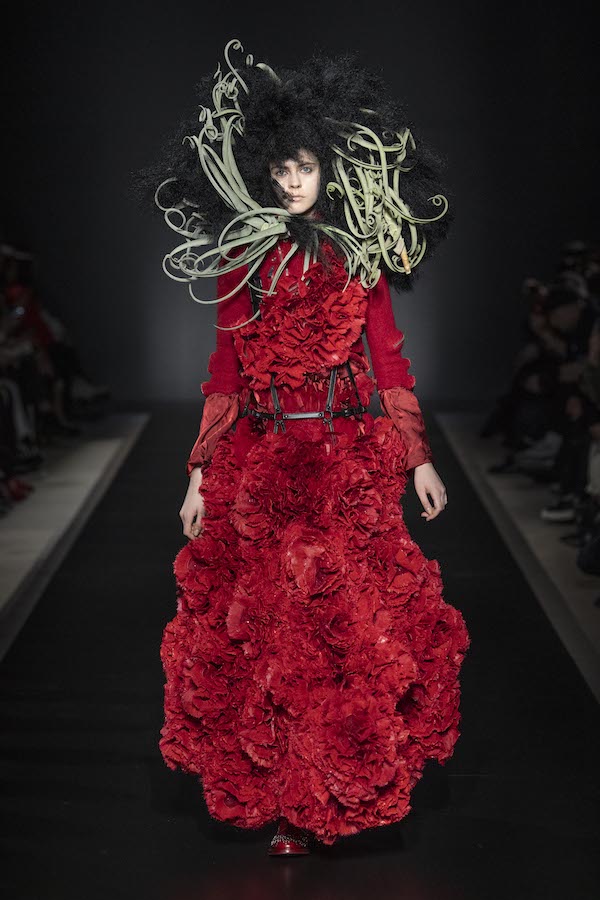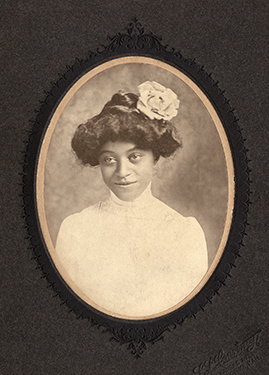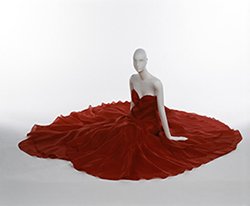 The exhibition featured more than 130 items ranging from the most luxurious hand-woven and embroidered 18th-century silks to the latest gender-neutral catwalk trends. Items were selected from the museum's world-class collection and include a large group of hats, many of which were displayed for the first time. The garments and accessories were interpreted in the context of themes such as love, beauty, sex, sin, gendered identities, rites of passage, transgression, degradation, and death.
Valerie Steele, director and chief curator of MFIT, said, "The Museum at FIT is reopening to visitors with a spectacular new exhibition on fashion inspired by the imagery and symbolism of the rose—whether crimson, pink, white, yellow, or black. Long associated with love and pleasure, the rose and its thorns can also allude to suffering, purity, and transience. Drawing on three centuries of fashion, this beautiful exhibition features work by designers from Charles James to Alexander McQueen. I am grateful to Amy de la Haye and Colleen Hill for co-curating what is sure to be one of our most popular exhibitions."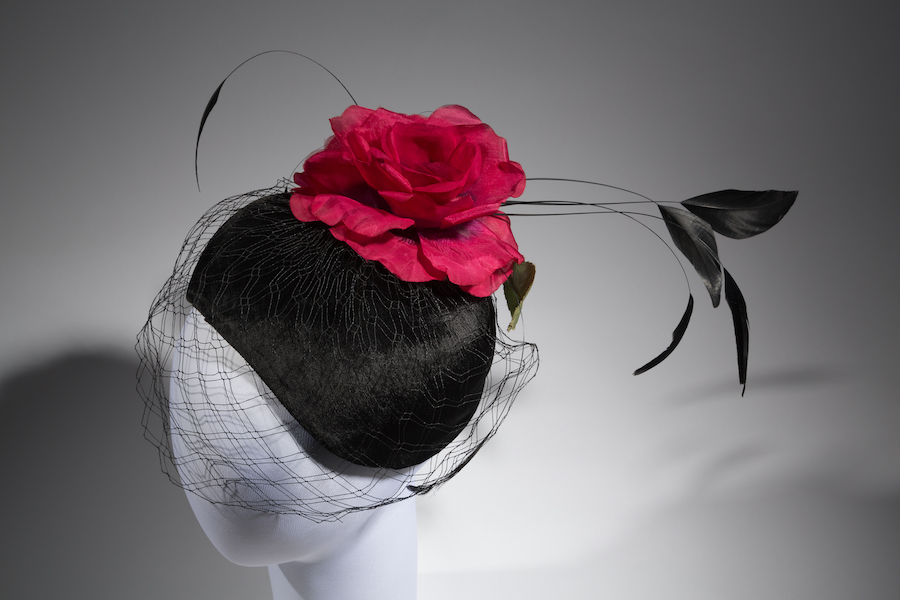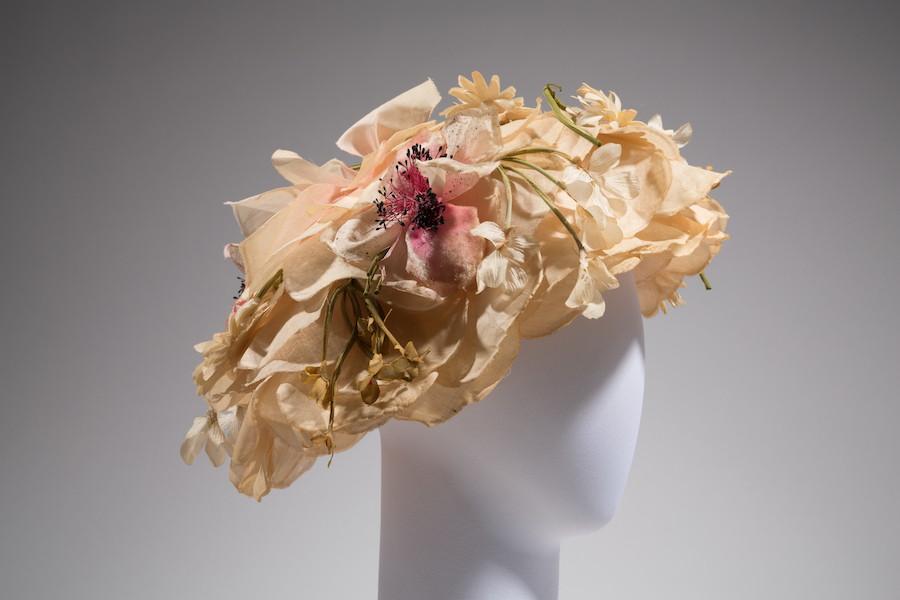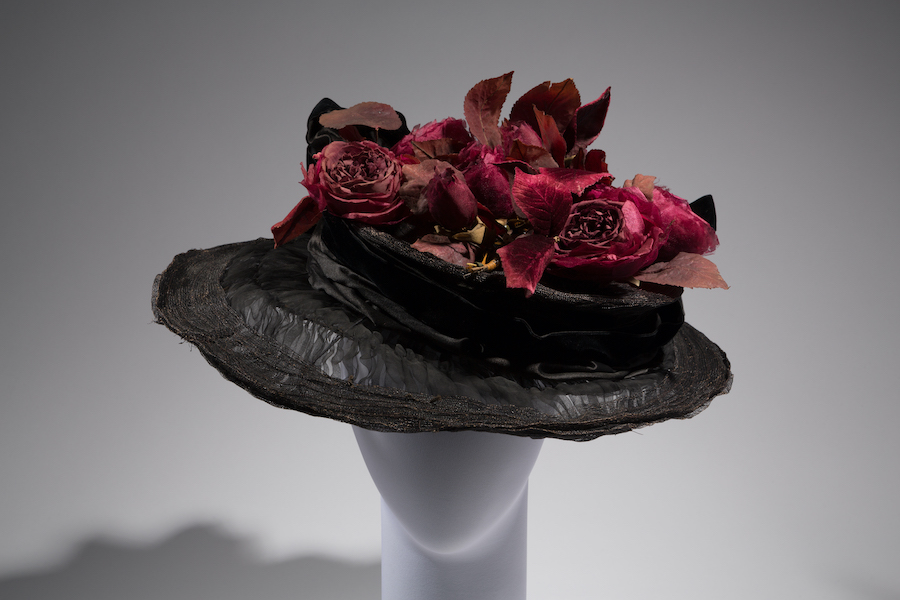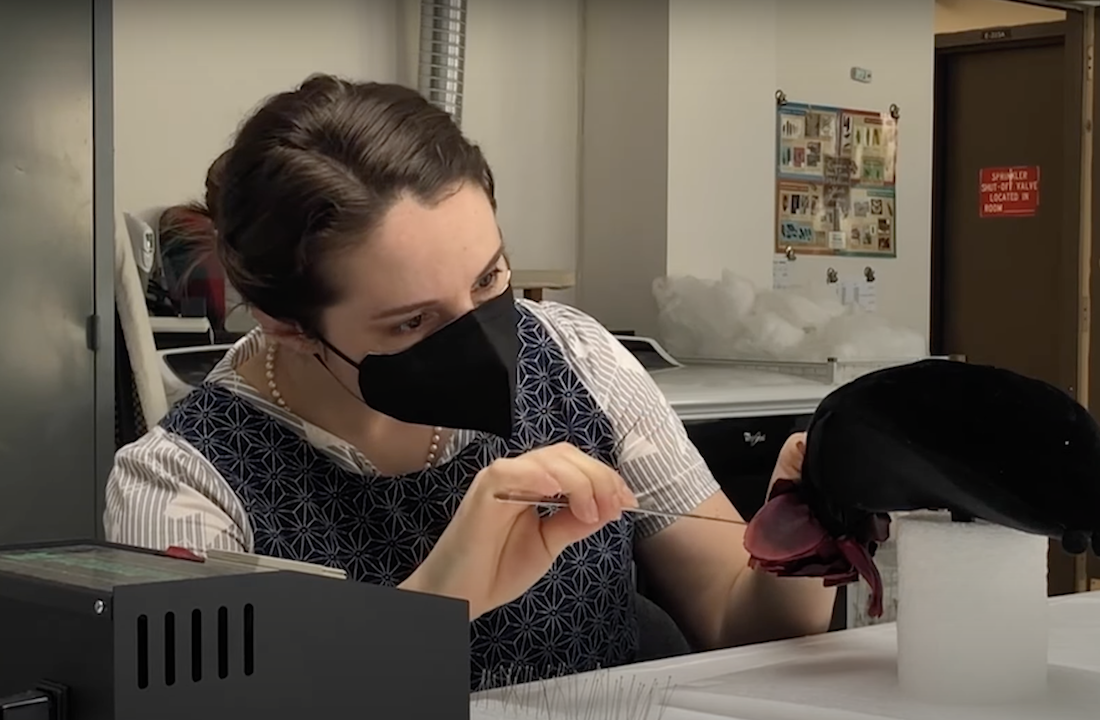 The introductory gallery comprised a magical "rose garden of hats" from international milliners such as Lilly Daché, Mr. John, and Caroline Reboux, in addition to fashion design houses including Christian Dior, Lanvin, and Schiaparelli. Several hats were decorated with magnificent artificial roses, others were crafted to resemble the shape of the flowers, some appeared to be composed from its petals, and others had been made from rose-patterned materials. A stunning, wide-brimmed, black horsehair hat, dating from circa 1908 and bedecked with a profusion of dark red silk buds and roses, had been expertly conserved for the show. Another, called "Primavera," from American milliner, Mr. John, dated to 1950. Its rose-like form, strewn with pink cotton petals, is decorated with artificial wild roses, daisies, violets, and small yellow flowers. More modern was a dashing black top hat with a pink silk rose, designed by Stephen Jones in 2008 and specially remade for this exhibition.
The introduction to the exhibition included more than 75 original photographic portraits of people wearing roses, both real and artificial, dating from the 1850s to the 1920s—a period when studio and amateur photography became increasingly accessible. These images, collected especially for the exhibition, revealed how roses were used regularly as studio props and had the power to transform their wearer's dressed appearance.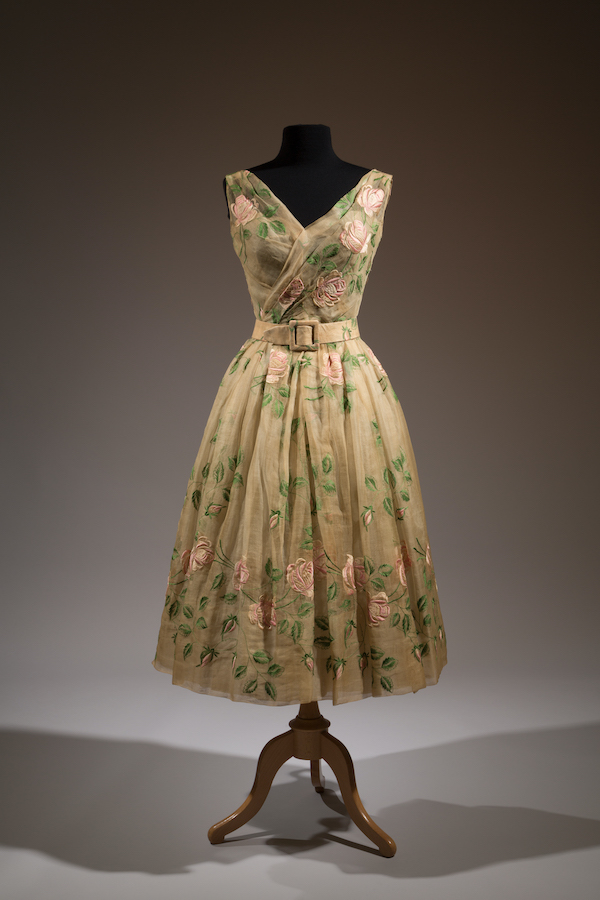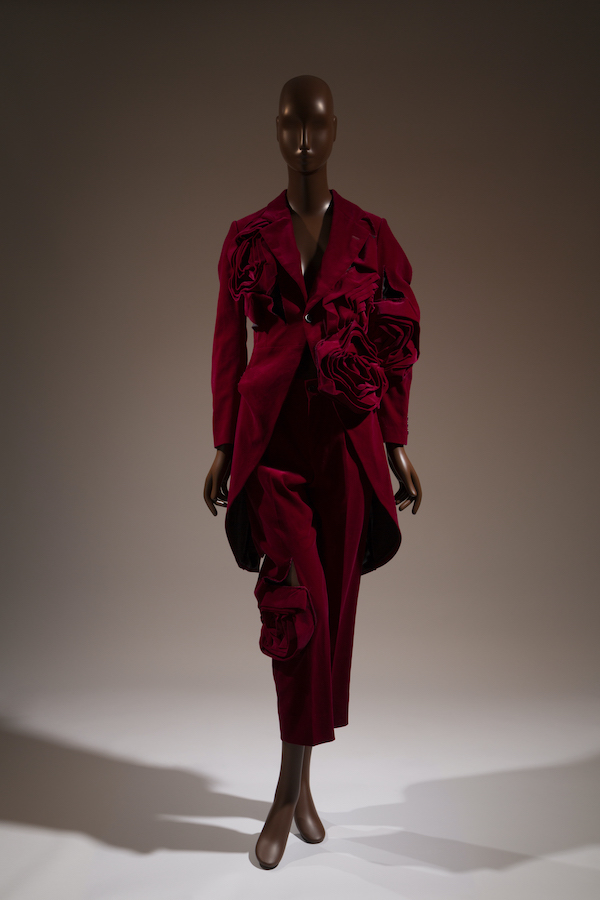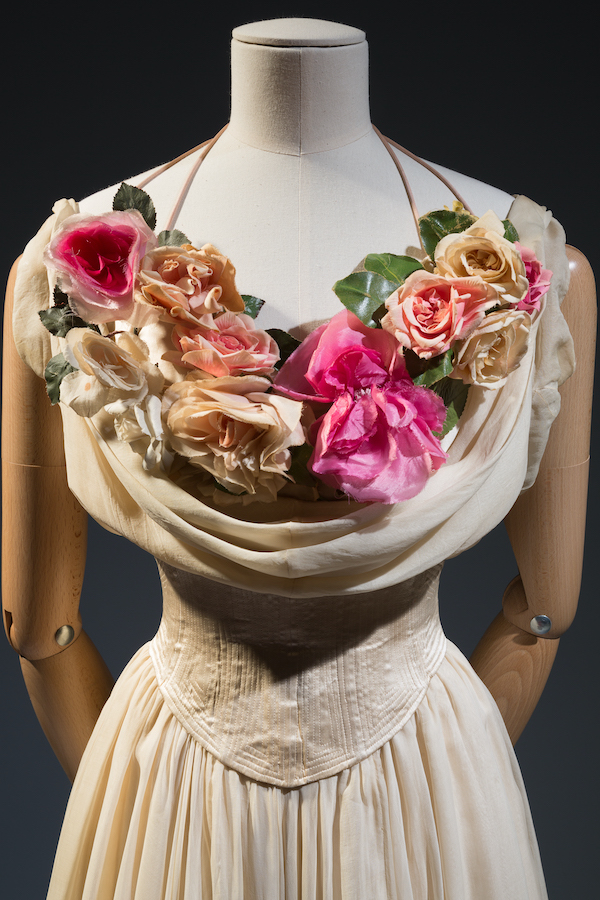 The main gallery, the "rose garden of fashion," was designed with a romantic but edgy garden theme. It displayed more than 50 ensembles arranged by color. The visitor would first encounter a dramatic red rose–themed display inspired by "crimson joy," a line in a William Blake poem from 1794. The red rose is widely associated with love, passion, and devotion, particularly among females, and this section included women's clothing by labels such as Comme des Garçons, Dior, Halston, and Alexander McQueen. An ensemble by Noir Kei Ninomiya—newly acquired for this exhibition—takes the form of a rose but rebuffs any notion of fragility that may be associated with the floral or the feminine.
Another section focused on the use of the colors white and pale pink. Since Ancient Rome, the rose has marked rites of passage—from birth through marriage (for some), the loss of virginity, and death. White and pink roses became associated with young females and have thus been frequently used for dresses worn by debutantes. Charles James's 1937 gown, worn by New York debutante Esme O'Brien, features a boned corselette bodice. It was designed in the Neo-Romantic style, which takes inspiration from late 19th-century fashion. Although many of James's silhouettes have been likened to flowers, his use of artificial blooms was rare and spectacular. Another garment in this section was a newly acquired dress from circa 1810, made from sheer white cotton embroidered with a meandering, naturalistic motif of roses at the hem, evocative of youthfulness and spring.
The black rose can symbolize fated love, tragedy, and death. Although there are no truly black flowers in nature, the idea of them has proved compelling. There are many black roses in fashion design, where they acquired a glamorous and/or transgressive allure, frequently depicted within lace patterns. Cristóbal Balenciaga referenced his Spanish heritage by using black lace, worn by the clergy and the monarchy since the late 18th century; the exhibition featured a two-piece cocktail ensemble from 1963 from Balenciaga, made from rose-patterned Chantilly lace, layered over black satin. In complete contrast, a future-forward, disposable "paper" dress from 1968 featured a screen-printed oversized image of a rose.
Finally, a group of garments representing a "mixed bunch" of roses featured the flower in yellow, blue, and other colors. This section also highlighted that the rose was—and is—significant within men's fashion, and more recently within gender-neutral designs. Roses have featured prominently in the collections of Alessandro Michele, creative director at Gucci. The exhibition featured a suit by Michele made from dark blue silk and woven with a design of pink roses, that formed part of his last dedicated menswear show. Charles Jeffrey's "Rose-scribble" printed fabric, used to fashion a man's coat, is characteristic of the designer's use of bold color and graphic patterns. Neil Grotzinger, designer for the label NIHL, creates gender-neutral collections that explore notions of masculinity, queerness, power, and sensuality. His two-piece ensemble is made from rose-patterned lace, with trousers spray-painted in shades of gray, brown, red, and orange.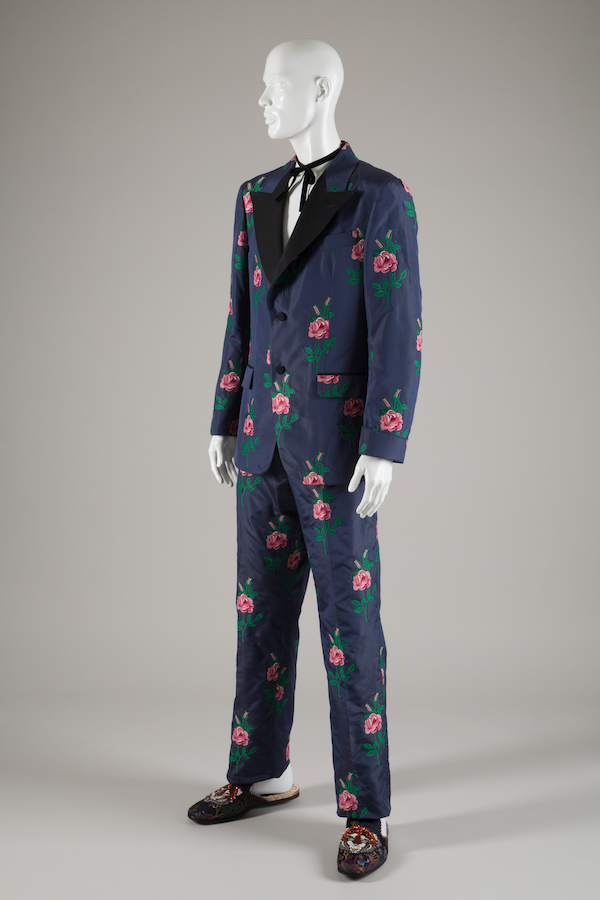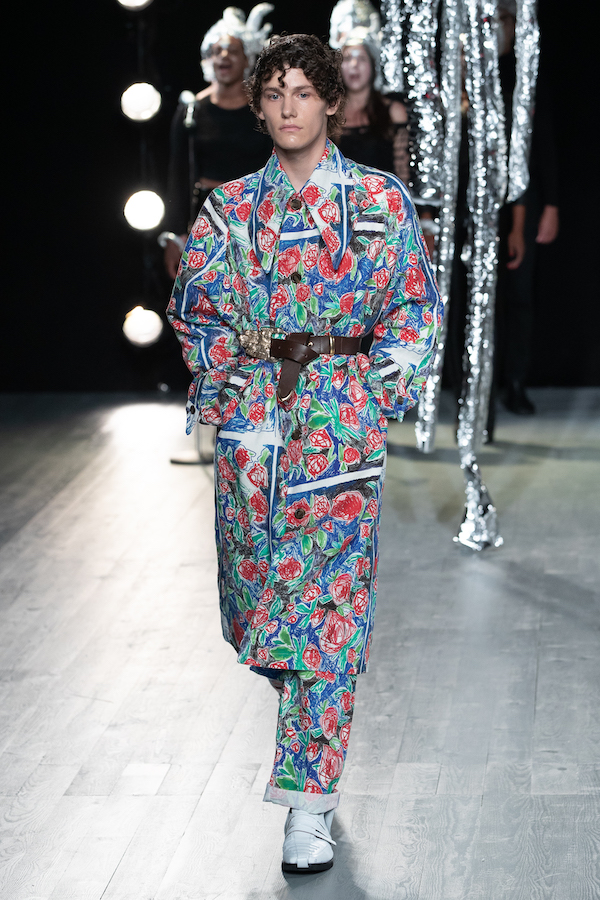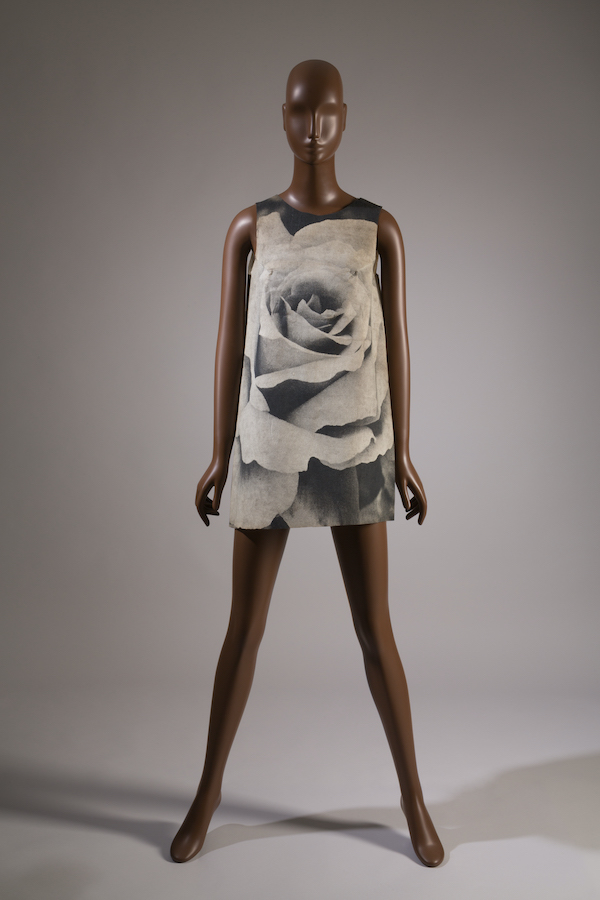 fashion inspired by the imagery and symbolism of the rose
The rose and the savage thorns that protect it—along with the symbolism and myths it has inspired—have long affected designers of fashionable dress, textiles, and accessories.
Past Event
This virtual event was The Museum at FIT's 24th academic symposium. Ravishing: The Rose in Fashion explored how the beauty, mythology, and symbolism of the rose have long influenced fashionable dress. Rose: it's a flower, a color, and a scent. It's in fairy tales and design. This flower has become integral to art and culture.
The exhibition was curated by Amy de la Haye, Rootstein Hopkins Chair of Dress History and Curatorship and joint director of the Centre for Fashion Curation at London College of Fashion, with Colleen Hill, curator of costume and accessories at The Museum at FIT.
Publication
Ravishing: The Rose in Fashion (published by Yale University Press ) is written by Amy de la Haye. It includes a conversation, "On Roses," with famed photographer Nick Knight, in addition to contributions from fashion historians Jonathan Faiers, Colleen Hill, Mairi MacKenzie, and Geoffrey Munn.
Ravishing: The Rose in Fashion was made possible thanks to the generosity of The Couture Council of The Museum at FIT.