Gallery FIT
March 5 – April 6, 2013
Boots: The Height of Fashion examined how boots emerged as a modern fashion phenomenon during the last century and evolved to become a staple of the fashionable woman's wardrobe. Historically, boots were linked to masculine strength. They were worn with military attire, as well as for labor and equestrianism. Today, however, women's boots still retain qualities of power and toughness that frequently manifest as bold expressions of sexuality, rebellious fashion statements, or indications of wealth and status.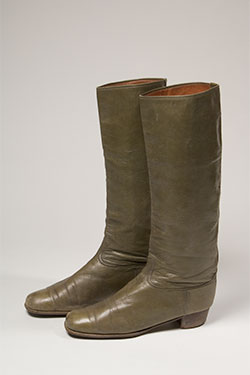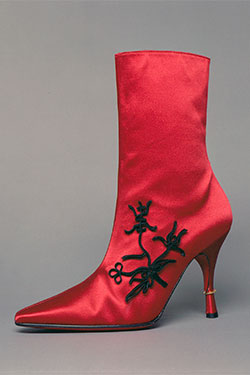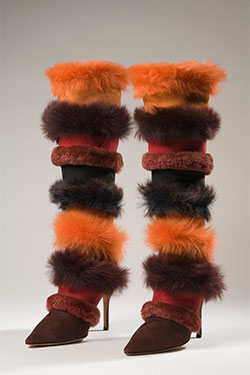 Featuring over 20 pairs of boots, the exhibition began with a walking boot style by Jack Jacobus, circa 1900. As women began to lead more active lives at the turn of the century, the high-buttoned boot, considered progressive and sensible, became a wardrobe necessity. This particular boot, however, with its tightly-fitted ankle, curved high heel, and red lining, is more daring and seductive than it is pragmatic.
The section of the exhibition titled Sex included five pairs of boots, each of which made a distinctive statement about the display of female sexuality. A highlight of this section was a boot by Christian Louboutin, a designer well-known for his hyper-sexy creations. The boot, from 1994, featured a stiletto-heel, bright red satin, and delicate passementerie.
Young people of the twentieth century often chose to challenge mainstream fashion through the power of boots. The "Rebellion" section of the exhibition featured a pair of 1963 Anello & Davide boots that were worn by "Baby" Jane Holzer. While the basic style of the boot originated in the 19th century, the addition of a higher Cuban heel gave it a more androgynous appearance. Its design is now emblematic of Swinging London fashion.
The Status section of the exhibition explored how, at times, the public esteem of the designer may be what elevates a boot from all the rest. On other occasions, it can be the public's desire to emulate a fashion icon. A highlight of this section was a pair of peasant-style boots worn by Poiret's wife and muse, Denise. Low-heeled, knee-high, and simply designed, these boots were at the height of fashion in the early 20th century. Status also included boots by important high-end labels such as Manolo Blahnik, Gucci, and Yves Saint Laurent.
In addition to showcasing boots from the MFIT collection, Boots: The Height of Fashion included a special section highlighting the practices of the students of conservation in FIT's Fashion and Textiles graduate program. This behind-the-scenes display revealed the analysis, techniques, and care necessary to bring historic objects to exhibition.