2018 Couture Council Award for Artistry of Fashion: Narciso Rodriguez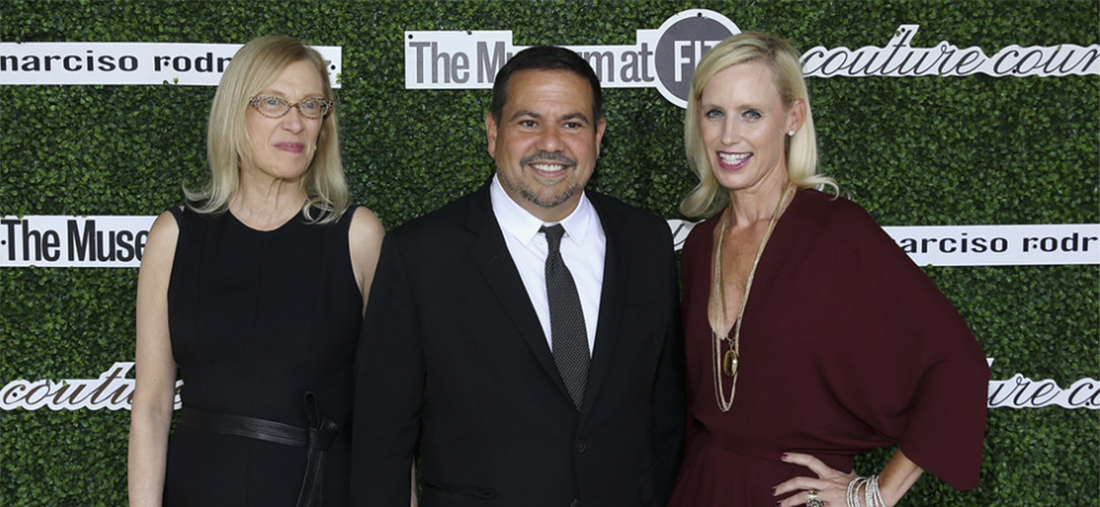 The Couture Council of The Museum at FIT honored Narciso Rodriguez with its 2018 Couture Council Award for Artistry of Fashion on Wednesday, September 5, 2018, at a luncheon at the David H. Koch Theater at Lincoln Center in New York City. The luncheon benefits The Museum at FIT (MFIT), New York's only museum dedicated exclusively to the art of fashion. As has become tradition, the award ceremony and luncheon herald the arrival of fall New York Fashion Week. This year's luncheon was co-chaired by Angela Dotson and Jean Shafiroff.
SEE PHOTOS FROM THE LUNCHEON ON FLICKR
Narciso Rodriguez was chosen for his lifelong dedication to the art and craft of fashion by a distinguished advisory committee chaired by Dr. Valerie Steele, director of MFIT, that includes Glenda Bailey, editor-in-chief of Harper's Bazaar; Hamish Bowles, international editor-at-large of Vogue; Ken Downing, fashion director at Neiman Marcus; Linda Fargo, senior vice president of fashion and store presentation director at Bergdorf Goodman; Nicole Fischelis, executive consultant at Fashion*Art*Forecasting; Akiko Fukai, director emerita at Kyoto Costume Institute; Pamela Golbin, curator of 20th-century fashion, Musée des Arts Décoratifs; Kamie Lightburn, chairperson of the Couture Council Board; Julie Macklowe, president of the Couture Council Board; Patricia Mears, deputy director of The Museum at FIT; Suzy Menkes, journalist and fashion critic at Vogue; Caroline Milbank, fashion historian and author; and Hal Rubenstein, style author and founder of the website The Happy Grownup.
"I am honored to have my work recognized with the prestigious Couture Council Award for Artistry of Fashion — and especially upon the anniversary of my 20th year in business," said Rodriguez. "The importance of The Museum at FIT lies in its focus on nurturing the next generation of designers and preserving our cultural and intellectual past for the enrichment of all."
"We are extremely pleased to honor Narciso Rodriguez, whose timeless, flawlessly tailored, and elegant collections have kept him at the forefront of American fashion for 20 years," said Dr. Joyce F. Brown, president of FIT.
Narciso Rodriguez is widely regarded as one of America's foremost fashion designers. He made his mark on some of the world's leading fashion houses before launching his eponymous label in 1997. The recipient of many accolades and a three-time winner of a Council of Fashion Designers of America (CFDA) Award, Rodriguez has also been named one of the "25 Most Influential Hispanics in America" by Time Magazine, and received the Cooper Hewitt National Design Award, for which he was honored at the White House. A favorite among celebrities, he has dressed leading actors and actresses such as Sarah Jessica Parker, Charlize Theron, Claire Danes, Rachel Weisz, Julianna Margulies, and Jessica Alba. In 2008, Rodriguez became part of American history when First Lady Michelle Obama wore a dress from his collection to celebrate the election of President Barack Obama. This year, Rodriguez will be honored with the Lifetime Achievement Award by the CFDA.
"If anyone ever deserved the Couture Council Award for Artistry of Fashion, it is Narciso Rodriguez," said Dr. Valerie Steele. "His sublime artistry in cut and draping are placed in the service of a pure and seductive vision of the human body."
ABOUT THE COUTURE COUNCIL LUNCHEON:
The Couture Council luncheon began with cocktails on the David H. Koch Theater terrace. Guests were then ushered into the theater's promenade for a three-course luncheon, catered by Olivier Cheng. Bronson van Wyck of Van Wyck & Van Wyck designed the flowers.
Past recipients of the Couture Council Award include Thom Browne (2017), Albert Kriemler (2016), Manolo Blahnik (2015), Carolina Herrera (2014), Michael Kors (2013), Oscar de la Renta (2012), Valentino (2011), Karl Lagerfeld (2010), Dries Van Noten (2009), Isabel Toledo (2008), Alber Elbaz (2007), and Ralph Rucci (2006). In 2008, Giorgio Armani received a special award for Global Fashion Leadership.
Tickets for the Couture Council luncheon honoring Narciso Rodriguez were priced as follows:
Fashion Icon Table at $50,000 (top seating for a table of 10)
Haute Couture Table at $25,000 (premium seating for a table of 10)
Couture Table at $15,000 (superior seating for a table of 10)
Haute Couture Ticket at $2,500
Couture Ticket at $1,500