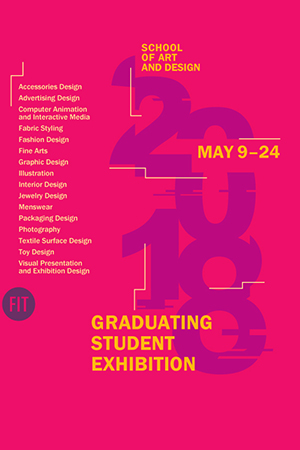 Art & Design Graduating Student Exhibition
Gallery FIT & other locations
May 9 – May 24, 2018
This show presents the work of more than 800 students receiving AAS and BFA degrees from the School of Art and Design and is on view throughout the main floors of the Marvin Feldman Center, the Shirley Goodman Resource Center, The Museum at FIT, the Gladys Marcus Library, and the John E. Reeves Great Hall.
The art selected is the culmination of each student's unique experience in the FIT's diverse, challenging, and demanding undergraduate Art and Design programs. Featuring juried, award–winning, and thesis projects, this presentation is the manifestation of several years of research, experimentation, critical thinking, and artistic proficiency. The Graduating Student Exhibition advances the college's applied philosophy that integrates practice in industry with theory and teaching inside the studio.
The exhibition features work in 16 areas of study: Accessories Design, Advertising Design, Computer Animation and Interactive Media, Fabric Styling, Fashion Design, Fine Arts, Graphic Design, Illustration, Interior Design, Jewelry Design, Menswear , Packaging Design, Photography, Textile Surface Design, Toy Design, and Visual Presentation and Exhibition Design.
For more information about the School of Art and Design, visit fitnyc.edu/artanddesign.
Image: Art and Design Graduating Student Exhibition 2018 poster. Courtesy of FIT School of Art and Design.
---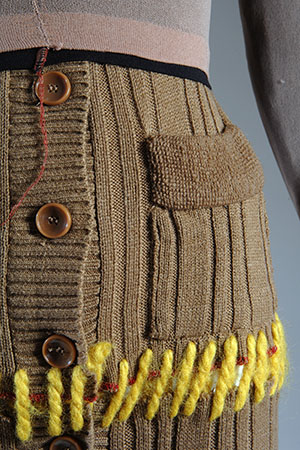 Fashion Unraveled will examine the concepts of imperfection and incompletion in fashion. Garments that are altered, unfinished, or deconstructed, in addition to clothing that shows signs of wear, will highlight the aberrant beauty in flawed objects. Unless such imperfections are intentional — as they are in the case of deconstructed fashion — these garments are often overlooked in museum collections. This exhibition will include a selection of objects from the museum's permanent collection, highlighting objects that are not only visually compelling, but that may also tell intriguing stories about their makers and/or wearers.
It is only in recent years that imperfect or inauthentic objects have been given greater consideration, as interest in their "biographies" has grown. Signs of repeated wear, shortened hemlines, and careful mends can be found even on haute couture garments, and they highlight the lasting economic and emotional worth of many clothes within museum collections. These findings — which are often unseen and unknown by museum visitors — challenge the concept of fashion as a strictly ephemeral, disposable commodity. Fashion Unraveled will also reveal how the appearance of aged clothing, with its flaws and signs of decay, has been embraced by many designers as an aesthetic choice, furthering the reconstruction of notions about beauty and value in fashion.
Read more about Fashion Unraveled.
Image: detail of ensemble by XULY.Bët, repurposed acrylic sweaters, fall 1994, gift of XULY.Bët.
---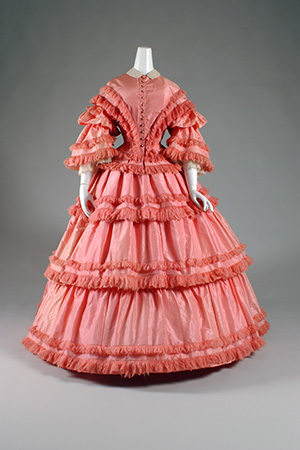 Pink is popularly associated with little girls, ballerinas, Barbie dolls, and all things feminine. Yet the symbolism and significance of pink have varied greatly across time and space. The stereotype of pink-for-girls versus blue-for-boys may be ubiquitous today, but it only gained traction in the mid-twentieth century. In the eighteenth century, when Madame de Pompadour helped make pink fashionable at the French court, it was perfectly appropriate for a man to wear a pink suit, just as a woman might wear a pink dress. In cultures such as India, men never stopped wearing pink.
Yet anyone studying pink comes up against "the color's inherent ambivalence." One of "the most divisive of colors," pink provokes strong feelings of both "attraction and repulsion." "Please sisters, back away from the pink," wrote one journalist, responding to the pink pussy hats worn at the Women's March. Some people think pink is pretty, sweet, and romantic, while others associate it with childish frivolity or flamboyant vulgarity. In recent years, however, pink increasingly has been interpreted as cool, androgynous, and political. "Why would anyone pick blue over pink?" mused the rapper Kanye West. "Pink is obviously a better color." In the words of i-D magazine, pink is "punk, pretty, and powerful."
Curated by Dr. Valerie Steele, director of The Museum at FIT, Pink: The History of a Punk, Pretty, Powerful Color will explore the changing significance of the color pink over the past three centuries.
Read more about Pink.
Image: Afternoon dress, pink silk taffeta, 1857, USA, museum purchase.
---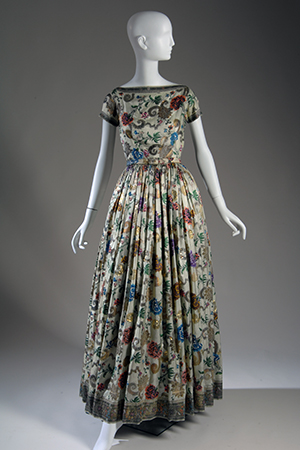 Fabric In Fashion
Fashion & Textile History Gallery
December 4, 2018 – May 2019
Fabric In Fashion explores the role played by textiles in forming the silhouette in Western fashion over the last 250 years. The examination of textiles is often separated from that of the fashionable silhouette, yet historically, textiles were as important as the cut of clothing in keeping up with current fashion. This exhibition will delve into the mechanics of textiles, looking at how fibers and weaves build the materiality of fashion. It will also explore the cultural influence of fabric. The Western world's demand for fashionable textiles of silk, cotton, wool, and synthetics has had enormous repercussions across the globe.
Fabric In Fashion will highlight both clothing and flat textiles from the museum's permanent collection, examining how the physical properties of specific fabrics determine the way a piece of clothing interacts with the body, as well as how the design and cultural associations of textiles reveal the social motivations that drive fashion forward.
Image: Traina-Norell, "Indian sari" silk brocade dress, circa 1955. The Museum at FIT, Gift of Mildred Morton.