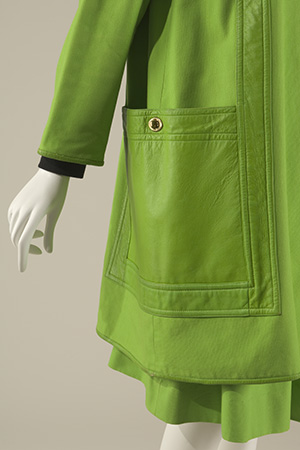 Pockets and purses provide immediate access to personal possessions, satisfying the need to carry money and other useful objects. They can also display luxury or emphasize fashionable gestures. Pockets to Purses: Fashion + Function is organized by graduate students in FIT's Fashion and Textile Studies program. The exhibition will explore the history of pockets and purses as fashionable and functional objects that have evolved to accommodate the demands of modern life.
Arranged chronologically, a selection of objects from the collection of The Museum at FIT will analyze the interplay between pockets and purses in both men's and women's wardrobes from the eighteenth century to the present. Themes of public versus private, fashion versus function, and masculine versus feminine will be explored through garments, accessories, fashion plates, and video footage. Highlights include an early nineteenth century reticule fashioned from a man's waistcoat pocket, a 1930's Cartier clutch, a Bonnie Cashin raincoat, and an Hermés Kelly Bag.
Pockets to Purses: Fashion + Function will be the first exhibition to examine both men's and women's pockets and bags in tandem. It will highlight their overlapping history, clarifying the relationship between pocket and purse for a wide audience. The diversity of objects will demonstrate how pockets and purses were have been utilized throughout history and how lifestyle changes have affected their design and use. This exhibition will encourage visitors to see the significance of these familiar, but dynamic objects.
Read more about Pockets to Purses.
Image: Detail, Bonnie Cashin, raincoat, green cotton canvas and leather, circa 1965, USA, museum purchase.
---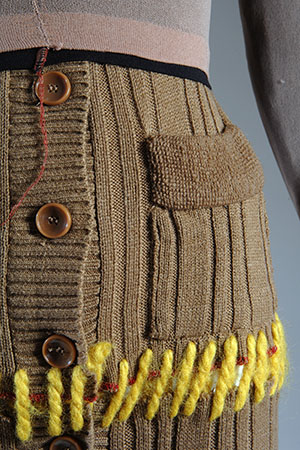 Fashion Unraveled
Fashion & Textile History Gallery
May 25 – November 17, 2018
Fashion Unraveled will examine the concepts of imperfection and incompletion in fashion. Garments that are altered, unfinished, or deconstructed, in addition to clothing that shows signs of wear, will highlight the aberrant beauty in flawed objects. Unless such imperfections are intentional — as they are in the case of deconstructed fashion — these garments are often overlooked in museum collections. This exhibition will include a selection of objects from the museum's permanent collection, highlighting objects that are not only visually compelling, but that may also tell intriguing stories about their makers and/or wearers.
It is only in recent years that imperfect or inauthentic objects have been given greater consideration, as interest in their "biographies" has grown. Signs of repeated wear, shortened hemlines, and careful mends can be found even on haute couture garments, and they highlight the lasting economic and emotional worth of many clothes within museum collections. These findings — which are often unseen and unknown by museum visitors — challenge the concept of fashion as a strictly ephemeral, disposable commodity. Fashion Unraveled will also reveal how the appearance of aged clothing, with its flaws and signs of decay, has been embraced by many designers as an aesthetic choice, furthering the reconstruction of notions about beauty and value in fashion.
Image: detail of ensemble by XULY.Bët, repurposed acrylic sweaters, fall 1994, gift of XULY.Bët.
---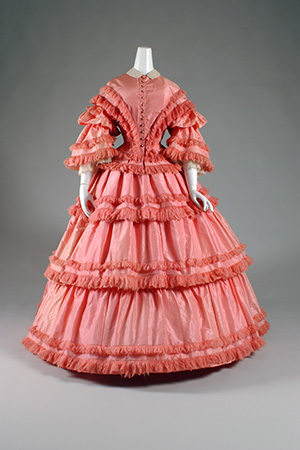 Pink: The History of a Punk, Pretty, Powerful Color
Special Exhibitions Gallery
September 7, 2018 – January 5, 2019
Pink is popularly associated with little girls, ballerinas, Barbie dolls, and all things feminine. Yet the symbolism and significance of pink have varied greatly across time and space. The stereotype of pink-for-girls versus blue-for-boys may be ubiquitous today, but it only gained traction in the mid-twentieth century. In the eighteenth century, when Madame de Pompadour helped make pink fashionable at the French court, it was perfectly appropriate for a man to wear a pink suit, just as a woman might wear a pink dress. In cultures such as India, men never stopped wearing pink.
Yet anyone studying pink comes up against "the color's inherent ambivalence." One of "the most divisive of colors," pink provokes strong feelings of both "attraction and repulsion." "Please sisters, back away from the pink," wrote one journalist, responding to the pink pussy hats worn at the Women's March. Some people think pink is pretty, sweet, and romantic, while others associate it with childish frivolity or flamboyant vulgarity. In recent years, however, pink increasingly has been interpreted as cool, androgynous, and political. "Why would anyone pick blue over pink?" mused the rapper Kanye West. "Pink is obviously a better color." In the words of i-D magazine, pink is "punk, pretty, and powerful."
Curated by Dr. Valerie Steele, director of The Museum at FIT, Pink: The History of a Punk, Pretty, Powerful Color will explore the changing significance of the color pink over the past three centuries.
Image: Afternoon dress, pink silk taffeta, 1857, USA, museum purchase.