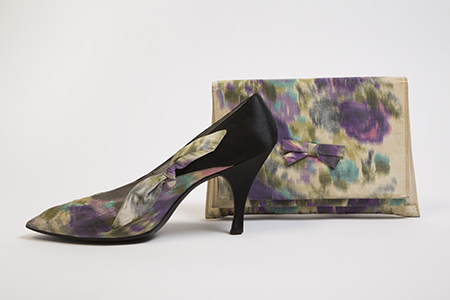 Head to Toe
Fashion and Textile History Gallery
Spring 2021, but subject to change
Head to Toe will explore approximately 200 years of women's dress from 1800 to the early 21st century through the lens of accessories. Often garments are the focus of fashion exhibitions, however accessories are integral components of the full ensemble, and are important in communicating vital messages about the wearer. Over time accessories have become powerful tools in articulating ideas about femininity, sexuality, modesty, power, class, and race, as well as an important outlet to express style and individuality.
Head to Toe will detail the intricacies and etiquette of Euro-American women's fashion, showing its evolution over time and its changing social context. Topics such as imperialism, industrialization, feminism, and modernity will be explored.
Read more about Head to Toe.
Image: Roger Vivier for Christian Dior, silk evening pumps and clutch, 1955-1959, France, Gift of Arthur Schwartz.

79.169.6
---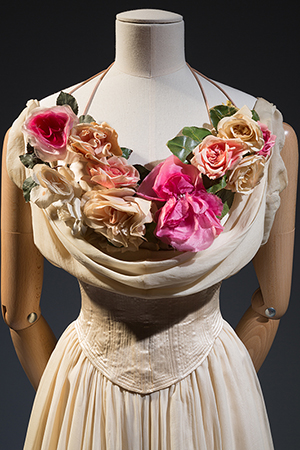 Ravishing: The Rose in Fashion
Special Exhibitions Gallery
Spring 2021, but subject to change
Ravishing: The Rose in Fashion presents the first socio-cultural examination of the rose in fashion. This flower can be dated back over 3 million years, and its broad geographic sweep is entwined with stories of trade, immigration, politics, religion, gender, food, beauty, and identity. It has been worshipped and reviled, and it is inextricably linked to perceptions of love. Not surprisingly, this delicate and fragrant flower — as well its sharp thorns — have provided endless inspiration for artists, writers, and designers. The rose has greatly influenced the form and decoration of apparel, jewelry, and fashion imagery.
Ravishing will explore the significance of the rose in fashion and dressed appearance from circa 1750 to the present. More than seventy-five objects will be selected for their historic and aesthetic significance in addition to their broader symbolic, socio-economic, and geo-political importance. The exhibition is curated by Amy de la Haye, Rootstein Hopkins Chair of Dress History and Curatorship and Joint Director of the Centre for Fashion Curation at London College of Fashion, and Colleen Hill, curator of costume and accessories at The Museum at FIT.
The exhibition is accompanied by the Yale University Press publication The Rose in Fashion: Ravishing which includes an introduction by MFIT director and chief curator Dr. Valerie Steele, and a chapter by Colleen Hill. This blog post by Amy de la Haye gives readers a taste of the book and offers a free extract of Chapter IV – "The Rose: The Unfading Flower of Jewellery" by Geoffrey Munn.
Image:

Charles James, debutante dress, 1937, USA, Gift of Mrs. John Hammond, 77.89.3.
---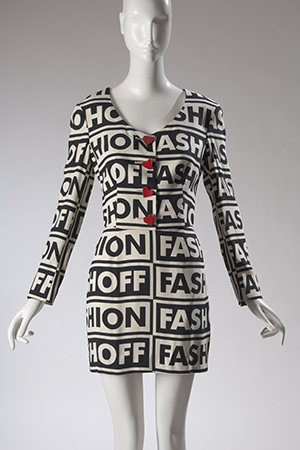 Reinvention and Restlessness: 1990s Fashion
Special Exhibitions Gallery
Fall 2021
Minimalism. Retro revivals. Deconstruction. The rejuvenation of haute couture. These are just a few of the concepts that have come to define 1990s fashion, which was not easily characterized by a handful of silhouettes or the dictates of a few designers. As fashion editor Stephen Gan wrote in 1997, "To focus on one current look or to obsess over the rise and fall of hemlines is to miss out on the wonder and variety in fashion today."
Reinvention and Restlessness: 1990s Fashion is organized by Colleen Hill, curator of costume and accessories, and features more than seventy-five looks from Alexander McQueen, Hussein Chalayan, Gucci, Calvin Klein, Helmut Lang, Maison Martin Margiela, Prada, XULY.Bët, and many others. The exhibition centers on designers who challenged the expected appearance or workings of high fashion, and who played an important role in laying the foundation for fashion of the twenty-first century.
Image: Moschino Couture suit, printed rayon, 1990, Italy, museum purchase, 2009.1.4
---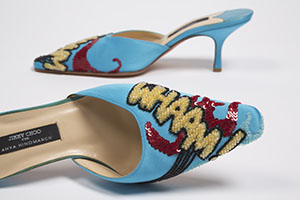 Shoes
Special Exhibitions Gallery
Spring 2022
Shoes will highlight approximately 400 pairs of shoes from the museum's permanent collection of 4,000 shoes. Following the success of the MFIT exhibitions Shoes: A Lexicon of Style (1999) and Shoe Obsession (2013), this exhibition will provide its own rich narrative on the enduring cultural significance of shoes, while showcasing the museum's world-class collection of footwear. The museum's earliest shoes date from the 17th century (a pair of high-heeled men's shoes). The most recent are spectacular 21st-century footwear. Labels to be featured include Alaïa, Manolo Blahnik, Chanel, Ferragamo, Christian Louboutin, Alexander McQueen, Prada, Noritaka Tatehana, Iris van Herpen, and Roger Vivier, among others.
The exhibition, curated by Dr. Valerie Steele and Colleen Hill, will be accompanied by a lavishly-illustrated companion book, published by Taschen, similar to Fashion Designers, A-Z: The Collection of the Museum at the Fashion Institute of Technology (now in its third edition).
Image: Jimmy Choo for Anya Hindmarch, evening mules, circa 1998, England, gift of Virginia Barbato. 2017.72.2.
---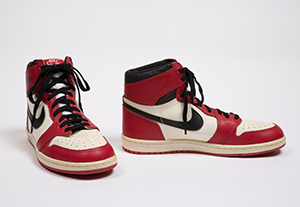 Fresh, Fly, and Fabulous: Fifty Years of Hip Hop Style will celebrate the 50th anniversary of the birth of hip hop by examining the roots and history of hip hop fashion from its inception to the present time. This exhibition will explore themes such as the transition of hip hop from the 'hood to the runway, luxury and designer influence, the impact of hip hop celebrities on the fashion industry, and the growth of hip hop style as an international phenomenon.
This exhibition is curated by Elena Romero, Assistant Professor of Advertising and Marketing Communications at FIT and author of Free Stylin': How Hip Hop Changed the Fashion together with Elizabeth Way, Assistant Curator at The Museum at FIT.
Read more about Fresh, Fly, and Fabulous.
Image: Nike, "Air Jordan" sneakers, 1985, USA, gift of Nike. 85.196.1.