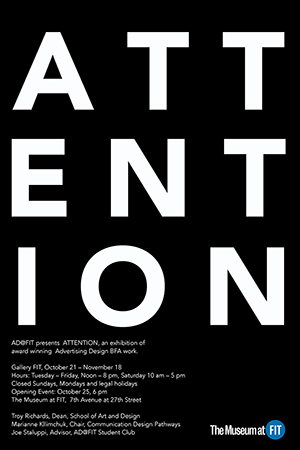 AD@FIT presents ATTENTION
Gallery FIT
October 21 – November 18, 2017
According to creative legend Bill Bernbach, "Principles endure, formulas don't. You must get attention to your ad. This is a principle that will always be true. How you get attention is a subtle, ever-changing thing."
This exhibition of Advertising Design at FIT showcases the award winning work that garnered the attention of the creative professionals in the advertising industry.
Image: Advertising Design exhibition 2017 poster courtesy of the Advertising Design program.
---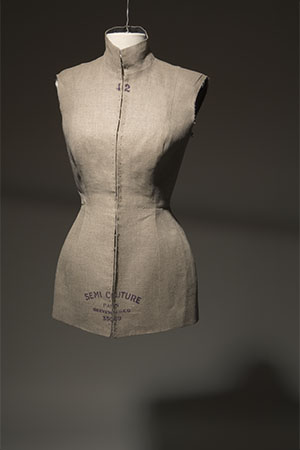 Fashion is inextricably linked to the physical form of the wearer. The cut of a garment draws the eye to zones of the body, simultaneously accentuating and concealing in order to achieve a desired silhouette. Elaborate undergarments, diet regimens, exercise routines, and even plastic surgery have all been promoted as necessary tools for attaining the ideal fashion shape. However, the idealized fashionable body is a cultural construct. Over the last 250 years, full hips, narrow hips, feminine waists, and boyish frames have each, at different times, been hailed as the pinnacle of beauty. According to a Vogue article from 1950, "A 'figure'…is considered good or bad only as related to clothing generally, and current fashions specifically." The Body: Fashion and Physique will explore the complex history of the "perfect" body in fashion.
This exhibition will also examine the broader relationship between the fashion industry and body politics from the nineteenth century to the present. 50 objects from the collection of The Museum at FIT will be on view, alongside clippings, photographs, and videos from the popular press. The Body: Fashion and Physique will elucidate the impact the fashion industry has had on how people have viewed and treated their bodies throughout history. It will also consider how fashion has contributed to the marginalization of certain body types within our culture.
Read more about The Body: Fashion and Physique.
Image: Maison Martin Margiela, tunic, linen, spring 1997, Belgium, museum purchase.
---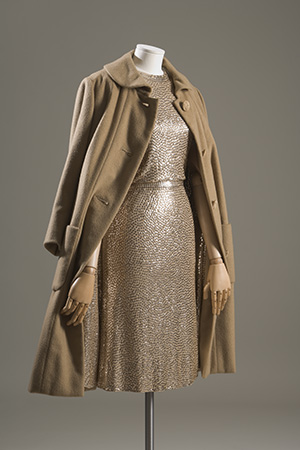 Norell: Dean of American Fashion
Special Exhibitions Gallery
February 9 – April 14, 2018
This large-scale retrospective is an in-depth study of one of America's greatest and most influential fashion designers. It is organized by guest curator Jeffrey Banks and MFIT's deputy director Patricia Mears.
Born in 1900, Norman Norell had an extraordinary career that spanned six decades. Working in the theater, film, and fashion industries, he incorporated the highest quality couture construction techniques and workmanship in all of his designs. Norell won numerous industry awards and was the first American to launch his own perfume. Not only did he spearhead the concept of luxe ready-to- wear decades before his European contemporaries, but many of his classic works are still wearable today. Decades after his death, Norell's legacy lives on.
Image: Norman Norell for Traina-Norell, subway coat and dress, c.1958, gift of Lauren Bacall.
---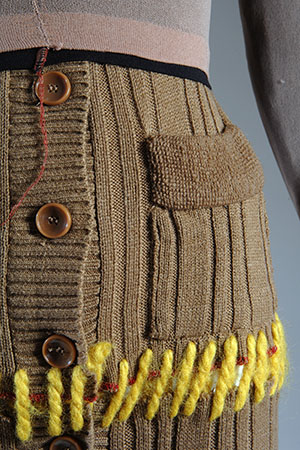 Fashion Unraveled
Fashion & Textile History Gallery
May 29 – November 17, 2018
Fashion Unraveled will examine the concepts of imperfection and incompletion in fashion. Garments that are altered, unfinished, or deconstructed, in addition to clothing that shows signs of wear, will highlight the aberrant beauty in flawed objects. Unless such imperfections are intentional—as they are in the case of deconstructed fashion—these garments are often overlooked in museum collections. This exhibition will include a selection of objects from the museum's permanent collection, highlighting objects that are not only visually compelling, but that may also tell intriguing stories about their makers and/or wearers.
It is only in recent years that imperfect or inauthentic objects have been given greater consideration, as interest in their "biographies" has grown. Signs of repeated wear, shortened hemlines, and careful mends can be found even on haute couture garments, and they highlight the lasting economic and emotional worth of many clothes within museum collections. These findings – which are often unseen and unknown by museum visitors – challenge the concept of fashion as a strictly ephemeral, disposable commodity. Fashion Unraveled will also reveal how the appearance of aged clothing, with its flaws and signs of decay, has been embraced by many designers as an aesthetic choice, furthering the reconstruction of notions about beauty and value in fashion.
Image: detail of ensemble by XULY.Bët, repurposed acrylic sweaters, fall 1994, gift of XULY.Bët.
---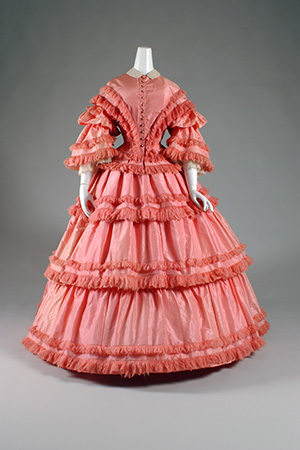 Pink: The History of a Punk, Pretty, Powerful Color
Special Exhibitions Gallery
September 7, 2018 – January 5, 2019
Pink is popularly associated with little girls, ballerinas, Barbie dolls, and all things feminine. Yet the symbolism and significance of pink have varied greatly across time and space. The stereotype of pink-for-girls versus blue-for-boys may be ubiquitous today, but it only gained traction in the mid-twentieth century. In the eighteenth century, when Madame de Pompadour helped make pink fashionable at the French court, it was perfectly appropriate for a man to wear a pink suit, just as a woman might wear a pink dress. In cultures such as India, men never stopped wearing pink.
Yet anyone studying pink comes up against "the color's inherent ambivalence." One of "the most divisive of colors," pink provokes strong feelings of both "attraction and repulsion." "Please sisters, back away from the pink," wrote one journalist, responding to the pink pussy hats worn at the Women's March. Some people think pink is pretty, sweet, and romantic, while others associate it with childish frivolity or flamboyant vulgarity. In recent years, however, pink increasingly has been interpreted as cool, androgynous, and political. "Why would anyone pick blue over pink?" mused the rapper Kanye West. "Pink is obviously a better color." In the words of i-D magazine, pink is "punk, pretty, and powerful."
Curated by Dr. Valerie Steele, director of The Museum at FIT, Pink: The History of a Punk, Pretty, Powerful Color will explore the changing significance of the color pink over the past three centuries.
Image: Afternoon dress, pink silk taffeta, 1857, USA, museum purchase.