Cross-Pollination: Minimalism/MAXIMALISM
Cross-Pollination: Minimalism/MAXIMALISM , marked the tenth anniversary of this Museum at FIT project series. The workshop was organized in conjunction with the museum's exhibition Minimalism/Maximalism (May 28 – November 16, 2019). This year's workshop was a collaboration between students from the Fashion Institute of Technology and peers from LASALLE College of the Arts, who through sharing ideas and inspirations via an online platform, created fashion-based projects that expressed their interpretations of Minimalism and Maximalism . The workshop culminated in two displays of student and faculty work - one in New York City and one in Singapore - inspired by the Minimalism/Maximalism exhibition and their own research. Students and faculty from both schools created the objects featured in the shows.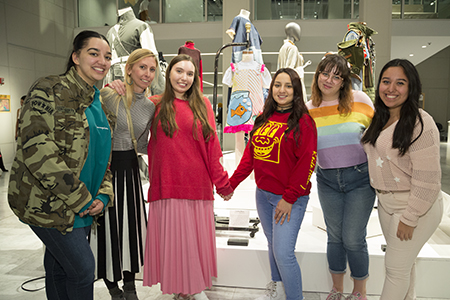 The displays showcased the students' creative process through mood boards, works on paper, garments, and videos. Exploring 1960s and 70s culture and arts in Singapore and New York City, participants combined theoretical knowledge and technical skills within their creative practice. They developed a range of fashion products based on their investigation into Minimalism and Maximalism , two aesthetics that seemingly represent opposing principles, yet are inextricably linked to one another.
The Cross-Pollination Workshops were designed in 2009 by Tanya Melendez-Escalante to turn the museum into a space that facilitates the understanding of other cultures. The workshop was a collaborative effort among The Museum at FIT, the Fashion Design AAS and BA programs, the Dance Minor and the Integrative Wellness Minor at FIT, and LASALLE College of the Arts in Singapore.
Organizers:
The Museum at FIT
Education Department
Tanya Melendez-Escalante, Melissa Marra-Alvarez, and Faith Cooper
Exhibitions Department
Michael Goitia and Ken Wiesinger
FIT Faculty
Eleanor DiPalma (Dance), Lisa Donofrio (Fashion Design), Gabriela Galvan (Fine Arts), and Lauren Zodel (Fashion Design)
LASALLE College of Art And Design
Circe Henestrosa, Martin Bonner, Adrian Huang, Susan Sentler, and Christina Cai