Center for Excellence in Teaching
Mission
The Faculty Development Program provides support for innovative, educational exploration across the curriculum, and seeks to foster a community of teaching practice. CET also works with faculty to explore new academic technologies and integrate pedagogically sound technology into the classroom.
For more information about the CET please visit our
About the CET page
CET Headlines
CET Teaching Center Lab Facility and Remote Labs
The CET Teaching Center (Room B-502) is equipped with all of the Mac and PC software needed for faculty to work in support of their teaching and learning needs. The lab is also equipped with a printer, high-quality flatbed, and document scanners, and a lending library. Drop by anytime to work alone or with your colleagues.
FIT Remote Labs, powered by Leostream allows you to access the CET lab computers wherever you are. Sign-up for FIT Remote Labs here. For details contact Tech Help if you have difficulties. (212) 217-HELP
CET Events Pages
The CET designs, develops, sponsors, and collaborates on events throughout the year that support best practices in teaching, learning, and technology. The events pages linked here encompass many examples that contain audio recordings, supporting materials, and resources. Please check our calendar frequently for our current offerings. Visit CET Events page
FIT's 2022 Adjunct Institute: Theory to Practice: Decolonizing the Curriculum and Culturally Responsive Pedagogy
On Wednesday May 18, The Adjunct Institute held it's Adjunct Summer Institute event. Guest speaker, Dr. Srivi Ramasubramanian's presentation explored the larger theories of decoloniality, indigenous pedagogy, trauma-informed approaches to the practice of teaching. The workshop included small breakout groups where attendees shared their experiences and insights. Srividya "Srivi" Ramasubramanian holds a PhD in mass communication from Pennsylvania State University. She is a leading communication scholar whose work addresses contemporary global issues relating to media, diversity and social justice. Visit the Adjunct Summer Institute event page for more details and related readings.
Grants and Awards
Faculty Development Grants and Awards (FDGA) The Faculty Development Grants and Awards Program is dedicated to the development of faculty in their creative inquiry and growth as educators, scholars, artists, designers, business innovators and industry-related professionals. FIT faculty members, including full-time classroom, non-classroom and adjunct faculty are encouraged to apply for funding. Visit the FDGA page or Download an application form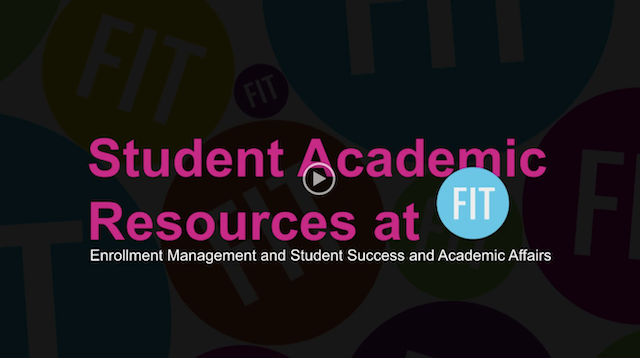 Student Academic Resources at FIT: This new faculty orientation contains a comprehensive overview of student academic resources at FIT that provides valuable insight and information for all faculty.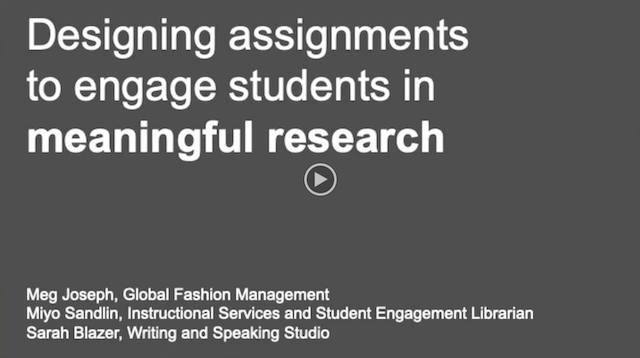 Designing assignments to engage students in meaningful research
Presented on February 9th by Miyo Sandlin-FIT Library, Sarah Blazer-Writing, and Speaking Studio and Meg Joseph-Global Fashion Management. How do you get your students to conduct meaningful research and build information literacy? This event recording provides you with a suite of resources, practices, and assignments that you can tailor to your purposes and subject areas.
FIT Digital Syllabus Project

FIT Digital Syllabus Project
The FIT Concourse Digital Syllabus (also known as Syllabus Connect) is a campus-wide, syllabus template that already includes key FIT resources. Visit our FIT Digital Syllabus page for more information and a step-by-step tutorial.
Please contact the CET with questions or comments. (212) 217-4063
Gladys Marcus Library: Intellectual Property Resources
Intellectual Property Guide
This is a guide to a variety outside resources related to intellectual property and publishing of interest to both faculty and students. Its coverage includes copyright, trademark, fair use, and open access.
Self-Paced Online Mini-Course about OER
Use this guide to learn more about OER, SUNY support for OER integration, and the FIT Departmental OER Grant.
Learn More
Teaching and Learning Resources
The CET supports faculty in their efforts to provide effective and innovative teaching with a wide range of faculty development opportunities that reach out across the curriculum. This page provides helpful resources in support of your teaching practice.
Learn More
Contact Us
Center for Excellence in Teaching
Room B502
(212) 217-4064
(212) 217-4061 fax
Brian Fallon
Interim Director
Jeffrey Riman
Coordinator
Grace Pasion
Administrative Coordinator