The Center for Excellence in Teaching was established in late 2001 to serve college-wide faculty pedagogical interests and needs. It provides instructional support to faculty as they work to innovate teaching methodologies. The CET also facilitates the integration of technology into the curriculum and fosters conversations among faculty about effective teaching and learning.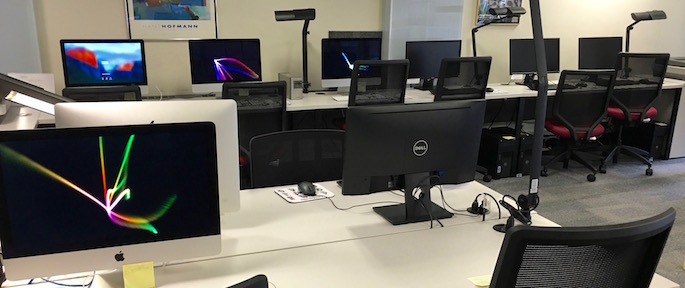 Promote excellence in teaching
Promote student-centeredness in teaching
Increase faculty use of technology in teaching
Foster faculty professional growth
Recognize faculty excellence
Lending library
7 Mac Workstations with 22" flat screen monitors
1 Mac 24" M1 running Monterey
1 Cisco Webex Conference Room Big Screen
6 PC Workstations with 22" flat screen monitors
8 Wacom Intuos2 4"x5" tablets
1 Wacom Cintiq tablet
3 large format (12"x17") flatbed scanners (slide scanner attachment to each)
2 document scanners
1 Color printer
Digital projection
The CET provides FIT faculty with equipment, expertise, and support for their pedagogical interests and needs. The Center may be used for these academic purposes only.
The Center is available to faculty members 24/7. Users must have a current FIT faculty card that has been activated by Security to operate the front door. Please go to the Security Office on the 4th floor to have your card activated for this purpose.
Workstation seats are available on a first-come, first-serve basis.
The Centers' computers cannot store any user's files except during work sessions. Machines are rebuilt every evening and any files saved to the local hard drive are deleted. Store your work on personal drives or use Google Drive (recommended) which is among the Google Apps available to all of FIT.
The CET is not able to lend equipment or manuals. We ask that faculty not remove any lab references or manuals from the Center's premises. Please be aware that at the Center, as elsewhere, duplication of commercial CDs is illegal and not permitted. Similarly, copying proprietary software is illegal and not permitted.
Food and drink are not generally allowed in the CET in order to preserve equipment and maintain a hygienic environment.