Center for Excellence in Teaching
Mission
With the goal of improving teaching and student learning through professional development, the FIT Faculty Development Program, anchored by the Center for Excellence in Teaching (CET), assists faculty in the development, use and assessment of effective instructional and curricular strategies. The Faculty Development program fosters and provides support for innovative, educational exploration across the curriculum through a community of teaching practice. CET also works with faculty to explore new academic technologies and integrate pedagogically sound technology into the classroom.
"Education is the kindling of a flame, not the filling of a vessel." Socrates
---
CET Headlines
---
FIT Remote Labs: Access for Faculty to the CET Lab

FIT Remote Labs, powered by Leostream allows you to access the CET lab computers wherever you are. Please follow the intructions outlined in this page for details and contact the Tech Help if you have difficulties. 212-217-HELP
---
CET Events Pages
The CET designs, develops, sponsors and collaborates on events throughout the year that support best practices in teaching, learning and technology. The events pages linked here encompass many examples that contain audio recordings, supporting materials and resources. Please check our calendar frequently for our current offerings. Visit CET Events
---
FIT's 2021 Adjunct Institute: Teaching in Times of Crisis
On April 28, 2021 Dr. Dolores Cimini, a SUNY-Albany colleague named by the Obama White House as a Champion of Change, presented on Teaching in Times of Crisis at the Adjunct Spring Institute. Dr. Cimini's presentation addressed current classroom challenges and explored strategies faculty can use. Vist the event page
---
Designing with Music
A faculty development event sponsored by the Center for Excellence in Teaching (CET) and the Faculty Research Space (FRS). This unique collaborative event explored the intersection of pedagogy, design and emerging technology--- with musician Dan Tepfer. Partnering with FIT faculty and building on synergistic musical connections, faculty explored new ways to connect the diverse professional practices at FIT. Go to the event page for a video library of the event
---
Fashion Design in 3D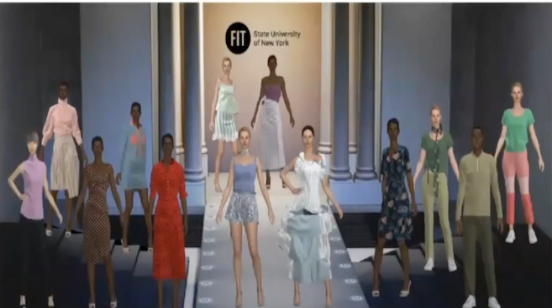 In today's global fashion market, especially during the COVID-19 Pandemic, more companies are now using 3D visualization technology. Jennifer Lee, Fashion Business Management, presents a demonstration of CLO, one of the industries newest 3D software programs. Find out how this technology actively engages students in discussions, activities and positive learning outcomes. Watch Event Video
---
Perkins Vatea: Best Practices for Teaching with Technology
A two-part Teaching with Technology project. Hands-on experiences with the newest industry software will provide the foundation for faculty to create model lesson plans and/or curricula that effectively integrate new technologies into teaching.
Visit the Perkins Vatea page.
---
Educational resources that promote equity and inclusion
University of Southern California Race and Equity Center
The Anti-Racist Discussion Pedagogy (pdf)
CUE: Methods to examine bias in your syllabi (pdf)
---
The Adjunct Orientation is a self-guided resource designed to enhance your teaching practice. Explore each topic at your own pace and try the exercises in each section to test your knowledge.
Bookmark the Adjunct Orientationand explore the new resources designed for you.

Teaching and Learning Resources:

The CET supports faculty in their efforts to provide effective and innovative teaching with a wide range of faculty development opportunities that reach out across the curriculum. This page provides helpful resources in support of your teaching practice.
Link to Teaching and Learning Resources Page

Visit this page for valuable links to resources, CET webinars and downloads in support of your teaching practice.

Gladys Marcus Library
Intellectual Property Resources

Intellectual Property Guide This is a guide to a variety outside resources related to intellectual property and publishing of interest to both faculty and students. Its coverage includes copyright, trademark, fair use, and open access.

Self-Paced Online Mini-Course about OER Use this guide to learn more about OER, SUNY support for OER integration, and the FIT Departmental OER Grant.

FIT DIGITAL SYLLABUS PROJECT

The FIT Concourse Digital Syllabus (also known as Syllabus Connect) is a campus-wide, syllabus template that already includes key FIT resources. Visit our FIT Digital Syllabus page for more information and a step-by-step tutorial.

Please contact the CET with questions or comments. 212-217-4063

---

Visit the CET Calendar to sign up for the our events and training sessions.

---




Campus Technology is one of higher education's top information sources — delivering valuable information via a daily site, monthly digital magazine, newsletters, webinars and online tools.
CET Shortcuts to Frequently Used Pages