Valerie Steele Receives Honorary Medallion of Distinction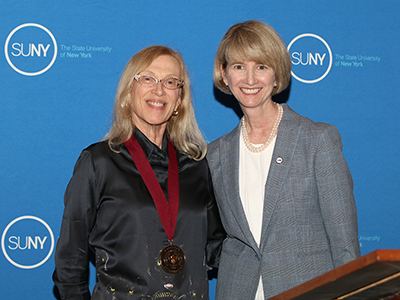 The Museum at FIT is pleased to announce that Dr. Valerie Steele, director and chief curator of MFIT, has received the State University of New York (SUNY) Honorary Medallion of Distinction.
The Honorary Medallion of Distinction honors a prominent individual who has enhanced the research, teaching, or service components of the State University of New York. With this distinction, Steele becomes an honorary member of the SUNY Distinguished Academy, where she joins other distinguished faculty in helping to build and support academic excellence within SUNY.
As author, curator, editor, and public intellectual, Steele has been instrumental in creating the modern field of fashion studies and in raising awareness of the cultural significance of fashion.
Watch the video below to learn more about Steele and her work with FIT and the greater fashion community.