The Museum at FIT Launches New Podcast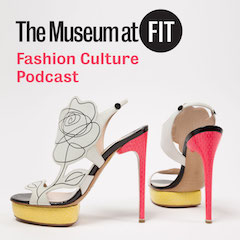 The Museum at FIT is proud to announce the launch of its podcast, Fashion Culture, to provide new perspectives on the history and significance of fashion. Each month, two episodes will be published featuring fashion scholars, curators, and designers engaging in panel discussions and intimate conversations.
Episode one titled "Fashioning Today's Woman" features Dr. Valerie Steele in conversation with Tim Gunn. Steele and Gunn reflect on the changing landscape of sizing in the fashion industry from the 18th century to present day.
In episode two, Thom Browne, one of America's most admired fashion designers, sits down with Stefano Tonchi, editor in chief of W , for an intimate conversation on the social role of uniforms and their influence on high fashion.
Subscribe to our channel on Apple Podcasts, Podbean, Google Play, and Spotify!