Fairy Tale Fashion Digital Publication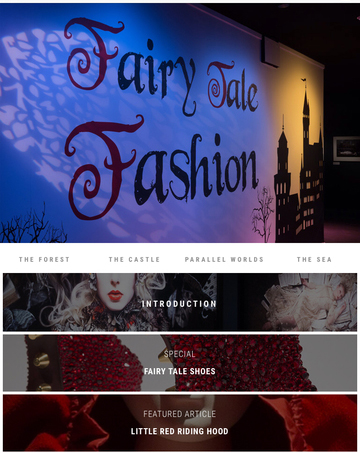 The vivid imagery from The Museum at FIT's
Fairy Tale Fashion
exhibition can be revisited in a new digital publication. Designed exclusively for the exhibition, the publication offers a multimedia experience with highlights of selected ensembles, a special Fairy Tale Shoes section, and stories from numerous fairy tales, such as those by Charles Perrault, the Brothers Grimm, and Hans Christian Andersen.
Fairy Tale Fashion was a unique and imaginative exhibition that featured more than 80 objects placed within dramatic, fantasy-like settings. Since fairy tales are not often set in a specific time period, the exhibition included garments and accessories dating from the 18th century to the present. Fairy Tale Fashion (January 15 - April 16, 2016) was organized by associate curator Colleen Hill and designed by architect Kim Ackert.
With more than 40,000 visitors, Fairy Tale Fashion captured the attention of young and old audiences alike, by offering an interpretation of fairy tales through the lens of high fashion. This new digital publication offers an optimized, user-friendly resource for those interested in continuing to explore the many references to clothing in fairy tales.
This digital publication is designed, developed, and published by
Cynda Media Lab LLC
in collaboration with The Museum at FIT. A special thanks to FIT professor/chair C.J Yeh and FIT professor Christie Shin for their tireless efforts on this digital publication.