MFIT featured on Google Open Gallery homepage
September 17, 2014
We are thrilled to announce that MFIT has been selected by Google as one of the best partner sites currently using Google Open Gallery.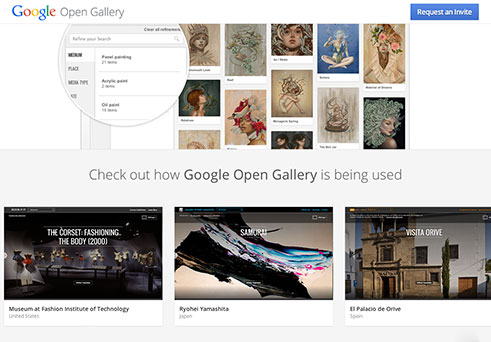 Screencap, Google Open Gallery, 2014.
MFIT's Google Open Gallery, which highlights select past exhibitions, is now featured on the Open Gallery homepage along with fifteen other outstanding organizations who have used Google's technology to share their collections, exhibitions, and more with a global audience.
With features like powerful zoom, you can now see the 2000 exhibition The Corset: Fashioning the Body, and the 2008 exhibition Gothic: Dark Glamour online as never before. We'd also like to thank Google Cultural Institute for sharing our Google Open Gallery with over 6 million followers on Google Plus! More to come! Visit MFIT on Google Open Gallery today.