The Art of Public Programming
December 11, 2014
Tanya Melendez discusses her job as curator of education and public programs at The Museum at FIT with Fernando Carrillo in the October issue of Harper's Bazaar Latin America. The article is titled "The Intellectual Face of Fashion" (translated) and discusses the road that led her to the museum and how she approaches her work.
Tanya is a 2004 graduate of FIT, MA: Museum Studies: Costume and Textiles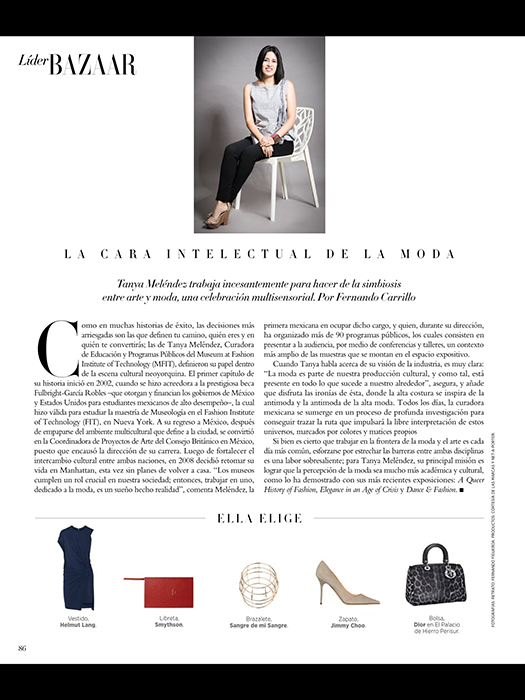 Translation:
As in many stories of success, the boldest decisions are the ones that define your path, who you are, and what you will become. Those of Tanya Melendez, curator of education and public programs at The Museum at FIT defined her role in the New York cultural scene. The first chapter in her story started in 2002 when she was awarded the prestigious Fulbright-Garca Robles grant - from the Mexican and American governments- for high-performing Mexican students. This grant allowed her to pursue a degree in museum studies at the Fashion Institute of Technology in New York. When she came back to Mexico, after learning of the multicultural environment of New York City, she became project manager at the British Council Mexico, a job that defined her career. After strengthening the cultural exchange between Mexico and the UK she decided to return to Manhattan, this time, with no plans of coming back. "Museums have a crucial role in our society. Working in one dedicated to fashion is a dream come true," says Melendez, the first Mexican to ever hold that job and who, during her tenure has organized more than 90 public programs. These programs provide a wider context to MFIT's exhibitions through lectures and workshops.
When Tanya talks about her vision of the industry, she is very clear, "Fashion is part of our cultural production, and as such, it is part of all that happens around us" and adds that she enjoys fashion's ironies, how high fashion is inspired by street style and vice versa. Every day, the Mexican curator immerses herself in a research process to plan the programs that will interpret the fashion universes, with their colors and shades.
While it is true that working in the boundaries of fashion and art is every day more common, devoting oneself to bringing both together is a job worth noting. For Tanya Melendez, her main goal is for the understanding about fashion to be more academic and cultural, as the exhibitions A Queer History of Fashion, Elegance in an Age of Crisis, and Dance & Fashion have demonstrated.