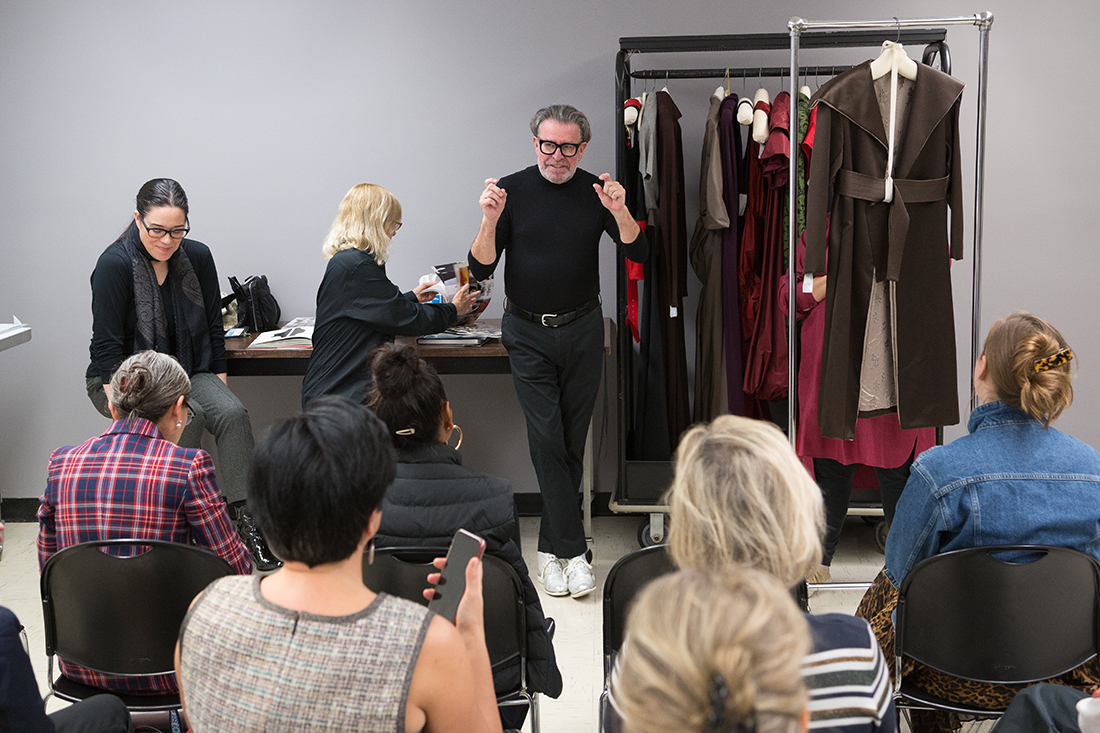 The Museum at FIT deeply mourns the passing of Fred Dennis, former senior curator of costume. Born in New Jersey in 1953, Fred worked on over a hundred exhibitions during his 35-plus museum career. He was co-curator of London Fashion (2001-2002) and A Queer History of Fashion: From the Closet to the Catwalk (2013) (both at The Museum at FIT) and Toledo/Toledo: Full Circle at the Museum of Art and Design at Miami Dade College, among others.
Early in Fred's career at MFIT he worked with Richard Martin and Harold Koda on the 1991 exhibition Halston: Absolute Modernism. He described what he learned from that experience in an interview years later:
"I had just started working at the museum full time. To say working with Richard on the Halston exhibition was life-changing would be an understatement. Little did I know that working with Richard and Harold (Koda), on that exhibition would be the beginning of what I can only call my apprenticeship. Some 25 years, and over one hundred sixteen exhibitions later, I find that what I learned then still holds true today: a good exhibition starts with a good idea, a great thesis, and visually exciting objects to support the thesis. In terms of organizing an exhibition, one of the most important things I learned was to see the relationship between objects as they were laid out in the exhibit space and to always look at the negative spaces between the groupings. As for Halston, I learned about "process"—that each season does not have to be a completely new theme—ideas and designs can be revisited, re-worked, and built upon. I would recognize this process later in the work of the late Geoffery Beene, and in more recent years, the work of Isabel Toledo."
Fred was an avid reader, food enthusiast, and had an encyclopedic knowledge of fashion. He will be missed by those fortunate to have known him.

Fred is survived by two brothers and nieces and nephews.
Condolences can be sent to:
Michael Dennis
121 Country Club Drive
Lakewood NJ 08701
In lieu of flowers, the family requests that donations be made to the non-profit organization God's Love We Deliver.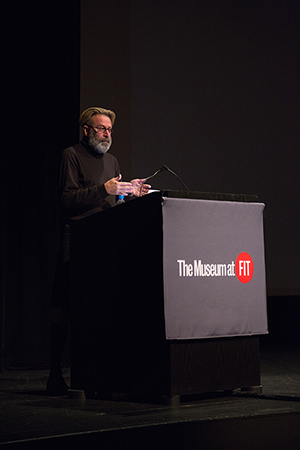 Fred Dennis speaking at the Queer History of Fashion symposium, 2013.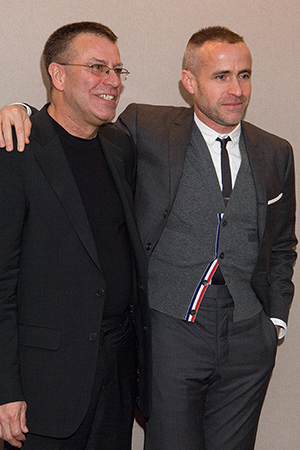 Fred Dennis with designer Thom Browne in 2010.