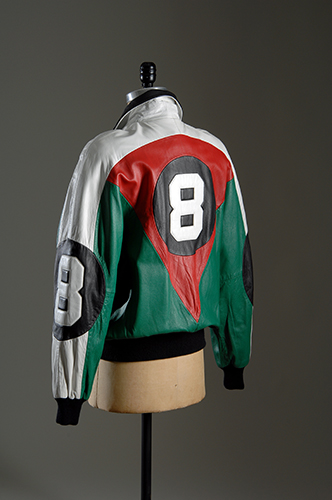 The Hip Hop Style Archive was established at The Museum at FIT in 2019 in recognition of the importance of hip hop style in the twentieth and twenty-first centuries. The archive documents and preserves the significant history of hip hop style in the United States, especially in New York City, by collecting fashion objects designed and produced by brands immersed in hip hop culture, as well as fashion objects that have been adopted by members of hip hop subcultures.
This archive is a continually growing collection within The Museum at FIT's permanent holdings, and is comprised of male and female garments, footwear, and related accessories by a range of designers. American, European, and Asian designers are represented, and above all works by designers of color, particularly African American and Latinx designers who helped initiate hip hop style's international success. The archive currently includes works by Cross Colours, Dapper Dan of Harlem, Sean John, WilliWear, Chanel, Gucci, Louis Vuitton, Polo by Ralph Lauren, Tommy Hilfiger, Adidas, Converse, Nike, Puma, and Timberland.
MFIT is currently seeking and accepting donations of objects to continue to build the Hip Hop Style Archive and for the upcoming Fresh, Fly and Fabulous: Fifty Years of Hip Hop Style exhibition.
If you wish to donate a hip hop fashion object, please click here.
Image: Michael Hoban, "8-Ball jacket," fall 1989. The Museum at FIT, Gift of Michael Hoban, North Beach Leather. ©The Museum at FIT