Special Exhibitions Gallery
September 15, 2017 – January 6, 2018
Share using #ExpeditionFashion on Twitter and Instagram.
Expedition: Fashion from the Extreme is the first large-scale exhibition of high fashion influenced by clothing made for survival in the most inhospitable environments on the planet — and off of it. On view in Expedition are approximately 70 ensembles and accessories from MFIT's permanent collection, as well as a compelling selection of objects borrowed from leading museums and private collections. These garments are presented within dramatically designed "environments" in the museum's Special Exhibitions Gallery. Collectively, the objects and the exhibition design evoke both the beauty of extreme wildernesses — on land and sea, as well as in outer space — and the dangers these locales present to human explorers.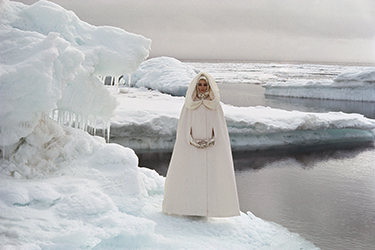 Photograph by John Cowan, 1964
© The John Cowan Archive
Interest in the natural world flourished during the Victorian era. Thanks to the pioneering works of explorers and naturalists such as Charles Darwin and the wildly popular science fiction books by Jules Verne, quests to reach the poles, the peaks of the highest mountains, the depths of the oceans, and even outer space, became increasingly popular, aspirational endeavors. Expedition: Fashion from the Extreme illustrates the ways in which select items of clothing made for survival on such journeys of discovery eventually become modern wardrobe mainstays. The parka, for example, was invented by indigenous Arctic peoples; then, during the "heroic era" of polar navigation (1890 to 1922), it was appropriated by explorers. Eventually, the parka was redesigned for sports and the military, before finally finding its way into leading fashion magazines.
Likewise tracing the progression from strictly utilitarian to fashionable, the exhibition presents an array of down-filled "puffer" coats — perfected for extreme mountain climbing — that includes opulent, high-fashion versions created strictly for show. Experimental, high-tech materials, such as neoprene and Mylar, initially developed for deep sea and outer space exploration, have also made their way onto the world's most exclusive runways and into this exhibition.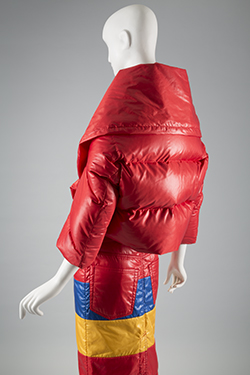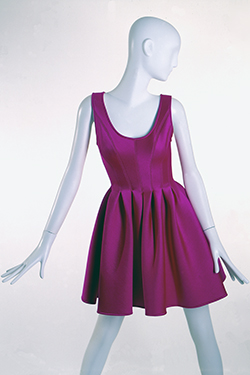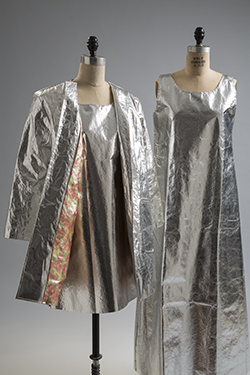 In Expedition's introductory gallery, a diorama depicting the plains of the Serengeti serves as a backdrop for a range of safari clothing. Safaris were the first expedition destinations to be marketed specifically to the well-heeled traveler, and the clothing created for these excursions would influence fashion designers for decades. A juxtaposition of ensembles — from a circa 1916 women's safari suit by Abercrombie and Fitch to safari-inspired tunics designed by Yves Saint Laurent during the late 1960s — illustrates the enduring popularity of early expedition wear.
The main gallery is home to the key environments of Expedition. One of these, the Arctic, is represented by a scenic design of a frozen landscape and features historical garments, such as a funerary tunic created in Siberia over 100 years ago and indigenous Arctic clothing worn by the pioneering American explorer Matthew Henson during his trek to the North Pole in 1909. This environment is enriched with luxurious modern fashions by Madame Grès, Jean Paul Gaultier, Isaac Mizrahi, and Yohji Yamamoto, plus Karl Lagerfeld's witty faux fur ensembles for Chanel.
Two parkas by Joseph Altuzarra attest to his interest not only in indigenous Arctic clothing, but also in a mid-20th century, American military version of the garment created during the Korean War, and later adopted by counterculture groups such as the Mods and the Punks. Also included is Tommy Hilfiger's gold-colored parka dating to the 1990s, a style that was popular among members of the hip-hop community.
Extreme mountain climbing is represented by another of the primary environments. Here, the earliest patented down-filled jacket by Eddie Bauer, dating to the 1930s, and other technologically experimental objects, stand alongside a range of fantastic and outrageous fashions, including Charles James's 1938 masterpiece: a white silk satin, eider-down-filled evening jacket on loan from the Victoria and Albert Museum. Also included are Norma Kamali's revolutionary "sleeping bag coat," dating to the late 1970s, and down-filled "puffer" jackets by Junya Watanabe, and Gemna Dvesalia for Balenciaga.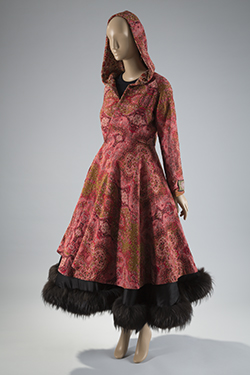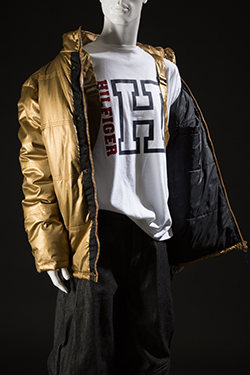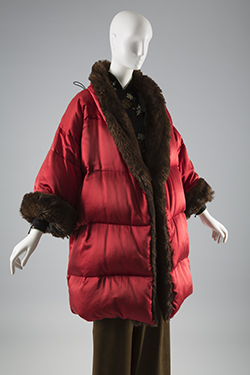 The deep sea is the third environment in Expedition. A number of the fashions featured in this section refer to scuba diving and surfing, but scuba and surf outfits are beholden to the early pioneers of deep sea exploration who sought to invent materials — such as neoprene — to keep them warm in the icy ocean depths. A range of garments made with this spongy, breathable material includes menswear by Junko Koshino, Versace, and Thom Browne, as well as women's fashions by Donna Karan, Junya Watanabe, and Ohne Titel. Karl Lagerfeld's sequined jacket for Chanel evokes the look and lines of this diving material.
Discovery of eerily mesmerizing deep sea creatures, mainly bioluminescent animals, inspired a number of designers, including Alexander McQueen, who was also an avid scuba diver. Numerous garments from his spring 2010 collection, titled Plato's Atlantis, were printed with abstracted images of bioluminescent jellyfish. Two stellar examples from this collection are part of the personal wardrobe of the Honorable Daphne Guinness, who is generously lending these objects to the exhibition.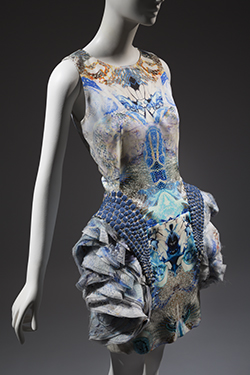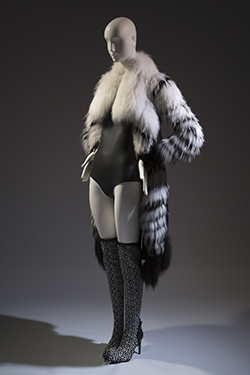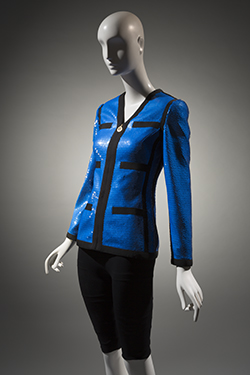 The fourth and final environment of
Expedition
is a lunar landscape. The futuristic, astral moon setting is enlivened with an array of bright and light 1960s fashions by Parisian couturiers, such as Pierre Cardin, André Courrèges, and Paco Rabanne, and American designers, such as Betsey Johnson for Paraphernalia. Several objects with silver, shiny, reflective surfaces were made using materials inspired by Mylar, rather than actual Mylar film. Together, these fashions illustrate the impact of the Space Race between the United States and the Soviet Union that dominated the political and cultural arenas from the 1950s to the early 1970s. Later space-inspired designs by Helmut Lang and Hussein Chalayan round out this section.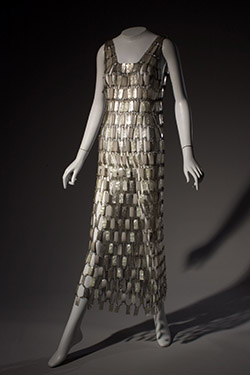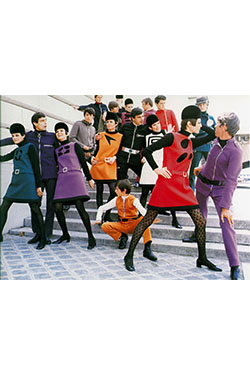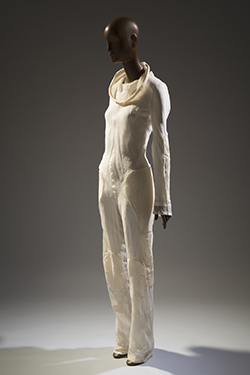 The exhibition includes a video that gives visitors more information about expeditions and their cultural impact, as well as details about a number of the concepts presented. The MFIT website, too, provides supplemental information about historical figures, such as explorers Matthew Henson and Robert Peary, Edmund Hillary and Tenzing Norgay, and Sylvia Earle, whose bold and daring expeditions changed the way we view the world we live in.
Fashion's long-term impact on the environment has been largely detrimental. It is understood that many of the objects presented in this exhibition — mainly the furs and animal products used by the fashion industry — are controversial. In no way is Expedition attempting to popularize or glamorize the often grizzly culling of furs. While it can be argued that the indigenous peoples of the Arctic maintained a balanced relationship with nature — as they only hunted and harvested enough wildlife to sustain their small, nomadic populations — the same cannot be said for contemporary western purveyors of luxury goods inspired by groups such as the Inuit.
Most scientists agree that the earth's climate has been undergoing dramatic changes. The Arctic and its indigenous wildlife are already being directly impacted by climate change. While this phenomenon is not a primary focus of Expedition, mankind's exploitation of natural resources is indeed an underlying aspect that is eerily, if quietly, ever-present in our collective research and findings. Whenever possible, the exhibition highlights those who are taking responsibility and working toward sustainability.
Expedition: Fashion from the Extreme is also the title of the exhibition's companion book, to be published by Thames & Hudson. This is the first collaboration between this illustrious publishing house and The Museum at FIT. Lavishly illustrated, the book will feature approximately 150 color photographs of objects from MFIT's permanent collection, as well as others chosen from runway shows and leading fashion magazines, and unpublished photographs of early expeditions from the archives of institutions such as the Explorer's Club in New York.
Expedition: Fashion from the Extreme is supported by the Couture Council.