Can you name #5WomenArtists? Many people can't.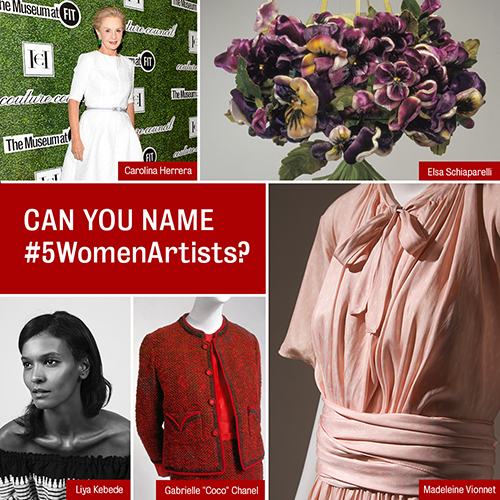 The 2019 #5WomenArtists social media campaign launched during #WomensHistoryMonth aims to help the public answer – without hesitation – "Can you name five women artists?" Thank you National Museum of Women in the Arts for galvanizing more than 675 organizations from 36 countries to participate!!
Throughout 2019 The Museum at FIT will highlight women designers in its collections as part of the #5WomenArtists campaign. Our collection includes works by Bonnie Cashin, Gabrielle Chanel, Diane von Furstenberg, Iris van Herpen, Carolina Herrera, Betsey Johnson, Donna Karan, Claire McCardell, Rodarte, Elsa Schiaparelli, Isabel Toledo, Madeleine Vionnet, and many others. On social media we will call out the impact of the many important women artists to encourage conversation.
To get started learn about these #5WomenArtists:
Gabrielle "Coco" Chanel (1883 - 1971, Saumur, France) is the most famous and influential fashion designer of the 20th century. She eschewed colorful, ultra-feminine fashions and instead developed a dandyish personal style based on upper-class men's clothing.
Model and clothing designer Liya Kebede (b. 1978, Addis Ababa, Ethiopia) founded lemlem in 2007. The core collection is handwoven in Ethiopia from local cotton and woven by female artisans. Ms. Kebede is speaking at MFIT in May 2019.
Prior to the debut of her first runway collection in 1981, the Venezuelan beauty, Carolina Herrera (b. 1939, Caracas, Venezuela), had long been one of society's best dressed. Herrera has unquestionably proven herself as a designer. In 2014 MFIT honored Ms. Herrera with its Couture Council Award for Artistry of Fashion.
Elsa Schiaparelli (1890-1973, Rome, Italy) is best remembered for her Surrealist-inspired designs of the 1930s. She viewed the creation of clothing in terms of artistic inspiration, stating in her autobiography, Shocking Life , that "dress designing . . . is to me not a profession, but an art."
Madeleine Vionnet (1876-1975, Chilleurs-aux-Bois, France) was one of the greatest artistic couturiers in the history of modern fashion. Her beautiful and sensual gowns, draped on the bias reshaped the look of early twentieth-century fashion.