Call for Papers Colloquium on Fashion Unraveled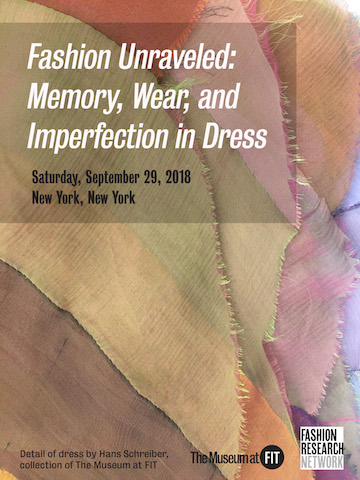 The Museum at FIT is excited to announce its first call for papers. We request abstract submissions by April 25, 2018 for the colloquium, Fashion Unraveled: Memory, Wear, and Imperfection in Dress.
Organized by Colleen Hill (The Museum at FIT) and by Alexis Romano and Ellen Sampson (both of the Fashion Research Network), this one-day colloquium on Saturday, September 29 explores the concepts of memory, wear, and imperfection in fashion. Through their direct relationship to the body, clothes are among our most intimate and powerful possessions. They often retain traces of the body even after they have been discarded, and reveal aspects of their wearers' personal histories and experiences. Garments that have been altered, mended, repurposed, left unfinished, damaged, or deconstructed highlight the aberrant beauty in flawed objects, and may also demonstrate their owners' creative agency. With the exception of intentional imperfections, such as those in deconstructed fashion, flawed garments have been largely overlooked in studies of dress. Analyses of clothing often focus on objects that are perceived as exemplary of their era, of a designer's body of work, or as illustrations of a theme.
In contrast, this colloquium aims to dig beneath the frequently veneered representations of dress by centering on imperfect garments and on the significance of dressing as a habitual, intimate, and ephemeral act. It is inspired by The Museum at FIT exhibition Fashion Unraveled (May 29 – November 17, 2018).
This interdisciplinary colloquium welcomes abstracts for 20-minute papers or 30-minute panels (up to 4 participants) from researchers, curators, conservators, and makers of dress.

Suggested topics for the papers include, but are not limited to:
the study, analysis, and display of worn clothing;
the value of "inauthentic" garments within dress collections;
the remaking of clothing and textiles for reasons of economy and/or sustainability;
the emotional value of, or attachment to clothing;
biographies or hidden histories of clothes or their wearers;
distressed and deconstructed fashion;
memory/trace/imprint, and the ways in which clothing evokes or alters memory;
fashion and mistakes/imperfections/failures;
intimate and personal experiences of dress as they relate to wider narratives.
Abstracts should be submitted as a Word file to [email protected] by April 25, 2018. They should be no longer than 300 words, including the title of the paper, and contain the name, affiliation, and contact information (email and telephone number) of the applicant. Authors will receive notification of acceptance by May 25, 2018.
This colloquium will be held on Saturday, September 29 at The Museum at FIT, Katie Murphy Amphitheatre, Fred P. Pomerantz Art and Design Center, New York, New York. There is no cost for registration, but speakers are required to pay for their own travel and accommodations.