Valerie Steele profiled in Dartmouth Alumni Magazine
April 27, 2015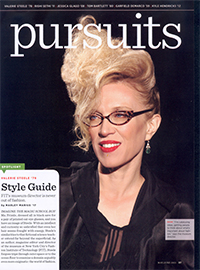 Dr. Valerie Steele is profiled in the May/June issue of the Dartmouth Alumni Magazine. She graduated from Dartmouth College in 1978 and went on to receive a PhD from Yale University.
What insights does she give to burgeoning fashion scholars? She says that, although there are fewer jobs for fashion journalists, there are more opportunities in the visuals of fashion, such as fashion films, and in the business side of fashion.
The profile in the Dartmouth Alumni Magazine coincides with Dr. Steele receiving an honorary Doctor of Arts degree from Dartmouth College at the Commencement exercises on Sunday, June 14, 2015. Steele will be honored alongside such great minds as
David Brooks, columnist for The New York Times
philanthropist Russell Carson; Steven Chu, former U.S. Secretary of Energy and professor of physics and molecular and cellular physiology at Stanford
Earl Lewis, president of The Andrew W. Mellon Foundation
William Neukom, CEO and founder of the World Justice Project and
Terry Plank, Columbia geochemist and MacArthur fellow
Read the Dartmouth Alumni Magazine interview here
Additional information about the Honorary Degree Recipients is outlined here.